Blake Lively Explains How Her Shattered Hand Injury Ended Up In The Rhythm Section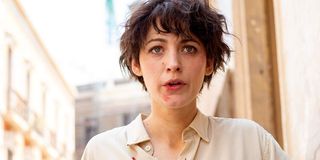 After a stunt gone horribly wrong, Blake Lively injured herself so bad on the set of her new film, The Rhythm Section, that it actually delayed production. With a shattered hand as the end result, you would think that the surgery and recovery process would all be consigned to an interesting behind-the-scenes story. Not so in this case, as we not only get to see Lively's injury in the film, there was also some material added to the script that caused her character, Stephanie Patrick, to suffer a similar fate herself.
The injury, its cause and the change it inspired in The Rhythm Section all came up when I spoke with Blake Lively, as well as director Reed Morano and producer Barbara Broccoli, during the film's New York press day. You can see that discussion for yourself in the clip below:
You may have seen the scene from The Rhythm Section where this specific incident took place. It's a moment early in Stephanie Patrick's journey to become a super spy when, after goading her mentor Boyd (Jude Law) into teaching her how to fight, the two get into a no holds barred tussle in the kitchen.
While co-star Jude Law has probably been called a heartbreaker more than his fair share of times in his career, a handbreaker is something altogether new. But that's exactly how this fateful fracture of The Rhythm Section's production came to be, as during their close quarters fight sequence, one false move delivered a nasty result for Blake Lively.
In fact, in a recent interview with GMA, Blake Lively described the moment as her hand turning into "feta cheese" once it shattered. Reading those words back, it sounds pretty disastrous and painful. So delaying the filming of The Rhythm Section by six months feels like a pretty light price to pay for what went down.
Typically this sort of issue doesn't feel like something that would inspire the plot development for a major action movie, much less one based on pre-existing source material. However, the folks behind the film were pretty clever in making Blake Lively's injuries ones that Stephanie herself could take on as well.
All it took was a scene where Stephanie Patrick gets a nasty cut from broken glass, and the rest was moviemaking history. With this crucial injury included into one of The Rhythm Section's various missions of espionage, Blake Lively's character would wear a hand brace from that point forward.
Not only did that help Blake Lively recover from those wounds, but it also allowed another neat inclusion of a real life injury in a fictional context. As you'll see in later scenes of The Rhythm Section, there a moment where Stephanie Patrick is taking a phone call, with stitches and bandages clearly visible on her hand.
You might think that in the long run Blake Lively may have regretted going as hard as she did on her fight with Jude Law in The Rhythm Section. That sort of thinking is absolutely wrong though, as not only was Lively appreciative of the results that director Reed Morano and cinematographer Sean Bobbitt got from that fight itself, but she couldn't have thought of a better way to actually achieve said injury.
Blake Lively admitted as much in the following terms:
Optimism springs eternal with that sort of thinking, and it shows throughout the entirety of The Rhythm Section. The energy that Blake Lively, Reed Morano and even producer Barbara Broccoli brought to making this film into a reality shows that no matter the obstacle, the end result was worth the literal wear and tear that occurred on the road to the end.
As this first Stephanie Patrick adventure is supposed to serve as an introduction to the world of this particular character's journey into the world of espionage, there's a chance that if The Rhythm Section does well enough, Mark Burnell's subsequent books in the series might find themselves similarly adapted into feature films.
If that's the case, not only will Blake Lively have to keep her spy skills sharpened, she might want to invest in some stunt padding for future films. Or, at the very least, make sure that the scenes she injures herself in contain co-stars as interesting as Jude Law.
The Rhythm Section is currently in theaters, ready to metaphorically break the hands and blow the minds of the audience.
Senior Movies Contributor
CinemaBlend's James Bond (expert). Also versed in Large Scale Aggressors, time travel, and Guillermo del Toro. He fights for The User.
Your Daily Blend of Entertainment News
Thank you for signing up to CinemaBlend. You will receive a verification email shortly.
There was a problem. Please refresh the page and try again.