Robert Downey Jr. Shared A Wild Dolittle Image That Really Tells You Everything You Need To Know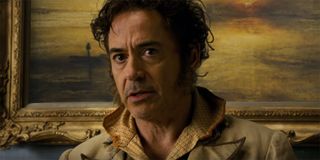 Warning: Mild SPOILERS for Dolittle ahead!
Have you seen Dolittle? Judging by the box office for the Universal film, I suspect not. But maybe you've heard some things and seen the trailer, and you're curious about what to expect from the Robert Downey Jr. film about his titular doctor that talks to animals. Well, Robert Downey Jr. shared a wild Dolittle image that really tells you everything you need to know. Take a look:
What is this madness you see before you? Is it Dr. Moreau about to create some gnarly animal-human hybrids? Why no, this is Robert Downey Jr.'s Doctor John Dolittle about to perform surgery. Personally, I think I'll get a second opinion from the guy doing impromptu organ transplants behind the dumpster in the alley, but I suppose animals aren't as picky about their medical care.
Early on in Dolittle, a little boy named Tommy shows up at the good doctor's estate seeking his help after the child accidentally shot a squirrel when his father forced him to go hunting. But the Dr. Dolittle he finds is perhaps not what one would expect from a doctor of such renown who was once favored by the queen.
You see, Dolittle's wife Lily died at sea long ago and since then he has been holed up in his estate, going a bit mad and not exactly taking care of himself. So when the boy who will become his apprentice, played by Harry Collett, shows up asking for aid, he finds Doctor Dolittle in a state of peak unsanitariness.
But after some shenanigans ensue, including the arrival of a young girl sent to bring Dolittle to help the queen, the doctor agrees to do surgery and save the rodent. So he ties up his exceedingly long beard to keep it out of the way while he operates on the squirrel named Kevin, voiced by Craig Robinson. Dolittle even uses celery as a surgery utensil... you know, as one does.
If that scenario and this picture look silly and ridiculous, that's because they are, as is the film itself. As you've surely heard, Dolittle is a movie where Robert Downey Jr.'s character gets extremely up close and personal with a dragon, and I'm not talking about at the end that fire comes out of.
But in addition to being ridiculous and just a little bit gross, this picture from Robert Downey Jr.'s Instagram also looks kind of fun. The scathing critical reviews and massive loss at the box office aside, Robert Downey Jr. appears to have had a lot of fun in the role, which makes sense because it seems like it would be an entertaining role to play.
Dolittle is now playing. Check out our 2020 Release Schedule to see what other movies you can look forward to this year and try to guess if any of them will match Dolittle's craziness.
Nick grew up in Maryland has degrees in Film Studies and Communications. His life goal is to walk the earth, meet people and get into adventures. He's also still looking for The Adventures of Pete and Pete season 3 on DVD if anyone has a lead.
Your Daily Blend of Entertainment News
Thank you for signing up to CinemaBlend. You will receive a verification email shortly.
There was a problem. Please refresh the page and try again.