1917 And 9 Other Fantastic War Movies To Stream Or Rent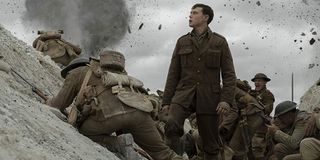 CinemaBlend participates in affiliate programs with various companies. We may earn a commission when you click on or make purchases via links.
Staying at home sucks. But do you know what's a million times worse? War. War is hell. And if there's anything that war movies like 1917 and Apocalypse Now can prove, it's that we can thank our lucky stars that we're stuck at home rather than on some battlefield. There are actually quite a few war movies that are available to rent right now or are currently streaming, so I thought I'd let you know about a few of them.
Now, war movies are "great" and all, but let us never forget that they're just movies, and that there are real soldiers putting their lives on the line for us every day. So a big shout out to all the men and women in the armed forces. Now, on with the war movies.
Glory (1989)
I can't think of many good Civil War films, besides the one with Captain America in it and Gone With the Wind if you count that one, but Glory is a standout picture that shows true heroism despite crippling prejudices. It tells the story of an African-American unit on the Union side, and the bravery they exhibited in combat. Matthew Broderick plays the real Colonel Robert Gould Shaw, but Denzel Washington (who won a Best Supporting Actor Academy Award for his performance) and Morgan Freeman are fictitious characters meant to stand in for all the real soldiers who fought alongside their white counterparts.
The film is excellent, but it is known for quite a few inaccuracies. It's really not meant to be a truly historical account, but it does show the fearlessness of the black regiment and how, while people might discriminate, war doesn't. And if you don the uniform, you can die just like anybody else.
Where you can rent it online: Amazon
1917 (2019)
It's kind of amusing to me that a movie called 1917 came out in 2019, but whatever. Sam Mendes's harrowing World War I epic tells the story of two young soldiers who have been given orders to prevent other soldiers from walking right into a trap. But time is literally of the essence, since the soldiers in question only have until the very next day to deliver the news. As you might expect, there's a lot of death, but you really feel for the characters as they make their treacherous journey through enemy territory. One such scene in particular involving a plane crash at a barn might just make you tear up. It certainly had that effect on me.
1917 is an interesting movie since you don't get many modern war films set during World War I, and certainly not from the British side. And since there's the time element, it ratchets the tension sky high. From the trailer, I know a lot of people compared this movie to Dunkirk but they are completely different films, with Dunkirk focusing more on the war itself (and that war was World War II), and this one focusing more on the characters. Either way, if you like war movies, you owe yourself a favor to watch 1917. It's one of the greats.
Where to rent it online: Amazon
Paths of Glory (1957)
Keeping with the World War I theme is Stanley Kubrick's Paths of Glory, which is my personal favorite film of Kubrick's entire oeuvre. Kirk Douglas stars in this riveting story of a commanding officer who has to defend his troops from being court-martialed after his troops refuse to go on a suicide mission. This time, it's the French Army, and a lot of the movie doesn't even take place in the war. War is actually more of a backdrop. But Kirk Douglas's performance carries the film through, and you feel for the soldiers. This is more of an anti-war film than anything else.
Paths of Glory doesn't show much of warfare, but it's still a thoroughly engaging picture and you get a sense of the actual fear of going out on the battlefield when you face almost certain death.
Where to rent it online: Amazon
Saving Private Ryan (1998)
Moving onto the second world war is probably the most famous modern World War II movie, Saving Private Ryan. Everybody remembers Steven Spielberg's epic war film for those opening moments on Omaha Beach, and yeah, that is pretty startling and grisly. But the overall film is a masterwork on character development and storytelling. By the end of it, you really feel like you've gone through hell right alongside the greatest generation.
In a lot of ways, the plot is almost secondary. It concerns soldiers, led by Tom Hanks as Army Rangers Captain, John H. Miller, who are going into enemy territory to rescue the titular Private Ryan since all of his brothers died, and when that happens, the last remaining sibling is to be sent home. It's an amazing movie with a great ensemble cast. It didn't win best picture at the Oscars, but there are plenty of people who feel it should have.
Where to rent it online: Amazon
Inglorious Basterds (2009)
Another World War 2 movie, but entirely different from Saving Private Ryan, Inglorious Basterds is probably the only "fun" war movie on this list, which makes sense since it's a Tarantino joint. The story is about Jewish soldiers taking out Nazis (Or Nat-zis, as Brad Pitt pronounces it in the film) in a movie theater. Spoiler alert, it's revisionist history, and it feels oh so good by the end.
Inglorious Basterds is not to be taken seriously. It takes place during World War II, but it's seen through the lens of Quentin Tarantino, so there's a lot of great talky moments (Christoph Waltz rightly won a Best Supporting Actor Academy Award for his role as an SS officer), and occasional gruesome violence. Some people even call it Tarantino's best film. Not me, but some people do. It really is that good.
Stream it on Netflix: Netflix (opens in new tab)
Where to rent it online: Amazon
Apocalypse Now (1979)
My all-time favorite movie, Apocalypse Now is about an Army officer who is sent on a covert mission to terminate (with extreme prejudice) a colonel who has gone completely insane. Martin Sheen plays Captain Willard, who is the man sent on the mission down the river, and Marlon Brando portrays Colonel Kurtz. It's a Vietnam film, but it's also loosely based off of Joseph Conrad's novella, Heart of Darkness, so there is a deep, meditative quality to it as well.
As I already mentioned, I LOVE Apocalypse Now and have seen it more than any other movie. It's dark, the music is atmospheric and even spacey, and I frequently hear Martin Sheen's voice-overs in my head on at least once a week. Apocalypse Now isn't so much a war movie as it is an experience.
Stream it on HBO. *
*Where to rent it online: Amazon
Platoon (1986)
Also taking place in Vietnam, the Academy award winning picture, Platoon, is a lot more of an actual war movie than Apocalypse Now. Besides being an overall good film, Platoon is interesting in that Charlie Sheen, Martin Sheen's son, plays the lead role in yet another Vietnam movie. Oliver Stone directed it, and it was the first in a trilogy of Vietnam films from the army veteran, the other two being Born on the Fourth of July and Heaven and Earth.
Platoon is about Charlie Sheen's character, Chris Taylor, trying to reconcile how he can be a soldier and still a human being after seeing the atrocities of war. Much like the next pick on this list, it's about the dehumanizing of man, but it's a little less nihilistic than the next entry.
Stream it on Amazon Prime (opens in new tab)
Where to rent it online: Amazon
Full Metal Jacket (1987)
Coming out just one year after Platoon, Full Metal Jacket is a very different war movie. In fact, it's really two different movies—one part in boot camp (the arguably better portion of the film), and one part in Nam. It's another Stanley Kubrick film, and probably his most famous after The Shining. Like Platoon, it's also about the dehumanization of a soldier, but in this film, it tries to show the viewer that it happens as early as in boot camp.
It's a startling film, and I'll never get over the ending when the soldiers are singing the Mickey Mouse song amidst a world on fire. It's a pretty bleak film, and almost absolutely hopeless. But it's still a great one, and I absolutely recommend that you watch it.
Where to rent it online: Amazon
Beasts of No Nation (2015)
Beasts of No Nation is not based on any specific war, but you get a sense that the civil war that's occurring in this unnamed African country could have happened many times over. And the worst part is, the war in this film is from a child's perspective. That's right, some of the "soldiers" in this movie are children who don't even get to live out their childhood before they're thrust right into adulthood and murder. Out of all the films on this list, this is probably the most difficult one to stomach.
The lead actor, Abraham Attah, who plays Agu, is heart-wrenching to watch as he goes from a normal kid to a killer. And Idris Elba, who plays a character simply known as the Commandant, is terrifying. This is a war movie that is not for the faint of heart.
Stream it on Netflix: Netflix (opens in new tab)
Where to rent it online: N/A
The Hurt Locker (2008)
Last but certainly not least is this Academy Award winning war picture (It beat Avatar!) that takes place in our most recent war, the conflict in Iraq. It's about a soldier—played by Jeremy Renner—who helps dispose of potentially hazardous bombs. But The Hurt Locker is interesting since it tackles an angle that we don't often see in war movies. What if the soldier in question actually likes being on the battlefield? What if it's the only thing that actually makes him feel alive?
Directed by Kathryn Bigelow (Who is the first woman to ever win best director) The Hurt Locker is a slow-paced, but tense war picture that will leave you on edge even after the credits roll.
Where to rent it online: Amazon
There are tons of other great war movies, but I consider these ten the best. Watch them at your leisure on your couch. Because remember, somebody died for that right.
Your Daily Blend of Entertainment News
Rich is a Jersey boy, through and through. He graduated from Rutgers University (Go, R.U.!), and thinks the Garden State is the best state in the country. That said, he'll take Chicago Deep Dish pizza over a New York slice any day of the week. Don't hate. When he's not watching his two kids, he's usually working on a novel, watching vintage movies, or reading some obscure book.