Why Hacksaw Ridge Resonated With Audiences, According To Its Producer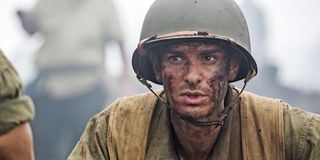 There's no denying that Mel Gibson is a polarizing director, but his latest filmmaking effort has proven anything but divisive. Hacksaw Ridge -- available now on 4K, Blu-ray, DVD and On Demand -- has genuinely resonated with audiences all over the world, and the film's critical accolades may come to a head this weekend when The Academy Awards finally air. I recently had the chance to chat with Hacksaw Ridge producer Bill Mechanic, and he explained to me that he believes the film resonated with audiences because it told a classically structured Hollywood story that we seldom see on the big screen anymore. The Hollywood heavy hitter explained:
Bill Mechanic did not mince words during our recent chat about the success of Hacksaw Ridge, and he made it abundantly clear just how much he loves this film. For all of the technical prowess and all of the amazing special effects that Mel Gibson was able to squeeze out of such a tight $40 million budget, the fact of the matter is that Hacksaw Ridge is simply a well-constructed movie that adheres very closely to the themes that it establishes early on. It is a very traditional Hollywood film that abides by a three-act structure with an almost religious sense of fidelity, and it is an emotionally rich story that excels due to the sheer amount of intensity that Mel Gibson and Andrew Garfield both bring to the table.
It's been a very long time since we have seen a war movie that captures the essence of the Golden Age of Hollywood so thoroughly, but Hacksaw Ridge manages to do it perfectly while also injecting plenty of modern touches that audiences have come to expect from a brutal war flick. That is ultimately what sets Hacksaw apart from other recent war movies -- the traditional story that props up the action.
Bill Mechanic's recent comments about the film are not without merit. Audiences and critics alike have responded incredibly well to Hacksaw Ridge, and the war epic has become a critical and commercial success in the process. Not only did it make its budget back several times over with an impressive $175 million worldwide box office haul; it also managed to garner an excellent 86% Fresh rating on Rotten Tomatoes. Throw in a few Oscar nominations (including its highly coveted Best Picture and Best Director nominations), and you have a recipe for one of 2016's most highly praised and thoroughly enjoyable movies.
However, Hacksaw Ridge works as well as it does because of the immense quality of the collaboration between Mel Gibson and Andrew Garfield. Check out the next page for Bill Mechanic's explanation as to why Gibson was the right filmmaker to helm this story!
Why Mel Gibson Was The Perfect Director
Elsewhere in my interview with Bill Mechanic, I had the chance to zero in and specifically ask him why Mel Gibson was the right choice to helm Hacksaw Ridge. His answer very much echoed his response as to why the film resonated with audiences, and it all seems to come back to the fact that Gibson is an old-fashioned Hollywood director who could balance the values of the film with traditional filmmaking technics. Mechanic elaborated:
Hacksaw Ridge naturally employees a certain amount of computer-generated effects to adequately capture the war sequences, but Mel Gibson has established a reputation for doing in-camera special effects. Gibson studied real history of these battles, and he managed to bring as much authenticity to the proceedings as possible. Braveheart was not a fluke; this guy knows how to construct a fight without relying on CGI.
Beyond that (and perhaps more importantly), Bill Mechanic made sure to emphasize the fact that Mel Gibson's religious values and his core belief system made him a proper choice to connect with the hero of the story. Hacksaw Ridge isn't a Christian movie that explicitly preaches values to the audience, but it's a film that very clearly focuses on a protagonist whose faith guides him in the heat of battle. That was an outstanding quality to capture when bringing this story to life, and that's something that Gibson has become known for over the course of his career as a filmmaker -- for better or for worse.
Speaking of heroes, want to know why Andrew Garfield was the right choice to take on the lead role in Hacksaw Ridge? Check out Bill Mechanic's explanation on the next page to learn more!
Why Andrew Garfield Was The Right Man To Play Desmond Doss
Finally, when the conversation turned to Andrew Garfield, Bill Mechanic opened up and explained why the British actor was the best choice for the role of Desmond Doss. When it came to casting an unconventional hero like Doss, Garfield turned out to be the superior option because he was the best at projecting strength without necessarily looking strong. Bill Mechanic said:
From the way Bill Mechanic describes it, it sounds as though an army of physically imposing actors initially turned out for the role of Desmond Doss during the Hacksaw Ridge casting process. Andrew Garfield stood out from the pack because he managed to project the appropriate type of strength necessary to play a man like Doss, without actually looking like a run of the mill, muscle-bound hero. It was important for the actor who portrayed this character to deliver a particular type of non-verbal intensity, and the former Spider-Man star managed to give exactly what Bill Mechanic and Mel Gibson were ultimately looking for.
In the end, it seems that the casting decision paid off. Andrew Garfield received an Oscar nomination for Best Actor, and he's undeniably one of the strongest contenders to walk away with an Academy Award in this category. We will have to wait and see how Hacksaw Ridge fares when the Academy Awards air on Sunday, February 26.
Your Daily Blend of Entertainment News
Originally from Connecticut, Conner grew up in San Diego and graduated from Chapman University in 2014. He now lives in Los Angeles working in and around the entertainment industry and can mostly be found binging horror movies and chugging coffee.