12 Movies To Stream If You Like Get Out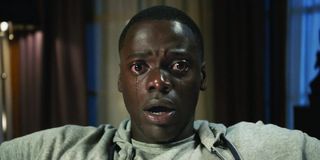 CinemaBlend participates in affiliate programs with various companies. We may earn a commission when you click on or make purchases via links.
Jordan Peele's new horror classic Get Out has sparked conversations not only about the horror comedy genre but about race, interracial romances, cultural appropriation, and so many other hot button topics. Get Out approaches these serious topics with a playful nature and easy to digest tone. It's rightfully earned its place as one of the best horror films of the 21st century. Currently, Get Out isn't available on any subscription streaming service. It is, however, available to rent or buy on Amazon.
The news of Get Out not being available on Netflix, Hulu, or Prime might damper your weekend plans. Even if you've already seen Get Out, it's one of those great movies that presents new layers of brilliance with every revisit. However, on the bright side, there are plenty of other great movies in a similar style of Get Out. These movies either share a theme or tone with Get Out.
Us - HBO Now
What It's About: Adelaide (Lupita Nyong'o) goes on vacation with her family only to encounter a doppelganger version of herself, one she met as a child. The doppelganger Adelaide also has a family that mirrors Adelaide's. The families enter into an all-out battle to occupy the space of the living. Winston Duke and Elisabeth Moss also have roles in Us.
Why Get Out Fans Will Like It: Us is another one of Jordan Peele's horror creations. It's a bit more serious than Get Out, but presents similar commentary on oppression and class. Us also has a really good twist that will likely shock you even more than Get Out's twist.
Stream it on HBO Now here.
Parasite- Hulu
What It's About: Bong Joon-ho's Academy Award winning film follows the Kim and Park families. The poor Kim family schemes their way into the rich Parks' lives, but it's not all caviar and champagne as things quickly escalate. Parasite's cast includes Song Kang-ho, Choi Woo-shik, and Cho Yeo-jeong.
Why Get Out Fans Will Like It: Parasite and Get Out are both really layered suspense stories. They also both deal with hierarchies, and one group benefiting from the mistreatment of another. Parasite and Get Out also both explore implicit biases, one in terms of race and another based on class.
Stream it on Hulu here (opens in new tab).
The Twilight Zone - Cinemax
What It's About: Based on the TV series of the same name, The Twilight Zone movie features four short segments directed by and starring an ensemble cast. John Landis, Steven Spielberg, Joe Dante, and George Miller direct The Twilight Zone segments. The ensemble cast includes Albert Brooks, Dan Aykroyd, John Lithgow, and Burgess Meredith.
Why Get Out Fans Will Like It: The Twilight Zone takes everyday situations and adds a paranormal or horror element to them. Something as standard as a plane ride becomes terrifying when mixed with a creepy Twilight Zone element. Essentially, Get Out does the same thing. It takes a simple everyday act, like meeting your girlfriend or boyfriend's parents, and makes it even more of a nightmare. Jordan Peele has also added his own stamp to the Twilight Zone world by acting as a developer of the reboot.
Stream it on Cinemax here.
The First Purge - Cinemax
What It's About: The Purge franchise has been around since 2013, spanning four movies and a TV series. The First Purge finally goes into how the Purge was created. It starts as an experiment, but four films in and it has become a way of life. The First Purge cast includes Y'lan Noel and Marissa Tomei.
Why Get Out Fans Will Like It: All The Purge movies focus on how the evil elite use purge day to murder those they deemed not worthy to exist in society, usually people with low incomes, criminals, and minorities. Get Out and The Purge share in their exploration of the rich and powerful creating a system to abuse and murder those they see as less than human.
Stream it on Cinemax here.
Midsommar - Amazon Prime
What It's About: A couple (Florence Pugh and Jack Reynor) on the brink of a breakup, are forced together after tragedy strikes. They then head to Sweden with friends as part of an attempt to observe a pagan cult.
Why Get Out Fans Will Like It: Midsommar gives you a sense of unease from the moment it starts to the conclusion. Get Out offers a different sense of unease, but both films slowly unravel new details to their audiences, making for a satisfying conclusion when everything is revealed.
Stream it on Amazon Prime here.
Hereditary - Amazon Prime
What It's About: The matriarch of the Graham family dies, and the family soon learns that a sinister entity curses their family. Buried secrets start to be revealed as the family must fight against their destined demise. Toni Collette, Ann Dowd, Gabriel Byrne, Alex Wolff, and Milly Shapiro star in Hereditary.
Why Get Out Fans Will Like It: Hereditary and Get Out share the unsettling nature of family and traditions. Tradition acts as a villain in both these films. It haunts the Graham family, but it acts as a pardon for the Armitage family. It allows them to justify all their actions.
Stream it on Amazon Prime here.
Being John Malkovich-Starz
What It's About: Craig (John Cusack) discovers a secret door that leads to the mind of actor John Malkovich. Craig and others use Malkovich's mind and body to act out some of their fantasies. Being John Malkovich also stars Cameron Diaz, Charlie Sheen, and Catherine Keener.
Why Get Out Fans Will Like It: Being John Malkovich is another really well done movie about taking control of someone's body without their consent. Catherine Keener also appears in both films, so if you're a fan of the actress, then you get a double dose of her trying to take over someone's body.
Stream it on Starz here (opens in new tab).
The Stepford Wives (1975) - Tubi, (2004) - Cinemax
What It's About: The Stepford Wives is based on a book by Ira Levin. It spun two feature films, one in 1975 starring Katharine Ross and another in 2004 starring Nicole Kidman. The basic premise (spoiler alert) is that men are replacing their wives with robots to make them more compliant to their wants and needs.
Why Get Out Fans Will Like It: The two versions of The Stepford Wives diverge in many ways, but they both keep the basic premise of the original book, and that's what connects them with Get Out. The whole idea of stealing someone's body or likeness to turn them into domestic slaves runs through all of these films.
Stream the 1975 version on Tubi here.
Stream the 2004 remake on Cinemax here.
Invasion Of The Body Snatchers (1956)-Crackle
What It's About: Invasion Of the Body Snatchers has experienced many remakes throughout film history. It originated from Jack Finney's science fiction novel The Body Snatchers. The 1956 version was the first film, and then came Body Snatchers (1993), followed by The Invasion (2007) and Assimilate (2019). The basic premise (spoiler alert) is that aliens begin taking over human bodies, turning them into emotionless pod people.
Why Get Out Fans Will Like It: Get Out and Invasion of the Body Snatchers both deal with the idea of body's being invaded. In Invasion of the Body Snatchers it is by aliens, but in Get Out, it's by older white people.
Stream it on Crackle here.
The Invitation - Netflix
What It's About: The Invitation follows a man (Logan Marshall-Green) as he attends a dinner party hosted by his ex-wife (Tammy Blanchard) and her new husband (Michiel Huisman). Things become increasingly more intense as the couple revisits demons of the past, and a sinister plan at work starts to become clear.
Why Get Out Fans Will Like It: The Invitation keeps you in the dark through most of the film. It slowly reveals what's really going on, and Eden (Tammy Blanchard) and David (Michiel Huisman)'s true intentions for their guests. Get Out also slowly offers viewers pieces of the puzzle until the full picture comes together. They both play on the idea of letting tension build before the bomb goes off.
Stream it on Netflix here (opens in new tab).
Escape Room- Starz
What It's About: A group of strangers are invited to participate in an exclusive escape room experience. They quickly discover that you either escape the room or you die. Each room becomes increasingly more dangerous and harder to solve. Escape Room starsTaylor Russell, Logan Miller, and Deborah Ann Woll.
Why Get Out Fans Will Like It: In both Escape Room and Get Out, the quicker you put together the pieces of the overall mystery, the better your odds of survival. Both main characters in these movies must use their wits, and rely on a bit of luck, to escape their dangerous situations.
Stream it on Starz here (opens in new tab).
The Cabin In the Woods- Hulu
What It's About: A group of college kids decide to spend the weekend at a secluded cabin. They accidentally unleash a group of zombies heading to kill them. However, there are greater forces at work manipulating the situation to ensure a gory end for the students. Kristen Connolly, Chris Hemsworth, Anne Hutchison, Fran Kranz, Jesse Williams, Richard Jenkins, and Bradley Whitford star in The Cabin in the Woods.
Why Get Out Fans Will Like It: The Cabin in the Woods and Get Out might be the best horror comedies created in the last ten years. They both pay homage to the horror drama while also adding a bit of playful satirical elements as commentary on society and horror films.
Stream it on Hulu here (opens in new tab).
The best horror films shock you, challenge your sense of reality, and make you take notice of societal monsters and terrors. Get Out and most of these films do one or all of these things. They're all worth watching if you're in the mood for a scare.