Chris Hemsworth Reveals One Thing That Scared The Heck Out Of Him Filming Netflix's Extraction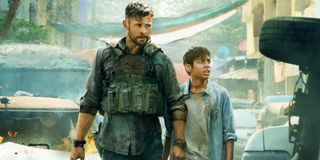 Chris Hemsworth has been a part of more than a few action-heavy projects during his career. From battling aliens in New York in The Avengers to facing the elements in In the Heart of the Sea, Hemsworth has shown no fear when it comes to taking on intense roles. This appeared to be the case with his latest film – Extraction – as well, but there was a certain moment on set that made him nervous.
Chris Hemsworth recalled how Extraction director Sam Hargrave, a former stuntman, chose to tie himself to the hood of a car to record a chase sequence. During the ordeal, Hargrave's safety was the only thing on Hemsworth's mind, and he was well aware that there was a lot riding on the successful execution of the sequence:
Based on his comments to The Philadelphia Inquirer, it sounds like Chris Hemsworth may have been sweating a bit when Sam Hargrave chose to put himself in harm's way for his art. It's easy to empathize with his concerns though, as Hargrave not only have gotten seriously injured but such a scenario could have delayed (or canceled) the film.
Thankfully, Hargrave managed to come out of the situation unscathed and, later in the interview, he explained that he wanted a specific style for his film. With this, he reasoned that he would rather not put someone else in harm's way as he pursued his vision.
Stunt work is never easy and, as a veteran of the Marvel Cinematic Universe, Sam Hargrave understands this completely. He previously served as Chris Evan's Captain America stunt double and also appeared as a gladiator in Thor: Ragnarok.
As an actor who typically headlines movies, Chris Hemsworth is somewhat limited in what he can do stunt-wise, but that doesn't mean he's unaware of the work that goes into stunt prep. The actor once revealed that his stunt doubles must train twice as hard just to keep up with him. His Avengers co-star Robert Downey Jr. even broke his ankle trying to perform a stunt.
Hemsworth has also seen the dangerous side of performing stunt work, which was clear while he was working on Ron Howard's Rush. Unfortunately, during that production, two stunt drivers were killed.
In many ways, doing stunt work can be seen as a thankless job, with many sustaining serious injuries in the process. So it's nice to see that creatives like Chris Hemsworth and Sam Hargrave show deep concern when it comes to executing major sequences. Extraction arrives on Netflix on April 24.
Your Daily Blend of Entertainment News
Covering superheroes, sci-fi, comedy, and almost anything else in film and TV. I eat more pizza than the Teenage Mutant Ninja Turtles.
Your Daily Blend of Entertainment News
Thank you for signing up to CinemaBlend. You will receive a verification email shortly.
There was a problem. Please refresh the page and try again.