Kevin Smith Dropped Five Juicy Details About His Upcoming Mallrats Sequel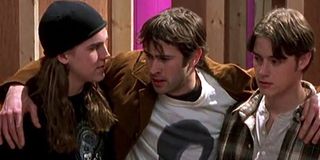 All week, we've been showcasing some of the most exciting comments Kevin Smith has made about his classic film Mallrats. Well, it's time to switch things up a bit, as Smith not only reminisced about his 1995 classic, but he also gave out some seriously juicy details about his upcoming sequel, Twilight of the Mallrats.
Throughout the livestream experience, provided by film studio Focus Features, Kevin Smith delivered the goods when it came to what we could can from his latest draft of the long awaited sequel. Smith is currently wrapping up writing Twilight of the Mallrats in lockdown, so these details feel as fresh as a chocolate covered pretzel from the candy counter.
If you're ready for the future, then it's time to take a look at what Twilight of the Mallrats has in store!
Kevin Smith Is Watching Mallrats A Lot To Write The Twilight Of The Mallrats Script
Sometimes inspiration comes from the most unexpected places. Twilight of the Mallrats isn't one of those cases, as Kevin Smith is returning to the Eden Prairie Mall to draw from the past, in hopes for a new future:
As we saw with Jay & Silent Bob Reboot, the standard American mall is kind of dying off. With mall culture at a supposed all-time low, and Smith's skills evolving since he last told the story of Mallrats, that original movie is going to be very important for a myriad of reasons.
Twilight Of The Mallrats Will Show Us Trish Has Been Up To
Not only are the inspirations of Mallrats still going to be felt in Twilight of the Mallrats, but there's going to be a lot of threads that will be updated in this new sequel. And one of the most prominent looks to be the continuing adventures of sexual anthropologist, and friend of the View Askewniverse, Tricia "Trish the Dish" Jones (Renee Humphrey), as Kevin Smith mentioned this salacious crumb of information:
As Trish went on to publish her book about the sex drives of men 14 to 30, entitled "Boregasm," her whereabouts after Mallrats have been hinted at throughout various media in the Kevin Smith shared universe, but it'll be Twilight of the Mallrats that gives us our first major update in 25 years.
The Ending To Mallrats Will Be Very Important To Twiight Of The Mallrats' Plot
In the aborted sequel, Mallrats 2, the "Die Hard in a mall" plot was going to see Ben Affleck's Shannon Hamilton playing the main villain to Brodie's uber-realistic adventures. However, that draft was '86d in the past, being picked apart to make Jay & Silent Bob Reboot into the film that it is today. But that doesn't mean that the Fashionable Male fixture-turned-jailbird won't be important in Twilight of the Mallrats. As Smith said:
With the sex tape of the underaged Trish Jones and Shannon shown to the Truth or Date audience and law enforcement agents, Mr. Hamilton became good friends with some of his fellow prisoners at Rahway Correctional. So whether Trish's book was bolstered by this event, or Shannon's life has changed in some sort of new and interesting way as a result of his imprisonment, Twilight of the Mallrats is going to use this event to its thematic advantage.
LaFours Will Be With Us, Always
It's been a while since bodybuilder/actor Sven-Ole Thorson has been seen in the world of entertainment, but he'll always be known for crucial roles such as the security guard in Arnold Schwarzenegger's The Running Man, and as LaFours, the law of the land at the Eden Prairie Mall, in Mallrats. And as Kevin Smith has told us during the previous film's livestream:
The 75-year-old Sven-Ole Thorson hasn't been professionally active since 2011, but as we've seen in the past, Kevin Smith does have a way with reuniting with old friends and bringing folks out of retirement. Though another piece of Twilight of the Mallrats has us thinking there's a potential reason for why LaFours would be coming back to the mall after all this time.
Always Two There Are, A Mallrats Master And A Mallrats Apprentice
When we last saw Ethan Suplee's William in the Mallrats universe, he was getting dunked on for his inability to see the illusions hidden in a Magic Eye picture. But in the years since Mallrats, Suplee has grown as an actor, while also getting ridiculously jacked. Which means Kevin Smith has the perfect reason to bring William into Twilight of the Mallrats:
In a plot twist for the ages, William is now jacked and patrolling the Eden Prairie Mall in its modern era of existence. While Jay and Silent Bob have grown as people, they're more than likely going to still be up to mischief in Twilight of the Mallrats. This means William will be able to put his mall security guard training, under the tutelage of Mall Master LaFours, to its fullest potential.
Yeah, there's totally room for a big Star Wars gag with Willam and LaFours acting as master and apprentice in Twilight of the Mallrats. And knowing Kevin Smith, there's probably plenty more where that came from headed our way. With his enthusiasm hoping for a production start date towards the end of this year, we just might see this new trip to the mall presented to our very eyes at some point within the next year.
For now though, all we have is the original Mallrats to tide us over, as well as the details above to keep our imaginations running with thoughts of what Twilight of the Mallrats will bring us upon its release.
Your Daily Blend of Entertainment News
Senior Movies Contributor
CinemaBlend's James Bond (expert). Also versed in Large Scale Aggressors, time travel, and Guillermo del Toro. He fights for The User.
Your Daily Blend of Entertainment News
Thank you for signing up to CinemaBlend. You will receive a verification email shortly.
There was a problem. Please refresh the page and try again.