Tom Cruise Is Teaming With Elon Musk For First Movie To Be Shot In Outer Space, Because Of Course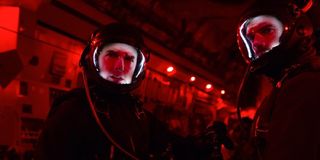 Tom Cruise can't stop pushing the limits in his movies with death defying-stunts most action stars would need a stunt double for. He wants his action scenes to be the most realistic possible, even if that means taking an insane amount of risk. From flying his own planes in Top Gun: Maverick to performing a HALO jump in Mission: Impossible - Fallout, it's becoming quite clear Tom Cruise loves taking things to the next level.
So, it should come as no surprise that Tom Cruise and Elon Musk are partnering on the first-of-its-kind movie that will be shot in outer space. According to Deadline, this project would also be a partnership between Elon Musk's Space X and NASA and would be an action-adventure film.
There's little else we know about the project, other than that it's in the early stages and it's not a Mission: Impossible film. Which is kind of a shame, since Ethan Hunt is the ultimate risk taker and would totally travel into space to steal some kind of McGuffin to save the world.
Elon Musk's SpaceX program's goal is to send humans to Mars and beyond. He wants to civilization to travel the stars and colonize other planets, like Mars. In 2018, his SpaceX program launched a rocket into space carrying 141,000 pounds of cargo into space, a feat he didn't think was possible. Now, it seems like he wants to take the next dangerous and impossible task of filming an entire movie in space.
As mentioned previously, Tom Cruise has performed a great deal of crazy stunts in his career, and it's not like he's come out of them injury-free. While filming Mission: Impossible – Fallout, Tom Cruise broke his ankle, delaying production. It seems like that was a blessing in disguise for the director, allowing him to iron out wrinkles in the script.
That broken ankle didn't stop Tom Cruise from performing more insane stunts on the Mission: Impossibe – Fallout set later. In the famous helicopter scene at the end of the movie, Tom Cruise fell and the crew thought he might have broken his back from the fall.
Still, despite all this, Tom Cruise won't be stopped. He's an all-consuming force, hungry for the next, most insane stunt. It's really hard to imagine how this real-life outer space movie would work. Like, would they use a video diary technique to capture it and make it seem real? It's anyone's guess at this point.
If Tom Cruise decides to shoot a real-life movie digging to the Earth's core, we'll be sure to let you know about it.
Your Daily Blend of Entertainment News
Your Daily Blend of Entertainment News
Thank you for signing up to CinemaBlend. You will receive a verification email shortly.
There was a problem. Please refresh the page and try again.