How Sylvester Stallone Changed Creed I And II To Make It More 'Comfortable'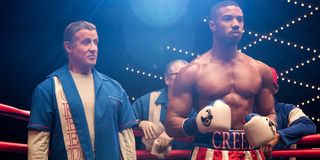 Sylvester Stallone and the character Rocky are of one mind. He lives, eats, and breathes that character, considering he wrote the original screenplay, and then went on to write and direct the Rocky sequels thereafter. There's no one better suited to inform a Rocky movie than Sylvester Stallone.
Recently Sylvester Stallone came on social media to answer fan questions, and when things turned to Creed and Creed II, he didn't mince words. Once he got his hands on the Creed screenplays, he decided dive deep and make changes. Here's what he had to say:
Even though the Creed and Creed II revolve around Apollo Creed's son, Adonis (Michael B. Jordan), it wouldn't be the same if Sylvester Stallone didn't have some kind of hand in shaping and crafting the screenplays, especially since he plays Rocky Balboa in the movies and wrote the franchise's previous scripts.
Despite having such a powerful part to play in the Rocky franchise, you might be surprised to hear Sylvester Stallone doesn't have any real ownership of it, a topic he's particularly sore about. The franchise has made millions over the years, a large percentage Sylvester Stallone never received.
Still, that hasn't stopped Sylvester Stallone from making more Rocky movies. Aside from the Creed movies, he also has separate plans to make another Rocky-centric movie, this time about Rocky taking another young fighter under his wing.
The Creed movies are also not tapping out just yet. Earlier this year it was reported a Creed 3 movie is in development and moving forward. Zack Baylin, writer of Will Smith's movie King Richard, has been tapped to write the next addition to the franchise. He'll be the successor to some heavy hitters, like Ryan Coogler, Juel Taylor and, of course, Sylvester Stallone.
While little is known about where Creed 3 would lead, the director of Creed II, Ryan Caple Jr. has his own thoughts and questions and what that might look like, saying there are some definitive hooks that lead you to the next installment.
Sylvester Stallone is also hard at work on several other projects outside of the Rocky movie universe. He recently made a surprise announcement that they're making a Demolition Man 2 and there are rumors circling that The Expendables 4 has a script and is in development. I wouldn't be surprised if Sylvester Stallone is crossing every T and dotting every I on those scripts as well.
Your Daily Blend of Entertainment News
Your Daily Blend of Entertainment News
Thank you for signing up to CinemaBlend. You will receive a verification email shortly.
There was a problem. Please refresh the page and try again.