Did Sylvester Stallone Just Accidentally Confirm Demolition Man 2?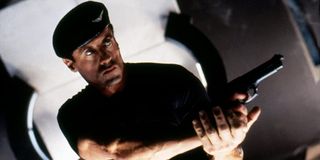 Sylvester Stallone is no stranger to revisiting his old movie properties. From Rambo to Rocky, he loves to take us back to those nostalgic days in the '80s and '90s when things were simpler. Well, it sounds like he has no intention of stopping this trend and could be returning for another round of Demolition Man.
Yes, you heard that right, Demolition Man 2 could be coming our way if what Sylvester Stallone said is true. He recently took to social media to answer some fan questions. One fan asked if we could get another Demolition Man, and here's what he had to say:
Wow. If true, this is the first we've heard of a new Demolition Man movie coming out by Warner Bros. It's also a big surprise, considering several years ago it was reported Sylvester Stallone was suing Warner Bros. for intentionally hiding international profits Demolition Man made. They must have resolved the dispute.
If you don't recall, Demolition Man, released in 1993, was directed by Marco Brambilla and starred Sylvester Stallone, Sandra Bullock, and Wesley Snipes. It's about the well-decorated LAPD police officer John Spartan (Sylvester Stallone) brought back from suspended animation to help a non-violet society fight back against an ultra-violet criminal, Simon Phoenix (Wesley Snipes).
It's surprising, to say the last, that a Demolition 2 could be coming our way. The original Demolition Man received mostly lukewarm reviews from critics, and hasn't exactly aged too well, either. Sylvester Stallone and Wesley Snipes are great, but the overall movie is a little heavy handed. Still, when has Hollywood ever shied away from retreading on old, average material?
Sylvester Stallone, for his part, is busy as ever, working on several other projects. Right now, he's filming a superhero movie called Samaritan, about a young child looking for a superhero that disappeared 20 years earlier. He recently posted a bearded photo of himself on set, looking worse for wear.
It's also been announced that the Expendables 4 movie is underway, despite box office woes for Expendables 3. Though a script has been confirmed to be written, it seems like production for the film is taking its time and has yet to be officially green-lit.
It's unknown at this time if Sylvester Stallone will be returning for Guardians of the Galaxy Vol. 3, but he has plenty to say about his co-stars on Guardians of the Galaxy Vol. 2. He recently said his co-star Michael Rooker is fantastic, an incredible soul, and crazy great on set. Sylverster Stallone, of course, played the ravager Stakar Ogord, a slight antagonist to Michael Rooker's character, Yondu.
Assuming Sylvester Stallone hadn't misspoke, the idea of Demolition Man 2 is pretty exciting, especially if they're able to improve on the first and can bring back Wesley Snipes to play Simon Phoenix. We'll be sure to keep you updated as this story continues to unfold.
Your Daily Blend of Entertainment News