Chris Hemsworth Reflects On Why Thor 'Desperately' Needed Someone Like Taika Waititi At The Helm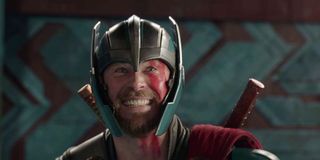 There may be no director in Hollywood right now who has mastered the art of taking fun seriously better than Taika Waititi. The Thor: Ragnarok director worked his magic with the MCU and delighted fans back in 2017. While we're all eagerly awaiting his next Thor installment, Chris Hemsworth is speaking up about why Marvel's decision to bring Taika Waititi on board was one that both the film itself and he desperately needed.
There are obviously perks to being one of the most famous actors in the world, but that fame can come with a price -- especially when it's closely tied to one specific role. Chris Hemsworth has admitted that playing the same character over and over again - even if it's Thor - can get a bit tedious, and that's a big part of the reason why he was thrilled to work with Taika Waititi on Thor: Ragnarok;
It's hard to argue with Chris Hemsworth's comments to GQ, as Taika Waititi's entry into the MCU was roundly praised for doing just that. While the two previous Thor films were box office successes, and received moderately good reviews, Thor: Ragnarok was by far the biggest hit with audiences and critics alike. The director received major kudos for injecting a lighthearted energy into the franchise and giving Chris Hemsworth an outlet to really show off his comedic talents.
Marvel clearly knew it had a good thing going because the studio booked Taika Waititi to take the lead on Thor: Love and Thunder. Chris Hemsworth is clearly excited about that -- he recently hyped up Taika Waititi's script, telling fans it's the best he's read in years and promising the movie is going to be "pretty insane."
Unfortunately, we'll have to wait a bit longer than we expected to see said insanity, thanks to the global health crisis. But Taika Waititi has emphasized that there's a silver lining for Thor: Love and Thunder despite the production and release date delays, as he's planning on spending the extra time gearing up to make sure the script is as perfect as possible before they begin filming.
Chris Hemsworth's adoration of Taika Waititi is totally understandable. Clearly, he's not the only one at Disney who feels that way, too, since they recently announced (despite his earlier denials) that they've booked the director for a new Star Wars film. It's an interesting, but definitely not unwelcome, move for the franchise, which could use a bit of lightheartedness following The Rise of Skywalker. We're looking forward to seeing how he injects his unique filmmaking style into both the Marvel and Star Wars universes in the years to come. Thor: Love and Thunder will hit theaters on February 11, 2022.
Your Daily Blend of Entertainment News