New Avengers: Endgame Image Shows Off Hulk's New Costume And More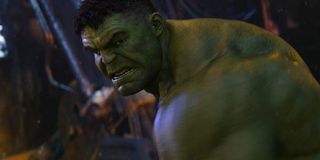 There's less than three months to go until Marvel releases Avengers: Endgame, and there's still a lot we don't know about the Phase 3 capper. However, as with every other movie in the MCU, the heroes will be donning special costumes in their fight against evil. Now a new Endgame promotional image has been released showing off the original six of Earth's Mightiest Heroes in their costumes, and the highlight is Hulk finally getting his own duds after more than a decade.
Whenever Hulk charges into battle, it's usually sans shirt and Bruce Banner's pants just barely fitting him. Hulk did wear armor while fighting in Grandmaster's gladiator ring in Thor: Ragnarok, but this purple get-up is the closest he's come to wearing a legitimate suit/costume in the MCU. The purple calls back to the purple pants Hulk often wears in the comics (that also got a nod in The Incredible Hulk), but the fact that Hulk is wearing something that fits him in Avengers: Endgame indicates that either Hulk is calm enough to put on a costume or that this suit is capable of changing size whenever Banner transforms into Hulk. And speaking of Banner, Hulk's face also looks more human in this image, as if there are now more traces of Banner's visage in the Green Goliath.
While Bruce Banner was present throughout all of Avengers: Infinity War, Hulk only showed up at the beginning to fight Thanos, though he was swiftly defeated. After Banner was sent back to Earth, his monstrous half refused to come back out, requiring Banner to later don the Hulkbuster armor when Thanos' Outriders invaded Wakanda. Infinity War co-director Joe Russo explained that the reason for Hulk staying buried within is because he's "had enough of saving Banner's ass," but evidently their issues will be resolved if Hulk is willing to come out for Avengers: Endgame. Although the fact that Hulk's face looks more human suggests that fan theories speculating that Hulk and Banner will somehow merge together might be correct. That would certainly make for an interesting conclusion to the Hulk arc that began in Thor: Ragnarok.
As for the other heroes in this Avengers: Endgame image on the Orville Redenbacher website promoting an upcoming contest, they mostly look the same. Despite shown still having blonde hair in the Endgame trailer, evidently Black Widow will go back to her classic redhead look, although their is still some blonde noticeable within her braid. Hawkeye is, of course, in his Ronin costume, and Thor's armor looks the same as the one he wore when he came to Wakanda with Groot and Rocket Raccoon in Avengers: Infinity War. That also appears
Then there's Captain America, whose costume at first glance looks like the one he wore in Avengers: Age of Ultron. However, if you look closely, you'll notice the texturing on his chest and shoulder plating resembles the scaling pattern from the character's traditional costume in the comics. It remains to be seen if Avengers: Endgame is indeed Chris Evans' last outing as Steve Rogers or if he'll be back again, but one could argue his costume this time around is the most comics accurate of them all.
Keep checking back with CinemaBlend for more updates about Avengers: Endgame, which opens in theaters on April 26.
Connoisseur of Marvel, DC, Star Wars, John Wick, MonsterVerse and Doctor Who lore. He's aware he looks like Harry Potter and Clark Kent.
Your Daily Blend of Entertainment News
Thank you for signing up to CinemaBlend. You will receive a verification email shortly.
There was a problem. Please refresh the page and try again.