The Avengers: Ranking All The Major Characters By Costume Design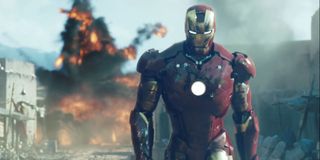 What is a superhero without their costume? A nudist crime-stopper, perhaps, but no matter. It's clear that one of the most impressionable aspects of a great superhero character is the outfit they wear in the midst of saving the day. And when it comes to the ever-expanding Marvel Cinematic Universe, it's obvious that Marvel has a treasure trove of characters, many of whom have some sharp costumes. But who of the Avengers and their allies is wearing the best compared to the rest?
It's a tough matter to decide. Clearly, after so many movies and quite a few costume changes, many of the most beloved characters in the MCU have gone through a wardrobe update or two. If there is one big rule in fashion, after all, it's that you can't be seen in the same outfit all the time. Therefore, as we have already noted, it isn't exactly easy to figure out who wore it best and which costumes we should choose from all the available options. But we did the best we could, tried to rank them accordingly and explain our rational in the process too.
You might agree or you might disagree, but here is our personal ranking for the 10 best costumes worn in the Marvel Cinematic Universe. Let's begin.
10. Valkyrie (Thor: Ragnarok)
Tessa Thompson really rocked the role of Valkyrie in Thor: Ragnarok. The actress, already on the rise through stand-out performances in Dear White People and Creed, made a big impression in her supporting role in the Thor threequel. But what also made a great impression were the outfits she wore as the character, which were created by costume designer Mayes C. Rubeo.
As we see in Thor: Ragnarok, Valkyrie is perpetually drunken, disheartened and sarcastic, but also sullen. Valkyrie has lost the ones she loves and has learned that she needs to depend on herself (and often only herself) to make in a cruel world. Her first outfit, therefore, is modest and practical by design. She need something that is both comfortable and dependable, both for fighting and for getting around. But as Valkyrie becomes both more confident and depend in both herself and her peers, she has a beautiful outfit that show off her valor — literally — as she lays her opponents to waste. It's both narratively fitting and visually stunning. It's, in short, quite easily one of the best outfits we've seen from the Marvel Cinematic Universe yet.
9. Hela (Thor: Ragnarok)
Similarly, but also from a different perspective, the costume seen on the antagonistic Hela, played by the wonderful Cate Blanchett, was also quite eye-catching and similarly appropriate for the character. As someone who was often prevented from getting her proper due in life, this character is both cloak in dark vengeance, but also someone who wants to make an entrance. She is going through heinous and criminal means to make a name for herself, but she's doing it in style. Her costume, cloaked in dark colors but also completely fetching and eye-popping, provides that proper balance.
Hela gets what she wants, and she isn't afraid to take everyone down in the process if they get in her way. This costume, once again by Mayes C. Rubeo, provides that balance of life-long alienation and that desire to be someone great — even if that means being evil in the process. It's a tricky balance for a costume designer, but it's also a delightful challenge. Thankfully, this costume captures those contradictions in a visually appealing style.
8. Spider-Man (Spider-Man: Homecoming)
As a crime-fighter who needs to keep his identity a secret, not only for his own safety, but the safety of the people he loves, Spider-Man is cloaked head-to-toe in his costume, and he needs to stand out. Spider-Man's costume is, by a large extension, his identity, and how he keeps his real identity masked — both literally and figuratively. Therefore, it's apparent that the costume needs to only only be exceptional. It needs to practical and fitting.
Spider-Man's costume has changed more than three times throughout the course of Tom Holland's five-film appearances inside the Marvel Cinematic Universe. Everyone has a personal favorite, but for me, I'm partial to his costume in Spider-Man: Homecoming. The outfit, made and designed by Tony Stark, is both humble and high tech. Designed in real-life by Louise Frogley, this costume is a nice balance of what we expect from Spider-Man of old and what we can expect from the new age of Spider-Man. The gadgetry, complete with a built-in voice system, allows Spider-Man to play with more tools than we're used to seeing from the friendly neighborhood web guy. But there's also a pretty severe learning curve as well.
Spider-Man embodies the trials of growing up and learning how to go from being a boy to a man. He's a very human character, even if he is given the powers of a spider. Therefore, the best Spider-Man movies focus on the hard battles between your established identity and the man who wants to become. This costume, which is both practical but also filled with many wonderful surprises, is the costume that really captures the wonders of what Spider-Man can be inside the MCU. And it's easily one of the best costumes in this universe.
The only reason I'm rating it a little lower is because, well, we have several other costumes from other movies to compare it to, and tech in the costume still feels decidedly not Spider-Man. But hey, maybe that's just me. It's an argument worth having. And goodness knows, it's an argument I've had several times by now.
7. Thor (Thor: Ragnarok)
Of all the Marvel heroes, Thor is the one who hasn't often gotten his due. The character, while a prominent Avenger, was often seen as a lesser one (unjustly, in my view), compared to some of his heroic peers. But for many folks, Thor stood out in a big way with Thor: Ragnarok, which allowed the character to have a bigger arc than we're used to seeing from the often cocky and self-righteous character. He is taken down to his core essentials and stripped of his planet, his family, his hammer (temporarily) and even his eye and hair. It's a lot for one demi-god to go through in a short span of time.
And the costume reflects that journey. Over the course of Thor: Ragnarok, his costume (once again designed by Mayes C. Rubeo) is also stripped down and more rugged, reflecting the hard-knocked journey that our titan of a character endures. In order to properly reflect his hardships, we need to see him become more diminished and distraught. His character is theatrical by design, but I appreciate that this process is more subtle when it comes to his costume. Little by little, it's taken apart, until it's basically its core that remains. That's a good reflection of the character himself and endurance.
6. Ant-Man (Ant-Man And The Wasp)
Similar to Spider-Man, Ant-Man's costume needs to keep things covered and private. The costume has the power to shrink and grow its wearer, and it is one that needs to be practical in some respects, but it also visually appealing. Because of that, you need to make something that's both not too clunky and not too impractical for the character. It's a tricky combination, but it was accomplished thanks to costume designer Sammy Sheldon in Ant-Man and Louise Frogley in Ant-Man and the Wasp. While it's hard to pick between the two films, it's worth celebrating the great costumes found inside the newly-released sequel.
Ant-Man is a character who is often changing, both literally and figuratively. Through the costume, he is able to see the world in new lights, and the costume highlights his personal growth and how big the world can be when he's just a tiny speck running around stopping crime. It is a costume that is both expendable, but also well-fitting, without becoming too bulky or visually uninteresting. It also helps that the costumes for The Wasp, played by Evangeline Lilly, and Ghost, played by Hannah John-Kamen, are also highly exceptional, particularly for Ghost's costume.
5. Doctor Strange (Doctor Strange)
There's no doubt that in the comics, Doctor Strange has one of the coolest costumes. Complete with a cape that literally has a mind of its own and a nice medallion to compliment the ensemble, it's a visually striking piece, and it'd definitely need to be down justify on the big screen. Thankfully, costume designer Alexandra Byrne knocked it out of the cosmic stratosphere with her great work in Doctor Strange's introductory 2016 movie, Doctor Strange.
Wielding some mystic powers and cosmic capabilities, Doctor Strange has some extraordinary magic on his side, and he looks snazzy to boot. Byrne made sure the surgeon-turned-sorcerer lived up to his appearance in the comics, and the result is one of the best-looking costumes seen from the MCU to date.
4. Captain Marvel (Captain Marvel)
The newest mainstay player for The Avengers, Captain Marvel is one of the most powerful and outstanding Marvel characters. Her name is Captain Marvel, after all. Therefore, it's important that the costume reflections her awesome stance in the MCU. And thankfully, the costume did not disappoint.
Designed by Sanja Milkovic Hays, Captain Marvel's costume is stunning, and one that grows with the character — like many other characters seen on this list. As Carol Danvers finds her identity, Captain Marvel's costume becomes more vibrant and prominent. Thanks to the wide burst of colors used to make it stand out, the costume becomes a clear part of her identity, and why she becomes one of Marvel's most triumphant heroes. It's a newer addition to this ongoing list, but we like to think that Captain Marvel earns her rank through the exceptional costume that she sports in Captain Marvel.
3. Iron Man (Iron Man)
He's the one who started it all. The Robert Downey Jr.-led origin story that jumpstarted what we now know today as the Marvel Cinematic Universe is a roaring triumph of a blockbuster; one that really stood out for a lesser-known character and provided the troubled actor with a buoyant, visually stylish and significant return to the public. Since he's wearing a costume that he himself assembled, Tony Stark needs to ensure his suit is great. It's the source of his powers, after all. Thankfully, this introductory film for the billionaire arms dealer-turned-heroic world saver equipped the guy with quite several really great suits.
As we've mentioned before with other characters, Tony Stark's journey is chronicled through his super-suit. As the character grows into a more well-rounded person, so too does the tech suit grow more extravagant. As a result, we witness the progression of the character through the development of his suits. And as he gets better, so too does his metal suit. Costume designers Rebecca Gregg and Laura Jean Shannon did some extraordinary work.
2. Captain America (Captain America: Civil War)
Captain America is a character who, in the wrong hands, can seem kinda dorky and dweeby. He is the do-gooder in a team of world-savers, the guy who wants to preserve justice and order in a place where chaos is often persistent — even, sometimes, in his home base of S.H.I.E.L.D. The guy is someone who is always wanting to do the right thing, even under drastic measures. And he is all about the red, white and blue of America's colors.
Therefore, the costume needs to reflect that. While Captain America's costume hasn't always been super (I'm looking at you, The Avengers), the transition has been unfolded surprisingly well throughout the films. And while I'm partial to his costume in The First Avenger, and there are quite a few fans of his costume in The Winter Soldier (which is very blue, to parallel the character's disposition), the one worth recognizing here is found in 2016's Civil War.
This costume, designed by Judianna Makovsky, is notably a very mid-point costume for our America-loving hero. Proudly displaying the red, the white and the blue of our conflicted character, who is caught in an internal battle with his own life-saving peers, Steve Rogers is morally at odds, but he's clearly still about the values of his country (and the world). He wants what is best for the people, and that involves freedom. Even if some of the other Avengers do not agree or understand that, he sticks to his morals and he wears them proudly — both literally and figuratively. That's seen quite prominently here.
1. Black Panther (Black Panther)
It would be hard to pick anything else for the #1 spot on this list. Costume designer Ruth E. Carter won an Oscar for her stunning and extravagant costume work in the monumental blockbuster Black Panther, and her costume work was rightfully recognized. It's an extravagant accomplishment for any genre and it is clearly the work of a seasoned designer working on a big budget and doing incredible stuff. That can prominent be seen with Black Panther's outfit.
The work of an exceptionally talented designer, the costume given to Black Panther is a vibrant, extravagant work. It feels like an organic extension of the character, representing everything that's significant about Wakanda, and Chadwick Boseman makes it look damn good to boot. It's beautiful work only one of the dazzling costumes found in the film. It'd be hard to justify any other costume to select in its place; this deserves the top spot.
There are several other, highly exceptional costumes we could've picked, and we're sure you have your personal favorites. Let us know what you think in the comments below, and we hope you give your reasons for why you think one costume should be picked over another. There are several to choose from.
Will is an entertainment writer based in Pittsburgh, PA. His writing can also be found in The Playlist, Cut Print Film, We Got This Covered, The Young Folks, Slate and other outlets. He also co-hosts the weekly film/TV podcast Cinemaholics with Jon Negroni and he likes to think he's a professional Garfield enthusiast.