After Rumors Swirl About Guardians Of The Galaxy Vol. 3, James Gunn Sets The Record Straight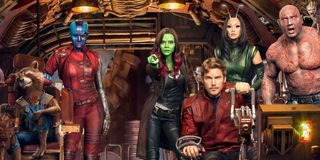 Guardians of the Galaxy fans have had to learn to be patient. While the franchise's next installment has been in development for years, there's been little news about when we'll actually get to see it. Now, the film's director, James Gunn, has responded to rumors about when Guardians of the Galaxy Vol. 3 will begin filming -- and it looks like fans are in for a bit more heartbreak.
It all started when a Reddit user clued fans in that a film production website had Guardians of the Galaxy Vol. 3 down for a February 2021 start date in Atlanta. Several news outlets shared the information on their sites. Before fans could get too excited, though, James Gunn used his Instagram account to address the rumors. He shared a screenshot from a fan account's post about the alleged start date in his stories, along with message that it down in no uncertain terms:
Take a look at James Gunn's Instagram response for yourself:
James Gunn did the right thing by clarifying, but it's still a little bit of a bummer -- especially since that means there's still no word on when the film's production will actually begin. Guardians of the Galaxy Vol. 3 doesn't have an official release date and, at this point it's hard to guess when it might be. Before the coronavirus pandemic caused widespread production delays, it may have been more cut and dry. But now that Disney has shifted their MCU schedule considerably to account for the shutdown and subsequent release delays, it seems like those that have been waiting in the wings could get pushed back even further.
In retrospect, that February 2021 date does seem a little bit impractical. It would have meant that Guardians of the Galaxy Vol. 3 would start production before James Gunn's latest film, The Suicide Squad, hit theaters. This means he would have been pulling double duty, putting the finishing touches on one while working on the other.
What we do know is that the Guardians of the Galaxy Vol. 3 script is, at the very least, a thing that exists in some form -- and James Gunn seems to be making great progress on it. In fact, Karen Gillan has said that from what she's read, it's the best Guardians of the Galaxy script yet. Gunn has also shut down rumors that the movie will begin filming in January 2022, though he didn't clarify whether it would be before or after that date. Maybe we should just see if he's up for a game of 20 Questions and we can narrow it down that way?
Regardless of when Guardians of the Galaxy Vol. 3 finally sees the light of day, we can remain optimistic that it will be worth the wait. And while you wait, you can check out the first two installments, which are now available to stream on Disney+.
Your Daily Blend of Entertainment News
Your Daily Blend of Entertainment News
Thank you for signing up to CinemaBlend. You will receive a verification email shortly.
There was a problem. Please refresh the page and try again.