James Gunn Teases Progress On Guardians Of The Galaxy Vol. 3 Script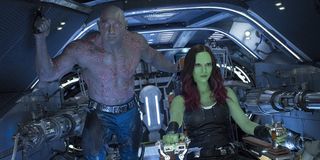 Before Guardians of the Galaxy was an established franchise, most people thought it was an outlier comic that would never work on the big screen. It was a huge risk for Marvel to move forward with the movie, but it was one that paid off big thanks to James Gunn not holding back when directing and writing the script. Now that fan favorite franchise is getting a third movie, after the Guardians appeared in the last two Avengers movies.
Right now, we've mostly been kept in the dark on the status of the project. The movie is in pre-production, and it won't be part of Phase 4 of the MCU. The public simply has no idea what the plot will entail, who might cameo. Thankfully, James Gunn went on social media and teased progress on the Guardians of the Galaxy Vol. 3 script. Here's what he said:
This tease is hard to decipher. We've known since last year that James Gunn had formed the movie's script. Karen Gillan claims to have read said script, calling it the best of the trilogy. So, when he says it's well past the first draft phase, could that mean they're gearing up to start filming? It sure sounds like it.
James Gunn has been hard at work on the remake of DC's The Suicide Squad. He wrapped filming on that project earlier this year and entered into post-production. It's been assumed all of his attention has been on that movie, but he clearly he's a multi-tasking wizard.
The past few years have been eventful for James Gunn and the future of Guardians of the Galaxy. James Gunn was briefly fired by Disney due to his controversial history on social media. Fans and the cast came to his defense, with Gunn eventually reinstated. But he also took a gig with The Suicide Squad in the meantime, further delaying Guardians 3.
That's how he got involved in The Suicide Squad and the filmmaker largely been focused on that blockbusters, delaying Guardians of the Galaxy Vol. 3 which will no longer be part of Phase 4 in MCU. He told fans he's sorry to disappoint but he's going to finish The Suicide Squad first.
It's currently unclear when James Gunn will begin filming Guardians of the Galaxy Vol. 3. When a fan recently asked if filming for the movie would begin in January 2022, James Gunn bluntly said no. It seems unlikely that he would wait so long after 2022 to start filming, so there's a good chance filming could happen before that date. We'll keep you updated as the story unfolds.
Your Daily Blend of Entertainment News
Your Daily Blend of Entertainment News
Thank you for signing up to CinemaBlend. You will receive a verification email shortly.
There was a problem. Please refresh the page and try again.