8 Must-Watch Tom Hardy Movies If You're A Fan Of The Venom Star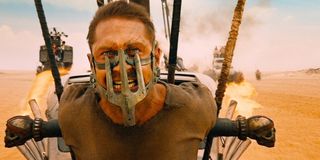 As an accomplished, versatile actor who is often quick to challenge himself and put himself into different projects, both big and small, Tom Hardy is one of our most riveting and impressive actors. While some viewers might know him best for Venom, that Sony blockbuster only gives us a brief look at what he can do. Certainly, Hardy has proven the depths of his versatility in a number of outstanding performances, even in some films where his work is better than the movie itself — though that is a matter of opinion. If you love Tom Hardy, you should make a point to check out these movies.
Bronson
In this thunderous title role, Tom Hardy rarely — if ever — leaves our focus in Bronson. As one of the most violent, infamous prisoners in Britain history, Bronson certainly isn't an endearing protagonist on the page. But through Hardy's uproarious turn, it's invigorating. He's our central figure in every respect, appearing in nearly every frame, while also narrating his story and adding his own commentary throughout his unique look at his locked-up life. It's a colorful, sensational, boisterous role — one where our lead really needs to demand our full attention.
Thankfully, Hardy is more-than-capable of delivering the goods in Nicolas Winding Refn's highly entertaining, (possibly) strongest film. His captivating take on Charles Bronson is stunning and immersive, making you forget about the performance and only letting you see the larger-than-life true-life character presented. It's an incredible, astonishing performance — arguably Hardy's best yet. Stream it on Tubi.
Locke
Locke is the sort of premise that shouldn't work as a feature-length film. It follows our title character, Ivan Locke (Tom Hardy), the only on-screen character, driving to London to be with a one-night-stand who is prematurely in labor with his child, leaving behind his duties on an important night job and his awaiting wife and sons, who expect him home for a big game. We watch our central character take call after call, breaking apart the life he's build, piece-by-piece, to do what he believes is right after an egregious wrong.
It takes place entirely in the confines of a car, watching a man drive and answer life-altering calls. It's not flashy, nor exceptionally cinematic. But through Hardy's mesmerizing performance, we're riveted. Only someone this commanding could pull this off, but it works wonderfully thanks to his exhilarating performance. From the beginning, you're hooked. Stream it on Netflix.
Lawless
Certainly compared to other performances on this list, Lawless isn't Tom Hardy's flashiest or most showy work. He plays a coolly contemplative presence throughout the 2012 western, complete with deadpan delivery and an emotionally-reserved exterior. His grumbling, mumbling performance might not work for everyone, but in a film sparked by violence and anarchy, notably with Shia LaBeouf's controversial on-set behavior, Hardy's rugged-yet-nuanced role is a key part of the film's success.
Under the character's rough exterior is an intelligent, introspective, hard-fought man, and Hardy's layered performance captures that dichotomy well. Not many actors can make a refrained, inward character come to life on the screen, but it's clear that Hardy is adept at making both splashy and subtle characters work in his favor. Lawless is a pretty good example of the latter case. It's a fine showcase for his captivating presence, even when scaled back. Stream it on Netflix.
Legend
Two Tom Hardys for the price of one? What more do you need to know? Indeed, Hardy takes on dual roles in Legend, a biopic about the Kray twins, a pair of English criminals who terrorized London throughout the '50s and '60s. While the movie never matches Hardy's rich dedication otherwise, the actor gives two of his finest performances here, providing not one, but two nuanced and compelling performances — which is particularly impressive whenever he must act opposite himself. That's a task that's certainly not easy, even for the best actors, but Hardy pulls it off handily, which makes the movie itself well worth seeking out for his fans.
It's a shame the rest of Legend is lukewarm and forgettable —ironically enough— never matching the wit and passion of its actor's committed portrayals, but Hardy fans would certainly be remiss if they skipped it. Stream it on Netflix.
Capone
Admittedly, Capone isn't exactly what you expect from a gangster biopic. This isn't a cradle-to-the-grave look at the notorious criminal's life. Instead, this is a hand-in-the-grave examination of an intimidating mobster at his weakest, most fragile and vulnerable point. Examining the last year of his life before Al Capone passed away at a mere 48 years old, writer/director Josh Trank makes an unsettling, deeply unconventional look at the horrors that come from dying and deteriorating at an early age, knowing that your legacy is behind you and any sort of redemption and salvation you wish to find won't come into reach.
Naturally, that's a hard sell; it's understandable why many found this strange, morbid film off-putting. But even if Capone isn't your bag, you can't take your eyes off Tom Hardy's portrayal. His bizarre, unhinged lead performance is magnetizing and absolutely arresting, not to mention even darkly funny at times too.
Warrior
Execution is key. On the paper, 2011's Warrior could've been a tepid, familiar sports/family drama with a cookie-cutter story and expected beats. But Gavin O'Conner's tender, visceral, effectively grounded film is a bonafide winner, notably in how it brings out the goods with its lead actors, including Joel Edgerton, Nick Nolte, and Tom Hardy. As the beefed-up ex-marine who clashes with his brother in a mixed martial arts tournament, Hardy is gruff and intimidating, but we often see his moody, reflective side.
While it's easy to focus on his muscle-bound intensity, what truly makes this performance sing is the soft sensitivity Hardy showcases in the quieter, more intimate moments. Hardy's performance, much like the fine work of his co-stars, is a key reason why Warrior transcends cliches and potential melodramatic tendencies to become an affecting, engrossing tale of masculinity, emotional distance, dysfunctional homes, and self-discovery. Stream it on Hulu.
The Revenant
Though The Revenant is typically considered Leonardo DiCaprio's movie, notably since it's the one that got him his Best Actor Oscar, Tom Hardy's performance as John Fitzgerald shouldn't be overlooked. Though it won't be the role that he's most remembered for, it was the role that finally earned him his first (and only) Oscar nomination, serving as the antagonistic figure whom DiCaprio's left-for-dead Hugh Glass seeks to hunt and kill.
As we've noted, Hardy brings a brooding physicality and an unwavering intensity to his most noteworthy roles, showcasing a menacing, intimidating presence that's befitting of the grueling, unrelenting terrain shown throughout this grizzly awards contender. While he doesn't get as much screen-time as his Oscar-winning co-star, Hardy certainly proves to be a formidable opponent, bringing a malign and deprived humanity to what might've been a stock, leaden villainous character in a lesser actor's hands.
Mad Max: Fury Road
Modern action movies don't get much better — or any madder, really — than Mad Max: Fury Road. Though it's the fourth film in writer/director George Miller's dystopian action movie series, Fury Road is bristling with life, energy, and inspiration, producing arguably the best, most intense, most invigorated installment in the franchise.
Taking over the reigns from Mel Gibson, who played the title role in the original three films, Hardy's Max is almost a silent movie character, complete with a face mask covering up his mouth throughout a good chunk of the first act. Relying a great deal on Hardy's wide-eyed expressions and raging fierceness, Hardy's assumes the popular role with vigor and humor, resulting in an arguably more maniacal, sometimes even goofier portrayal. But Hardy does bring bit of somberness and emotional gravity to the famous role in key moments too, making it his own.
In addition to these roles, you should also make a point to check out Tom Hardy in The Drop, Tinker Tailor Soldier Spy, Inception, and The Dark Knight Rises if you haven't seen those movies already. What's your favorite Tom Hardy performance? Which films would you recommend to his biggest fans? Let us know in the comment section below!
Your Daily Blend of Entertainment News
Will is an entertainment writer based in Pittsburgh, PA. His writing can also be found in The Playlist, Cut Print Film, We Got This Covered, The Young Folks, Slate and other outlets. He also co-hosts the weekly film/TV podcast Cinemaholics with Jon Negroni and he likes to think he's a professional Garfield enthusiast.