Sounds Like Tom Hardy Regrets Mad Max: Fury Road On Set Drama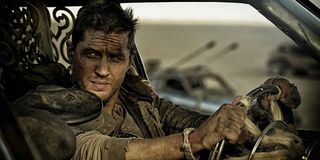 Mad Max: Fury Road is five years old, but the Academy Award-winning film is still being talked about today, seemingly resonating more than ever. It's no secret the production had its fair share of drama and trouble. Yet, somehow, out of the crucible, George Miller crafted a thrilling, and gorgeous spectacle.
Now, the New York Times reports that lead stars Tom Hardy and Charlize Theron have spoken a little more in depth on the topic in a recent interview. Tom Hardy, in particular, shared that he has some regrets about how he conducted himself. Here's what he had to say:
This is refreshing coming from the Mad Max: Fury Road star. And he's absolutely right that he was in over his head, especially trying to fill Mel Gibson's larger-than-life shoes as the titular character. Initially, there were plans to bring Mel Gibson back, but those fell through and the role went to Tom Hardy, instead.
Earlier reports pointed to problems between Tom Hardy and Charlize Theron while on set. Back then, Charlize Theron admitted they would frequent butt heads, but also said that tension might have helped elevate their performances and the movie as a whole. Here's what Charlize Theron says about the experience now:
As you can imagine, Mad Max: Fury Road production was anything but fun and games. Zoe Kravitz said in an interview that they were in a hot desert for six months, tired, homesick, and confused about what was happening with the movie most of the time. It sounds like the chaotic set was difficult for everyone involved.
So, are there any Mad Max sequels planned? All signs point to yes. George Miller has said he has two ideas in his head for sequels, plus a Furiosa story. That Furiosa story is already in the works with Anya Taylor-Joy being eyed for the titular role.
Your Daily Blend of Entertainment News