Turns Out Chris Evans Once Lost Out On A Role To Ryan Gosling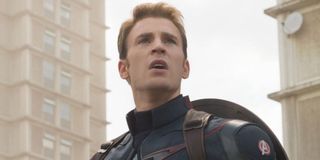 It's hard to fathom a time when Chris Evans wasn't one of the most in-demand actors in Hollywood. But in the early aughts, the man who would be Captain America wasn't exactly a household name yet. That meant he had to audition endlessly to try to book roles that he often didn't get. He even once lost a role to Ryan Gosling.
By 2007, Chris Evans had a few notable movies in his repertoire like Not Another Teen Movie and Fantastic Four. But he was still almost a half-decade away from finding superstardom in the MCU and constantly in search of work. While there are many role he went out for and didn't get, there's one in particular that still seems to sting -- the part that got away, which he recalled to The Hollywood Reporter:
Okay, maybe we all can't relate to losing out on a role in a major motion picture, but a lot of us have lost out on a job we thought we were perfect for so that particular disappointment is pretty relatable.
In case you don't remember Fracture, it's a legal thriller about a district attorney who's charged with putting a manipulative entrepreneur behind bars after he murders his wife, which proves to be a more challenging task than he expected. Ryan Gosling played William Beachum, the aforementioned DA -- and part of what made the loss so hard was that if Chris Evans had gotten the role instead, he would have been able to play against one of Hollywood's most revered (and surprisingly social media savvy) stars:
It's understandable why he would have been bummed at the time, but everything obviously worked out okay for Chris Evans in the end -- and truth be told, Fracture probably wouldn't have been the career-making movie he may have thought at the time, anyway. It ended up making a respectable-but-not-outstanding $92 million worldwide and received a not-terrible-but-still-pretty-lukewarm reception from critics and moviegoers. In other words, it may not have been the star-making vehicle he imagined it to be in the first place.
Would you have wanted to see Chris Evans in Fracture? Do you think he would have been a fit for the role? Let us know in the comments below.
Your Daily Blend of Entertainment News
Your Daily Blend of Entertainment News
Thank you for signing up to CinemaBlend. You will receive a verification email shortly.
There was a problem. Please refresh the page and try again.