How John Wick 4 Is Getting A Major Boost From The Third Film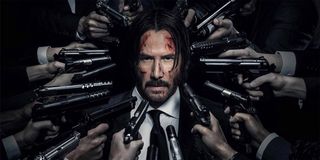 John Wick 4 hasn't even started production, but it's already further along than some of the other major Hollywood films slated for release in the next couple of years. That's because the filmmakers will be able to use some action sequences that they wound up scrapping when they filmed John Wick 3. It sounds like they already have a plan for how to integrate the footage, too, even if they're keeping it under wraps.
At first, the plan was for John Wick 3 to be the final film in the franchise. According to director Chad Stahelski, though, the film's team, including Keanu Reeves, decided before the film hit theaters that they weren't quite done telling John Wick's wild story. That meant that when it came time to put the final cut together, they had to change some things around in order to make room for future chapters -- though, the director said that footage won't necessarily have to be on the cutting room floor forever:
That doesn't mean that the John Wick crew takes a cut and paste approach to making the movies, though. Chad Stahelski made it clear to The Hollywood Reporter that regardless of where the footage comes from, their first objective is always the storytelling:
Though Chad Stahelski is mum on what exactly those cut sequences entail and how they might inform the overall storyline in John Wick 4, it's safe to assume some awesome stunts will be involved. It's also to know all that work won't have gone to waste, and it may end up being a stroke of luck for the filmmakers as well.
John Wick 4 isn't slated to hit theaters until 2022, after having been pushed back, so there's no telling whether the film's production could be affected by the recent pandemic. Still, the availability of ready-to-go footage could, feasibly, help them stay on track for that release date if they encounter any delays.
Your Daily Blend of Entertainment News
Your Daily Blend of Entertainment News
Thank you for signing up to CinemaBlend. You will receive a verification email shortly.
There was a problem. Please refresh the page and try again.