Jurassic World: Dominion Producer Explains Why The Franchise Will Continue After The Sequel Arrives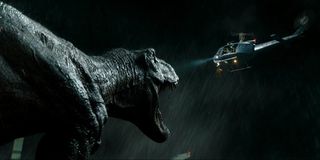 Five years ago, Jurassic World brought us a whole new generation of Jurassic Park movies, revealing what things might have been like if they actually made a theme park with dinosaurs. Jurassic World: Dominion (the third in the trilogy) on its way, it looks like the threequel isn't the end, according to its producer.
Anytime a trilogy comes to an end, most fans wonder if they'll end it, continue the story, or just outright reboot it. Now, in an interview with Collider, producer Frank Marshall has said the Jurassic World stories will continue. Here's his explanation why:
In the early days of the Jurassic Park mythos, the dinosaurs were mostly contained on the island. That's always been the allure of the stories, being able to travel to a land before time began. But after the events of Jurassic World: Fallen Kingdom, the dinosaurs are now among us and the lost world has come home. It looks like Frank Marshall and the Jurassic World filmmakers are leaning in to that concept, potentially making more stories based around what that might look like.
Of course, they've still got to wrap production for Jurassic World: Dominion first. As Frank Marshall alluded, earlier this year Jurassic World: Dominion shut down filming due to the coronavirus pandemic. That halt in production could potentially be costing the film somewhere around $300,000 a day.
Despite this, director Colin Trevorrow has been hard at work while at home. In April, he shared an Instagram photo of his computer screen, revealing he's been working on footage of Jurassic World: Dominion.
Even though production for Jurassic World: Dominion has been shut down, original Jurassic Park actor Sam Neill commented recently that filming could restart soon. He said he's scheduled to come into Pinewood studios early in the morning and that all the sets are ready and waiting.
Sam Neill's return to the Jurassic franchise is a long time coming and is sure to excite moviegoers. When it was announced that Jurassic World: Dominion is officially bringing back the original Jurassic Park stars, Sam Neill, Laura Dern, and Jeff Goldblum, it was one of the most exciting things any Jurassic Park fan could hear about the upcoming sequel.
While plot details for Jurassic World: Dominion are sparse, it's been assumed the story will revolve around finding and returning the loose dinosaurs. If that is indeed what the story will be about, it sounds like our heroes won't be very successful if Frank Marshall imagines the dinosaurs sticking around.
Your Daily Blend of Entertainment News
Thank you for signing up to CinemaBlend. You will receive a verification email shortly.
There was a problem. Please refresh the page and try again.