Planet Of The Apes Director Explains Why Fans Of The Last Trilogy Shouldn't 'Worry' About The New Sequel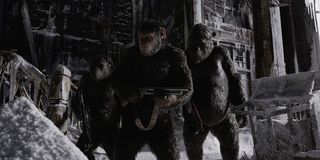 It's no secret that movie fans get protective when beloved trilogies are tampered with in any form. When it was announced a fourth Planet of the Apes film would be a continuation of the trilogy without Matt Reeves at the helm, it concerned some.
The Maze Runner director Wes Ball will be helming the new Planet of the Apes sequel, and recently teased that the Planet of the Apes sequel wouldn't be a reboot but a continuation. Now he's opening up about the upcoming movie, reassuring fans that they're in good hands. Here's how Ball put it,
Well this is somewhat reassuring. While directors tend to get the brunt of praise or displeasure with a movie's performance, it's a good reminder that a production involves an entire team to be successful.
Wes Ball is primarily known for directing The Maze Runner trilogy, a young-adult dystopian thriller based off of the novels. Unfortunately, that trilogy saw diminished returns critically and at the box office with each installment. Other than the Planet of the Apes trilogy, he also helmed the big budget adaptation of the Mouse Guard for 20th Century Fox before Disney halted the production. But according to his comments to DiscussingFilm, the new movie is in very good hands.
War for the Planet of the Apes ended the trilogy with critical fanfare. After finalizing the production with a bang, Matt Reeves left to pursue writing and directing The Batman, starring Robert Pattinson as the caped crusader. War of the Planet of the Apes's ending seemingly finished Caesar's arc in a final way, making some question if there would be another movie at all.
Without Caesar, it's difficult to see where Wes Ball and his team could take the Planet of the Apes franchise. Caesar was very much the heart and soul of the lat three movies. But, at this point, we'll just have to take Ball at his word that he has a solid direction to take the series.
Your Daily Blend of Entertainment News