Epic Keanu Reeves Fan Art Imagines Him As Old Man Logan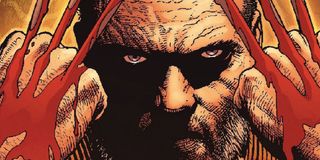 Keanu Reeves has acted in many types of movies over the years, but one genre he hasn't jumped into yet is the superhero realm. It's hard to say if he'll ever take part in such a creative endeavor, but one fan has taken it upon themselves to envision what the John Wick star would look like as an older Wolverine, i.e. Old Man Logan.
Check out the fan art below of Keanu Reeves in Old Man Logan mode:
Rather than mock up how Keanu Reeves would look as a more traditional, younger-looking Wolverine, Instagram user pabloruizzx instead shows how the actor would look if he were cast to play the mutant in his older years. Although since this is Reeves we're talking about, he still looks rather youthful. One might even say… immortal? Okay, that's stretching it, but still, casting him as Old Man Logan would be a cool and outside-the-box pick.
For those unfamiliar with Old Man Logan, he hails from an alternate universe where Earth has been conquered by super villains and nearly all of the Marvel superheroes have been eliminated. The older Wolverine lives a quiet life with his family and has sworn off using his claws, but a tragic event pushes him back into action. Old Man Logan was also drawn into the main Marvel Comics continuity for a while, a time when the main Wolverine was dead.
While 2017's Logan was not a direct adaptation of Mark Millar's "Old Man Logan," it did draw some inspiration from the storyline, such as being set in a depressing future, Wolverine's healing factor starting to break down and him going on a cross-country journey. Still, it'd be interesting to see how Keanu Reeves would do playing a more traditional Old Man Logan on the big screen.
Let's not forget that Keanu Reeves has been approached for multiple Marvel roles, including Yon-Rogg in Captain Marvel, who Jude Law ultimately played. Alas, things just haven't worked out for Reeves in the MCU yet, but perhaps that will change at some point. If any superhero-related role would be big enough for Reeves' talents, it's Wolverine.
That said, one would imagine that whenever Wolverine is introduced to the MCU, we'll get a more straightforward depiction of him rather than Old Man Logan right off the bat. So while Keanu Reeves still looks quite good for a man his age, presumably the Marvel Studios executives will be looking for a younger actor to inherit the Wolverine mantle, but hey, anything's possible.
Whether the day comes that Keanu Reeves joins a superhero franchise or not, at least we don't have to worry about not seeing him in a cinematic setting for a while. Reeves' next two movies, The Spongebob Movie: Sponge on the Run and Bill & Ted Face the Music, are both still scheduled to drop later this year. The Matrix 4 has paused filming, but it's slotted for a May 2021 release, and John Wick 4 was recently pushed back to May 2022.
Keep checking back with CinemaBlend for more updates on Keanu Reeves' career and what the MCU has in store for the X-Men. You can learn what other movies are supposed to drop later this year with our 2020 release schedule.
Connoisseur of Marvel, DC, Star Wars, John Wick, MonsterVerse and Doctor Who lore. He's aware he looks like Harry Potter and Clark Kent.
Your Daily Blend of Entertainment News
Thank you for signing up to CinemaBlend. You will receive a verification email shortly.
There was a problem. Please refresh the page and try again.