11 Keanu Reeves Movies Available For Streaming Right Now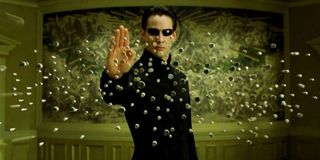 CinemaBlend participates in affiliate programs with various companies. We may earn a commission when you click on or make purchases via links.
For over three decades, Keanu Reeves has starred in a variety of movies in various genres. Though he's best known for his action work, Reeves has extended himself to a number of different projects and a variety of different roles — with some proving more successful than others. But Reeves firmly gained the public's interest and trust with the enormously successful (critically and commercially) John Wick movies, with last year's John Wick: Chapter 3 - Parabellum proving to be one of his most exceptional works yet. There are a lot of Keanu Reeves movies out there, though, and many of them are available to stream across several services. If you're looking for a quality Keanu Reeves flick, take a look at where you can find these titles.
John Wick: Chapter 3 - Parabellum - HBO Go
While Keanu Reeves proved himself to be a top-rate action star through Speed, Point Break, and The Matrix trilogy, it wasn't until the John Wick franchise that moviegoers fully appreciated the actor's long-established skills in an action vehicle. Though he might have his limitations as far as his range, Reeves excels in the right role, and this cool, captivating and completely badass title character played to all of Keanu's strengths as a performer. The unexpected action film franchise is slick, stylish, action-packed, and often darkly funny to boot. That was certainly true with the third, most recent installment, John Wick: Chapter 3 - Parabellum, which continued to up the ante in exhilarating, exciting, death-defying ways. Still expanding this improbably large world of assassins while never failing to provide one incredible action sequence after another, this remains a bone-crunching delight.
Stream It on HBO Go.
The Matrix Trilogy - Netflix
In what might remain his most defining performance, even compared to Ted from Bill & Ted or the title character from the John Wick movies, Keanu Reeves plays Neo in The Matrix trilogy, an astonishing and revolutionary trilogy which saw Reeves assuming the role of The One, a once-lowly man who realizes the world he thought he knew is a lie — it's all a computerized simulation. Awoken to his reality, Neo must assume greatness before it's too late. Though the sequels are contested in some camps, there's no denying that the first Matrix is one of the most outstanding and influential original films of the late 20th century, infusing a high-tech new vision for the new century that heavily influenced an abundance of new media to follow.
Stream The Matrix on Netflix here (opens in new tab), The Matrix Reloaded here (opens in new tab), and The Matrix Revolutions here. (opens in new tab)
A Scanner Darkly - Vudu
Both visually stunning and intellectually stimulating, A Scanner Darkly is a darkly dazzling rotoscope-animated science-fiction thriller, providing a beautifully realized and eventually hauntingly somber look into the mindset of its drug-addled characters in this unstable world. Keanu Reeves plays Bob Arctor in this Philip K. Dick adaptation, an undercover agent in an alternate universe where the U.S. lost the war on drugs. The government developed an invasive network of surveillance and undercover officers, and Arctor is tasked with immersing himself in this drug underworld as Substance D, a powerful hallucinogen, gets 20 percent of the population addicted. Also starring Woody Harrelson, Robert Downey Jr., and Winona Ryder, Richard Linklater's striking, unsettling adaptation is a captivating movie, though not a particularly uplifting one. While the visuals are more commonly celebrated, Reeves' dour performance helps to bring the full weight of this downer tale.
Stream It on Vudu (opens in new tab).
Destination Wedding - Amazon Prime
I might be in the minority on this one. Truth be told, I've only found a handful of people who agree with my affections for Destination Wedding. The anti-rom-com/rom-com's sardonic edge and mean-spirited characters may be too bitter and, therefore, unappealing for certain audiences. The crass, crude lines given to Keanu Reeves and Winona Ryder might not charm everyone. Nevertheless, while the script isn't without its faults, Destination Wedding is undeniably elevated by the natural, easeful chemistry shared between Ryder and Reeves. Even when these lovable stars play damn-near despicable meanies who snarl and sneer at every walking life around them, and even when they're meant to hate each other, they share a radiant spark — one that's been evident throughout their continued working (and personal) history together. I can't guarantee you'll love it, but it's worth giving it a shot.
Stream It on Amazon Prime.
Man of Tai Chi - Netflix
While Keanu Reeves has amassed over 30 years of acting experience to his memorable name, the performer only has one directing credit on his resume. That movie is 2013's Man of Tai Chi, an admirably decent action-drama debut which also stars Reeves as an egotistical millionaire who brings a skilled Tai Chi fighter under his wing for an underground fighting operation. Clearly, as he has demonstrated for years (particularly with The Matrix movies), Reeves holds a great deal of admiration for martial art fighting. That's vividly displayed through exceptionally choreographed and executed fight sequences — notably well-handled for a first-time filmmaker, even one with several years of on-camera experience. When it comes to the drama and other aspects, they're not always so confident, though Reeves shows commendable promise as as a filmmaker. I hope he directs again someday.
Stream It on Netflix. (opens in new tab)
Toy Story 4 - Disney+
Though his cool, captivating voice can be easy to recognize, Keanu Reeves hasn't taken too many voice-only roles as an actor. A Scanner Darkly is animated, but he gave a physical performance, and his other voice work mostly pertains to media relating to The Matrix. Thus, Reeves' performance in Toy Story 4 was a bit of a surprise — and a delight one, too. Providing his voice to the role of Duke Caboom, an Evel Knievel-esque daredevil toy who is never shy about his affections for the True North, Reeves gives another warmly comedic role, one that showcases the actor's earnest giddiness for dangerous stunts, high-flying antics, and risking everything to do what he loves — in essence, maybe not too far off from Keanu in his live-action form, notably based on what we've seen from the continuously-extending John Wick franchise.
Stream It on Disney+ (opens in new tab).
The Bad Batch - Netflix
In the intriguingly strange dystopian thriller The Bad Batch, Keanu Reeves makes more of a glorified cameo than anything else, playing prominently in the movie's final act as the mustachioed leader called The Dream, a vibrant cult of personality discovered by our one-armed, one-legged protagonist. But the role relies heavily on Reeves' natural, intoxicating charisma, allowing his mannered speech and captivating presence to convince us in a short span of time why his untrustworthy character would find so many people captivated by his spell. But as we know, that's not hard to believe. Hell, just look online. Many folks on the web eagerly subscribe to Keanu Reeves's fandom already, and understandably so. The veteran actor is a legend for a reason. His short-but-engaging role in The Bad Batch is another showcase of his dynamic star power — even in this limited role.
Stream It on Netflix. (opens in new tab)
Bill & Ted's Excellent Adventure - Starz AND Bill & Ted's Bogus Journey - Amazon Prime
In what would become one of his earliest calling cards, Keanu Reeves earned cult status and early critical acclaim through the sensational success of Bill & Ted's Excellent Adventure. Followed by its sequel, Bill & Ted's Bogus Journey, and its forthcoming trilogy capper, Bill & Ted Face the Music, this time-traveling comedy series, which also starred Alex Winter, saw Reeves in one of his most joyfully silly and earnestly sweet performances, playing up his metalhead-loving slacker with warm-hearted sincerity and a fun-loving attitude. The result is an infectiously enjoyable pair of movies, which should hopefully find good company with its long-promised third installment, which sees Winter and Reeves reprising their title roles nearly 30 years later.
Stream Bill & Ted's Excellent Adventure on Starz (opens in new tab). Stream Bill & Ted's Bogus Journey on Amazon Prime.
Something's Gotta Give - Showtime
In Nancy Meyers' Something's Gotta Give, Keanu Reeves plays third-or-fourth fiddle to Jack Nicholson and Diane Keaton. There's no doubt that the charming, mature rom-com is their movie. They shine in their smooth-talking parts, though it's easy to forget about Reeves in the process. And that's a shame. Reeves plays Julian Mercer, the doctor to Nicholson's socialite Harry Sanborn who develops a relationship with Erica Barry (Keaton), the woman whom Harry falls for. Reeves' performance is appealingly refrained and good-natured, relying on his appealing sweetness. In fact, this role is even a little dorkier than what we often expect from the cool-as-ice actor. I mean that as a compliment. Sincerely. There's something oddly refreshing about Reeves unleashing his inner nerd in this supporting turn. This makes for one of Reeves' more undervalued comedy performances.
Stream It on Showtime.
Always Be My Maybe - Netflix
While Keanu Reeves' action skills are often valued, his comedy talents can be overlooked. Beyond the endearing, lovable Bill & Ted films, Reeves' comedies can sometimes get second-billing behind his action flicks, which is a shame because, in the right part and in the right movie, he can do wonders in a comedic part. We've already talked about Destination Wedding, Something's Gotta Give, Toy Story 4, and even the darkly funny John Wick movies, but Netflix's Always Be My Maybe was another recent example of when people took notice of Reeves' sharp comedy timing. This time, audiences noticed how much of a scene-stealer Reeves could be. His supporting turn in this rom-com was considered one of the movie's highlights. His role was rightfully celebrated, but his dry comedy skills (similar to his action talents prior to John Wick) were already evident.
Stream It on Netflix (opens in new tab).
Parenthood - Starz
Before it inspired the NBC series of the same name, 1989's studio comedy Parenthood was a warmly-appealing family dramedy with Steve Martin at the forefront. But the ensemble also included Mary Steenburgen, Dianne Wiest, Rick Moranis, a young Joaquin Phoenix, and, you guessed it, Keanu Reeves. Released the same year Bill & Ted's Excellent Adventure came out, Parenthood found Ted himself adopting the role of Tod, the boyfriend-turned-husband of Julie (Martha Plimpton). It's another early supporting turn for the actor, though as we noted before, Reeves can stand out in comedies — even in minor roles.
Stream It on Starz. (opens in new tab)
What's your favorite Keanu Reeves movie currently available to stream? Let us know in the comment section below!
Your Daily Blend of Entertainment News
Will is an entertainment writer based in Pittsburgh, PA. His writing can also be found in The Playlist, Cut Print Film, We Got This Covered, The Young Folks, Slate and other outlets. He also co-hosts the weekly film/TV podcast Cinemaholics with Jon Negroni and he likes to think he's a professional Garfield enthusiast.
Your Daily Blend of Entertainment News
Thank you for signing up to CinemaBlend. You will receive a verification email shortly.
There was a problem. Please refresh the page and try again.