Logan Director Explains Why Hugh Jackman Didn't Rock Wolverine's Iconic Mask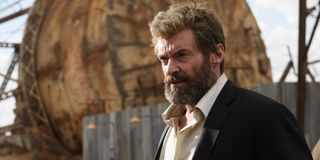 Hugh Jackman played Wolverine for approximately 17 years. The first time he fought with his claws was in X-Men in 2000, a much different time that tried to shy away from the perceived outlandishness of superhero costumes. With that said, Jackman never wore Wolverine's iconic mask, and now the Logan director is giving us a little insight as to why.
Though Hugh Jackman's Wolverine wore, and mocked, superhero outfits in the first X-Men trilogy, as time went on, he just stopped wearing them altogether. Now Logan director James Mangold has revealed why Jackman never donned Wolverine's mask. Check it out:
This is pretty spot-on commentary the filmmaker shared on Twitter. In the past, James Mangold has gone even further to explain why Hugh Jackman's Wolverine doesn't wear yellow spandex or the mask. Specifically, he doesn't understand why people who do good deeds would be narcissistic enough to put on a branded uniform, and that especially didn't make sense when it applied to Wolverine.
During the early days of creating Wolverine in the first X-Men, even Wolverine's hair was under heavy criticism by the directors and producers, with Kevin Feige wanting his comic book accurate hair and director Bryan Singer feeling it wouldn't be taken seriously. Of course, Kevin Feige won that battle and Wolverine got his comic book coif, but as more X-Men movies released, the hair was toned down.
As you might recall, the original X-Men even poked fun at the idea of comic book heroes wearing costumes. In the third act of that movie, Logan and the rest of the X-Men are wearing black uniforms. When Logan asks if they actually go out wearing them. Cyclops quips, "What would you prefer, yellow spandex?"
Now that Hugh Jackman said goodbye to Wolverine in the swan song Logan, two questions remain: who will play the larger-than-life character, and as James Mangold mentioned, will this next incarnation put on the mask and the yellow suit? Mangold seems to think so regarding the latter question, but there's been no official confirmation.
With the X-Men now under the care of Marvel Studios due to Disney acquiring 20th Century Fox, Kevin Feige hasn't stopped thinking about how to introduce the mutants into the MCU. So we know they'll appear eventually, and since many of the superheroes in the MCU wear costumes, there's a high probability that the X-Men and Wolverine will too. I mean, if they can pull off Captain America's costume, then Wolverine shouldn't be that hard, right? I guess we'll have to wait and see to know for sure.
Who will play Wolverine has yet to be seen, and you better believe there's a line out the door of potential actors wanting to play the character. From Jason Momoa to Scott Eastwood to Danny Devito (okay, Danny Devito doesn't want to play the character, but there's a petition), there are so many choices that it's almost impossible to choose. Good luck, Kevin Feige!
But what do you think? Who should play Wolverine next and should he rock the iconic mask? Let us know in the comments!
Your Daily Blend of Entertainment News