One Theater Chain's Plans For Reopening Don't Include Masks For Moviegoers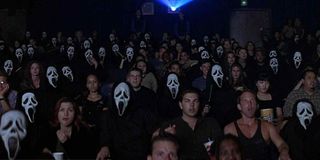 Due to current events, face masks have now become so commonplace in society that even movie studios like Disney sell their own face mask products. The Center For Disease Control recommends everyone wear cloth masks when going out in public, in an attempt to flatten the curve. But despite these recommendations, it seems one theater chain won't require moviegoers to wear them when they reopen.
Wearing a face mask is an additional layer of protection when practicing social distancing. But according to The Wrap, when Cinemark plans to open again, they will only require their employees to wear face masks and not their guests. Instead, they'll reportedly encourage patrons to do so, without making it a requirement.
Cinemark CEO Mark Zoradi said they've been focusing on developing health and safety measures, like increasing their cleaning and sanitation, installing plexiglass screens, and including "seat buffering technology" to make sure their guests are socially distanced.
Movie theater shut downs started back in March of this year. At first chains like AMC put a 50 person theater attendance cap in place before shutting down entirely. Soon after, officially every major theater chain in America shut down due to coronavirus concerns.
Since then, the topic of when movie theaters will reopen has been ever-present. With weak box office numbers, theaters were already struggling before the shutdown. Now, it's been reported that theaters are losing a lot of money, with AMC reportedly losing around $2.4 billion dollars. Needless to say, movie theaters and movie studios are likely eager to reopen soon.
For their part, Cinemark claimed back in April that they have a reopen target date of July 1st. They're hoping big ticket movies, like Christopher Nolan's Tenet will be attractive enough to bring guests back into movie theater seats. But, it's difficult to know how audiences will act in regards to these reopenings.
If Chinese movie theaters are any indication, it might be a rough go for American movie theaters moving forward. Chinese movie theaters shut down in January of this year and tried reopening by the end of March. According to reports, they reopened 500 movie theaters, and only earned around $10,000, a haul far less than what one theater would take in on a normal day.
The pressure for movie theaters to perform has been compounded with the decision by some movie studios to release their movies to VOD earlier than normal. When Universal released Trolls World Tour on VOD, they reported it broke digital records and generated more revenue than its predecessor Trolls while it was in movie theaters.
It's difficult to say yet if health and safety protocols will be enough to bring people back to movie theaters or if people will just opt to watch movies at home, instead. Cinemark seems to be taking protocols seriously enough, but the lack of face masks might be a surprise moviegoers. As always we'll keep you updated on the latest movie news.
Your Daily Blend of Entertainment News
Thank you for signing up to CinemaBlend. You will receive a verification email shortly.
There was a problem. Please refresh the page and try again.