Despite Some Successes, The 2019 Box Office Is Definitely Down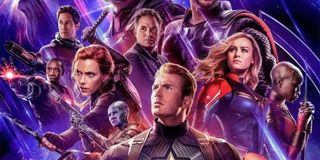 Avengers: Endgame has been making a run at becoming the highest grossing movie of all time and while it looks like it won't quite get there, it's still been the biggest hit we've seen at the theater in years. Having said that, one movie, even of the size of Endgame, doesn't make the entire box office, and, on the whole, 2019 has not been the best year so far.
Overall, according to Box Office Mojo, the domestic box office is down 9.4% compared to the first half of 2018. This is a bit surprising, as most analysts were expecting 2019 to be another record year, but if things are down this low when Endgame is doing so well, it doesn't look good for the year as a whole.
To be fair, things were looking a lot worse earlier in the year. The box office was downright ugly with ticket sales down over 26% through the end of February, so things have recovered significantly. However, the slow decline has started up again as box office numbers were only down 8.4% through the end of May, but have started to slide again in the last month.
A number of sequels, like Secret Life of Pets 2, Men in Black International and Godzilla: King of the Monsters, have largely performed below expectations.
There have been bright spots of course. In addition to Avengers: Endgame bringing in over $840 million domestically, Captain Marvel did $426 million and Aladdin just broke the $300 million mark. Toy Story 4 has also been off to a great start doing almost $240 million in 12 days.
Although, if you'll notice, all those movies have one thing in common. The top four movies of the year are all made by Disney. While that's not a bad thing for the box office all by itself, the fact is that those four films are the only ones to break the $200 million domestic mark so far this year. By this point in 2018 seven movies had crossed that threshold.
That appears to be where most of the money has been lost. There's a massive gap between Toy Story 4's $238 million and Us' $175 million in fifth place. That gap will only get wider as Toy Story 4's numbers continue to increase. We've seen about as many movies break the $100 million mark this year as last, but that's where many of this year's films have stalled out.
Clearly, with Disney's fate goes the rest of the box office, and that's likely more true than most people realize, Disney's domestic box office is actually down year-to-date by 9.6% nearly the same amount as the box office on the whole. This is largely due to the fact that, domestically, Black Panther was a much bigger hit than Captain Marvel. Also, Incredibles 2 came out a week earlier than Toy Story 4, and thus had brought in a lot more cash. It seems that when we say the "box office" is down, really, we just mean Disney. That's how big a force the company is.
Also, Aladdin is doing much better than Solo: A Star Wars Story did last year, though that film still had broken the $200 mark 12 months ago.
With big movies like The Lion King and even non-Disney movies like Hobbs & Shaw on the horizon, there's still a chance for the summer to get a boost that will help launch the box office into awards season. 2019 could still break all sorts of records, but it will take a lot of work to make that happen.
CinemaBlend's resident theme park junkie and amateur Disney historian. Armchair Imagineer. Epcot Stan. Future Club 33 Member.
Your Daily Blend of Entertainment News
Thank you for signing up to CinemaBlend. You will receive a verification email shortly.
There was a problem. Please refresh the page and try again.