Liv Tyler: 6 Fascinating Facts About The Lord Of The Rings Star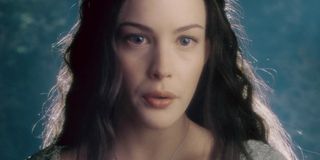 Since jumping into the public eye with an appearance in Aerosmith's "Crazy" music video in 1994, Liv Tyler has gone from front man Steven Tyler's daughter to a highly decorated actress who has helped lead franchises like The Lord of the Rings, as well as smaller projects like That Thing You Do, to a level of unparalleled success. And in those nearly 26 years under the spotlight, Tyler has become one of the motivated and interesting figures in show business.
There are just so many interesting things about Liv Tyler. For example, take her love and dedication for her children, meditation and the excitement that pours out of her whenever she speaks about one of her countless movie and television roles. And with her most recent appearance in James Gray's science fiction father-son drama Ad Astra getting another go with the movie's HBO premiere in June 2020, now's as good a time as any to take a look at some of the most fascinating facts about one of the most versatile and prolific actresses of our time.
Liv Tyler Didn't Know The True Identity Of Her Father Until She Was 11 Years Old
Just about everyone around knows that Liv Tyler is the daughter of rock and roll legend Steven Tyler of Aerosmith, but the actress' mother, Bebe Buell, hid her biological father's identity until Tyler was almost a teenager. As far as Tyler knew, her father was her mother's longtime partner, Todd Rundgen, but a chance encounter when the girl was 11 years old changed that forever.
Liv Tyler and her mom were at one of Todd Rundgen's concerts when they ran into Steven Tyler, and Liv immediately knew there was something going on. In a 2017 interview with The Guardian, Liv Tyler described the feeling of figuring out he was her father as being something bigger than herself, stating:
Over time, Liv Tyler started to spend more time with her biological father and realized they had a lot in common, including their looks and some of their idiosyncrasies that she hadn't shared with one anyone else.
Liv Tyler Made Her Acting Debut In Aerosmith's "Crazy" Music Video
One year before she showed up in films like Heavy and Empire Records, Liv Tyler was spending much of her time modeling or showing up in television commercials, but that all changed when she appeared in the Aerosmith music video for "Crazy" in 1994. Starring alongside Alicia Silverstone as two schoolgirls who skip class and go on a raucous adventure in a manner similar to Thelma and Louise, the video helped propel the young actress to superstardom seemingly overnight.
This was Liv Tyler's first major acting gig, as she wouldn't make her film debut until later that year with the psychological thriller Silent Fall. It's crazy to think about how quickly Tyler became a star after appearing in perhaps one of the most watched and important music videos of mid-'90s MTV.
Liv Tyler Kept Arwen's Ears From The Lord Of The Rings, But They Melted When She Left Them In Her Car
It's no secret that actors and actresses like to bring home costumes, props or other strange finds from movie sets, and it looks like Liv Tyler falls into that camp, but not to the best of results. While sitting down with The Late Show host and notorious The Lord of the Rings fanatic Stephen Colbert in 2018, Tyler explained that she took her character Arwen's Elven ears home from the set, but it didn't end as well as she hoped, stating:
Although Liv Tyler couldn't produce the melted ears for Stephen Colbert during their interview, she did bring the sword her character used in the movie, and even let the late night talk show host hold it for a minute before the conversation switched topics.
Liv Tyler Considered Quitting Acting Before Getting A Role On The Leftovers
Liv Tyler's performance as Meg Abbott, a mysterious woman seduced into joining the Guilty Remnant in the HBO series The Leftovers, is probably one of the best of the series, but before being cast in the role, the actress was considering stepping away from acting entirely because she didn't know how to make a place for herself in a world so heavily dominated by social media. Tyler went into great detail about the struggle in a 2017 interview with the Irish Examiner, where she had this to say about her thought process after her audition:
Since that fateful conversation with herself, Liv Tyler has gone on to star in shows like Gunpowder, Harlots and 9-1-1: Lone Star, as well as films like Wilding and Ad Astra.
Liv Tyler Had Long Admired Ad Astra Director James Gray Before Being Cast
Although she doesn't have much screen time in James Gray's 2019 science fiction drama Ad Astra, Liv Tyler's portrayal of Brad Pitt's Roy McBride's estranged wife Eve is one of the most captivating and emotional performances in the movie. And after hearing Tyler talk about her desire to work with imaginative director during a 20th Century Studios promotional interview, it's easy to see why she gave it her all:
So just imagine how excited Liv Tyler was when she got the call from James Gray about coming aboard for a role that was described as a presence and not fully defined from the outset. Instead of having a role with all her scenes and lines worked out, Tyler was able to work with Gray and the film's producers to bring the character to life.
Liv Tyler Believes Practicing Transcendental Meditation Has Made Her A Better Mother
There are countless ways of dealing with and managing stress, and for Liv Tyler, her method of choice is transcendental meditation, a technique that involves sitting with your eyes closed and repeating a mantra for around 20 minutes two times a day. Speaking at a charity event for the David Lynch Foundation in 2012 (via the National Association of Professional Women), Tyler spoke about her experience with transcendental meditation and the impact it had on her as a mother, saying:
It should come as no surprise that Liv Tyler finds ways of dealing with the stress and daily struggles of trying to balance parenthood with a busy film and television career. And with a career as busy, long-lasting and fruitful as the one Tyler has had over the course of nearly 30 years, it looks like she's found something that works.
Those are just six fascinating facts about Liv Tyler, her life and her remarkable career. Make sure to let us know in the comments if there were any facts about the actress that you think I missed. And if you missed the Lord of the Rings cast reunion, don't worry, because we have you covered here on CinemaBlend.
Philip grew up in Louisiana (not New Orleans) before moving to St. Louis after graduating from Louisiana State University-Shreveport. When he's not writing about movies or television, Philip can be found being chased by his three kids, telling his dogs to stop yelling at the mailman, or yelling about professional wrestling to his wife. If the stars properly align, he will talk about For Love Of The Game being the best baseball movie of all time.
Your Daily Blend of Entertainment News
Thank you for signing up to CinemaBlend. You will receive a verification email shortly.
There was a problem. Please refresh the page and try again.