Liv Tyler Won't Be In The Hobbit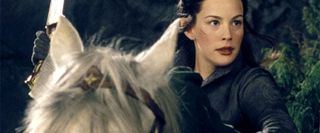 One of the challenges of turning The Hobbit into a movie is that most of the characters from Lord of the Rings weren't born, around the time this story takes place. That's not a problem from a storytelling standpoint, but it probably is from the studio's standpoint, since execs are always keen to bring in audiences by promising to show them more of the people they've already come to know and love.
One way or another they're finding ways to bring in members from the Lord of the Rings cast into The Hobbit, and many of them have already been confirmed as participants. But one character, perhaps one of the few characters who's actually alive during the time period involved and in a position to take part in the events of The Hobbit, won't be back. Liv Tyler says nobody's said anything to her about showing up in New Zealand to reprise her role as Arwen, and that makes her "kind of sad".
While technically Arwen isn't in The Hobbit book, many characters which aren't in the book will show up in one of the two Hobbit movies, particularly in the second one which will use material outside of The Hobbit. Yet talking to Collider about The Hobbit the former Ringwraith-defeating Arwen says not only hasn't she heard from anyone about it, she didn't even know that filming had begun on the movie yesterday. Watch their full interview with her below, in which she also talks about Strangers 2, but mostly she talks about The Hobbit and seems sincerely bummed out that Arwen won't be involved. Aren't we all?
Your Daily Blend of Entertainment News
Thank you for signing up to CinemaBlend. You will receive a verification email shortly.
There was a problem. Please refresh the page and try again.