The 5 Best Space Movies To Stream In Honor Of Brad Pitt's Ad Astra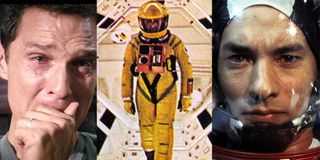 Ad Astra means "to the stars" and it's far from the first movie to head there. It's interesting how many Oscar-worthy showcase roles have come from pretending to explore space. Not all movies in the genre focus on one character fighting the odds, but that does tend to be a favorite angle. It's hard picking just five space movies to stream in honor of Brad Pitt's new movie, so I cheated to add a few more suggestions. Please feel free to note your own favorites!
2001: A Space Odyssey
A masterpiece in general, and THE space masterpiece. It's still hard to believe Stanley Kubrick made this movie in 1968. It's worth re-watching 2001 to appreciate the ambition and artistry, and note how it's been referenced in so many later films. Countless filmmakers were inspired by 2001, including Star Wars' George Lucas and Close Encounters of the Third Kind's Steven Spielberg. In honor of 2001's 50th anniversary, Interstellar director Christopher Nolan presented a mastered 70mm print at the 2018 Cannes Film Festival.
Stream 2001: A Space Odyssey on Amazon Prime, YouTube, Vudu, iTunes, or Google Play from $4 up. It should be on Netflix at all times, but it isn't.
Apollo 13
Houston, we have a problem -- this one isn't available on Netflix either. Not as of September 2019, anyway. I saw Apollo 13 five times in the movie theater in 1995, and listened to the soundtrack far more times. As Alien likes to say, "In space, no one can hear you scream," so it's funny how often space movies have striking soundtracks to pair with awe-inspiring visuals. (Gravity, I'm talking to you.) James Horner's chill-inducing score was a perfect complement for the tension and power of Ron Howard's movie. This is a space movie that's only partly set in space, and even though Tom Hanks is the face of the movie, it's a true ensemble. Kind of like The Right Stuff more than First Man.
Stream Apollo 13 right now on Starz with a subscription, or by paying $4 to rent on Amazon, YouTube, iTunes, Vudu, Google Play, etc.
Interstellar
Like Ad Astra, Interstellar is one of those space movies tied to a threat to human life. Both movies also have a parent/child connection. Then again, I may have just described Armageddon too. It's not the most unique set of circumstances. Some movies, like Apollo 13, are based on real events and others -- like Sunshine, etc. -- use a futuristic threat to the planet as the impetus. Interstellar rises above so many stories thanks to being directed by Christopher Nolan and co-written by the director and his brother, Jonathan Nolan. Their tag-team efforts have given us Memento, The Prestige, and two Dark Knight movies. Sometimes space movies can be cold and distant, but I found Interstellar very moving. (Not that I cried as much as Matthew McConaughey on screen or Timothée Chalamet off-screen.)
Stream Interstellar for $3 to rent on Amazon, YouTube, or Google Play. iTunes and Vudu also currently have it for $4. I wish Netflix had any of these movies. You should probably yell at them for that.
Moon
Director Duncan Jones made his feature film debut with Moon, which is a fantastic showcase for Sam Rockwell. Roger Ebert's 2009 review of the movie makes several references to 2001 and even a nice one to Bruce Dern's Silent Running, but I like this note in particular:
Stream Moon on Sony Crackle, or for $3 currently on Amazon or Vudu. Maybe by the time you look for it, it'll be on Netflix, but as of September 2019 it's not there.
Silent Running
Going for a deep cut on this one, instead of something more current. This 1972 sci-fi classic is a showcase for Bruce Dern, and also follows a future where Earth is basically falling apart. (The sci-fi genre is pretty sure we're doomed.) A movie focused on the environment, in a future where plants are becoming extinct, has a timely ring to it. Plus, the lead character is a botanist, which seems like a cool tie to Matt Damon's botanist in The Martian. It didn't help Silent Running to come out just four years after 2001, since few films benefit from a comparison to Kubrick's space classic. But at the very least you should watch this retro classic for Huey, Dewey, and Louie.
Stream Silent Running for $4 to rent on Amazon, Youtube, iTunes, Google Play, Vudu, etc.
BONUS: Gravity, The Martian, And More
There are way too many space movies to list just five. Sandra Bullock's 2013 award-winner Gravity was another great space showcase role, with a fantastic soundtrack. I cannot get enough of Matt Damon's The Martian, even if I'm not sure I would see it as a "comedy," as it was entered through the 2015-2016 awards circuit.
I also hope by now you've seen Sunshine, another We Have To Save Earth movie, but one of the better ones thanks to director Danny Boyle and writer Alex Garland. I'm still fond of Jodie Foster's Contact, and I'm looking forward to the upcoming National Geographic TV series adapting The Right Stuff. Speaking of TV series, I hope you're caught up on The Expanse, aka Game of Thrones in Space, as it's often billed. I love those books and the Amazon series is launching Season 4 this December.
Some great space movies mix with other genres, like the sci-fi/horror of the Alien franchise. Other great space movies aren't actually set in space -- like Arrival, which was profound enough to take my breath away, and Hidden Figures. You can also have fun in space, with comedies like Spaceballs, not to mention some major franchises you might've heard of called Star Wars and Star Trek. I'm not as up on animation as I should be, but maybe some fans can also recommend some great space anime.
If you're looking for more streaming recommendations, check out these past features:
• 5 Excellent Keanu Reeves Roles Worth Streaming On Netflix And Amazon
• 5 Sci-Fi TV Shows To Watch On Netflix: Our Streaming Recommendations
• 5 Documentary Series To Watch On Netflix: Our Streaming Recommendations
• 5 British TV Comedies On Netflix You Should Bloody Well Watch: Our Streaming Recommendations
• 3%, Occupied, Harlots, and Other Streaming Recommendations
• 5 Robert Downey Jr. Movies To Love 3000 On Netflix
• 5 Chris Evans Movies Worth Streaming On Netflix And Amazon
• 5 Ryan Reynolds Roles Worth Streaming On Netflix And Amazon
• 5 Will Smith Movies Worth Streaming Right Now On Netflix And Beyond
• 5 Refreshingly Non-Toxic Reality TV Shows Worth Streaming On Netflix
• 5 Joaquin Phoenix Movies Worth Streaming On Netflix And Amazon Ahead Of Joker
• 5 Stripper Movies Worth Streaming In Honor Of Jennifer Lopez's Hustlers
There's plenty of space to stream, so what out-of-this-world titles have you been streaming lately?
Your Daily Blend of Entertainment News
Gina grew up in Massachusetts and California in her own version of The Parent Trap. She went to three different middle schools, four high schools, and three universities -- including half a year in Perth, Western Australia. She currently lives in a small town in Maine, the kind Stephen King regularly sets terrible things in, so this may be the last you hear from her.