Zodiac And 10 Other Suspenseful Movies On Netflix Right Now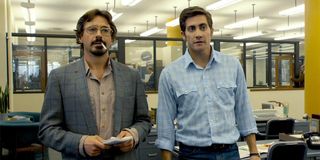 If one is looking to understand the power of cinema, the great suspense films are a perfect place to start. After all, as an audience watching the story unfold, you have a full understanding that everything you're seeing isn't real, and that the characters aren't real people. And yet, the various twists and turns cause your heart to race and your spine to tingle as you get fully invested in what's happening on the screen. It's a delightful sensation and realization, and it's also an easy itch to scratch thanks to Zodiac and other great suspenseful movies on Netflix.
David Fincher's modern crime classic arrived this month on the popular streaming service, and its appearance got us thinking: what other awesome edge-of-your-seat features are currently available to subscribers? It turns out that there are a number of them, and we've highlighted a wide variety of them below:
Zodiac
Having already mentioned it, David Fincher's Zodiac feels like a logical place to start with this feature. The epic, star-studded mystery centers on the years-long hunt in California for the notorious serial murderer known as the Zodiac Killer. Jake Gyllenhaal delivers one of the best performances of his career as Robert Greysmith, a cartoonist whose search for answers winds up unraveling his own life, and the supporting cast is absolutely stacked, including Mark Ruffalo, Robert Downey Jr., John Carroll Lynch, Donal Logue, Chloe Sevigny, Anthony Edwards and Brian Cox. And once you're done with the journey, if you're still craving more of the style you can immediately click over to the Fincher-produced Netflix series Mindhunter.
Stream it on Netflix here.
Hush
Cinema history is filled with many excellent home invasion thrillers, but Mike Flanagan's Hush is a wonderful modern standout in the genre thanks to the added twist that's thrown in. Our lead is Maddie Young (Kate Siegel), an author who lives a life of solitude in her remote home, and over the course of one night she experiences incredible terror as she is made the plaything of a sadistic killer (John Gallagher Jr.). That seems pretty normal, but what makes Maddie a different kind of protagonist is that she is deaf. It's a super quick 81 minute feature, and keeps you on the edge of your seat for almost its entirety.
Stream it on Netflix here.
The Guest
John Carpenter is one of film's great creators of suspense, but while none of his movies are currently available on Netflix, Adam Wingard's The Guest makes for a wonderful substitute given that it exists as an homage to Carpenter's work. Featuring a brazenly creepy synth score, the movie follows David Collins (Dan Stevens), a soldier who winds up moving in with the family of his best friend following his death overseas. All seems well at first, as David makes for an amiable if not a bit intense house guest, but we slowly learn that he isn't exactly the man that he presents himself to be.
Stream it on Netflix here.
Cape Fear
There are few antagonists as blood curdling as Robert De Niro's Max Cady in Martin Scorsese's Cape Fear – a psychotic killer who is motivated by getting revenge against the defense lawyer (Nick Nolte) whom he believes is responsible for sending him to prison. The film is one filled end-to-end with iconic moments, from Max riotously enjoying a movie to get his target's attention, to a terrifying encounter featuring Illeana Douglas, to the big boat-set final showdown. It is an absolute must-see for any suspense film enthusiast.
Stream it on Netflix here.
Cop Car
When watching a suspenseful film, sometimes having a bit of comedy spliced in to ease things up a bit can be a wonderful thing, as the laughs can have the effect of lulling the audience into a sense of security. This is a trick utilized exceptionally well by director Jon Watts in Cop Car, which follows two preteens as they steal what they believe is an abandoned police vehicle. Not only is the car very much not abandoned, but it belongs to a corrupt sheriff (Kevin Bacon) who will stop at nothing to get it back due to something important that is being kept in the trunk. You'll chuckle quite a bit, but you also may find your fingernails are a little shorter by the time the end credits roll.
Stream it on Netflix here.
Drive
Nicolas Winding Refn's Drive is a hypnotic experience. With its pulsating soundtrack and long driving sequences that tour audiences through the streets of Los Angeles at night, it quickly puts you under its spell… and then has the effect of punching you multiple times in the chest as the unnamed Driver (Ryan Gosling) tries to navigate his dual life as a stuntman and wheelman so that he can try to escape to be with the woman he loves (Carey Mulligan). Playing against type, Albert Brooks is at the top of his game as our hero's employer, and the brilliant supporting cast also includes Bryan Cranston, Oscar Isaac, Ron Perlman and Christina Hendricks.
Stream it on Netflix here.
Green Room
Being a member of a punk band that does a show at a white supremacist compound before witnessing a murder and being trapped on the premises is a situation that no human in their right mind would ever want to be involved in, but damn does it make for some incredible entertainment. Jeremy Saulnier's Green Room is a movie that grabs you by the throat and throttles you up against a wall, and it doesn't stop until it's playing out its intense and amazing conclusion. Patrick Stewart makes for an awesome antagonist as the leader of the skinheads, and Anton Yelchin and Imogen Poots deliver great lead turns.
Stream it on Netflix here.
Uncut Gems
It's borderline surprising that there aren't more reports of frailer moviegoers experiencing coronary episodes as a result of watching Josh and Benny Safdie's Uncut Gems. Not only is it heart attack-worthy to see Adam Sandler deliver such excellent work, but the film basically operates by stacking precarious situation on precarious situation, and then playing a game of Jenga. There are moments that make you want to scream in pain, frustration and joy, and the whole thing is just pure cinematic bliss. Following its strong performance in theaters at the end of 2019, the movie is now destined to become a cult-favorite thriller, and it's a club you should gain entry to sooner rather than later. And if you think you can take it, you can follow up your viewing with a screening of the Safdie brothers' incredible Good Time, which is also available on Netflix.
Stream it on Netflix here.
Taxi Driver
What is there to be said about Martin Scorsese's Taxi Driver that hasn't already been said by hundreds, if not thousands of film critics over the last 44 years? After nearly half a century later, the movie still stands as one of the greatest character pieces ever committed to celluloid, chronicling the journey of disillusioned Vietnam veteran Travis Bickle (Robert De Niro) as he just tries to get by living in New York – dealing with his chronic insomnia as a late-shift cabbie, becoming infatuated with both a presidential candidate (Leonard Harris) and an underage prostitute (Jodie Foster). It's not exactly a movie that you can just watch at random on a Thursday night, but that's part of its mystique.
Stream it on Netflix here.
Gerald's Game
Few storytellers know how to dig into the human psyche at get at our most nightmarish thoughts quite like Stephen King, and he unleashed a doozy with Gerald's Game – adapted absolutely perfectly by Mike Flanagan as an original film for Netflix. It's a high concept plot, following a woman (Carla Gugino) who finds herself in a horrific position when her husband (Bruce Greenwood) shockingly dies shortly after handcuffing her to the bed in their remote vacation home, and there isn't a beat in it that doesn't have your heart beating in your ears. You're 100% arrested as you watch the protagonist not only try and find a way to escape, but also to survive – all the while being victim to the various terrors that are able to make their way into the house because the front door is left unlocked.
Stream it on Netflix here.
The Hateful Eight
Thrillers are always more thrilling when suspicious characters are loaded into a space that none of them can leave, and Quentin Tarantino juices that circumstance for all its worth in The Hateful Eight. It's a nearly three-hour drama that totally flies thanks to your ability to become totally invested in the fate of the characters – as you constantly have to wonder who is trustworthy and who isn't. After years of playing supporting roles in Tarantino movies, the film is really Samuel L. Jackson's moment to shine, but he is surrounded by talent including Kurt Russell, Jennifer Jason Leigh, Walton Goggins, Demián Bichir, Tim Roth, Michael Madsen and Bruce Dern.
Stream it on Netflix here.
Given that Netflix does a refresh on its catalogue of films every month, we here at CinemaBlend are regularly publishing features about the various titles that are available and that we recommend checking out. Be on the lookout for more of them on the site, as they are definitely a regular thing, as hit the comments section with the list of movies from this list you think you'll be checking out while they are available!
Your Daily Blend of Entertainment News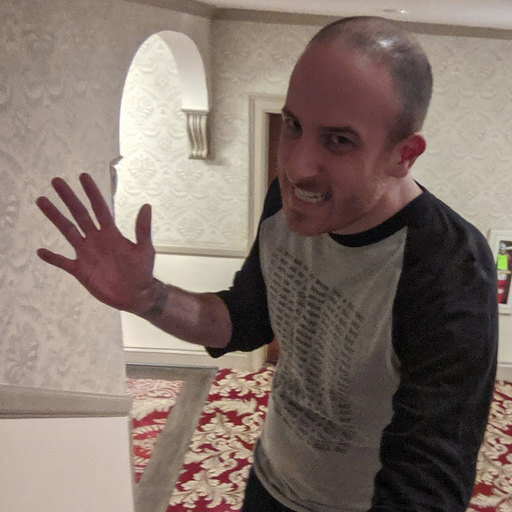 Assistant Managing Editor
NJ native who calls LA home and lives in a Dreamatorium. A decade-plus CinemaBlend veteran who is endlessly enthusiastic about the career he's dreamt of since seventh grade.