Natalie Portman: 11 Fascinating Facts About The Star Wars And Marvel Actress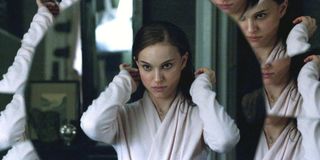 You may know her as Queen Padme in the Star Wars prequels. Or Nina Sayers in Black Swan. Or Jane Foster in the Marvel movies. Not to mention Mathilda in Leon: The Professional, or Evey Hammond in V for Vendetta. But, these are only a few of Natalie Portman's most prominent roles. The actress has played Jackie Kennedy, Anne Boleyn, and many other noteworthy personalities throughout her nearly 30 years in show business. With each role, Portman continues to challenge herself and prove the vast depths of her talents — particularly as she tackles more producing/directing credits along the way.
A smart, sophisticated celebrity with roles in both prestige dramas and action blockbusters alike, she has gained a lot of notice and acclaim over the years, plus an Oscar, to boot. If you love Natalie Portman, here are some fun facts worth knowing about the actress.
Natalie Portman Changed Her Name As A Child To Protect Her Privacy
It's no secret that actors often have stage names. For various different reasons, actors will pick a name different than their own to sell their image and make a name for themselves in an ever-daunting show business. That's the case for Natalie Portman as well, and she adopted a stage name for a very understandable reason. Having built her name in Hollywood from a young age, Portman changed her name from Nata-Lee Hershlag to the stage name she's known by today, to protect her privacy. As The New York Times reported, the former child star adopted the surname "Portman" from her paternal grandmother's maiden name. Evidently, as she continued to find fame and fortune in Hollywood, Portman decided to keep this stage name.
Natalie Portman Can Speak Six Languages, Including Japanese
It's no secret that Natalie Portman is an exceptionally smart and talented individual. In addition to all her achievements in her professional career, she is also reportedly a polyglot. In addition to English and Hebrew, it's reported that Portman also speaks French, German, Spanish, and Japanese. Here is a clip of Portman speaking Hebrew in an interview for one of her movies. She also speaks Hebrew in her directorial debut, A Tale of Love and Darkness.
The Black Swan Star Trained In Ballet Starting At A Young Age
Starting at age four, Natalie Portman took ballet lessons — as well as modern dance — at the American Theater Dance Workshop. She also regularly attended the Usdan Center for the Creative and Performing Arts. This early training would later come in handy when she starred in Darren Aronofsky's Black Swan, for which she won Best Actress at the Oscars, though there was some controversy about the dancing in Black Swan. Namely, there was some dispute regarding how much of Portman's performance belonged to her and how much of it belonged to professional ballet dancer Sarah Lane. There is a scene where Portman's face is digitally imposed onto Lane's body, but some people believed that Lane's role in Black Swan was being downplayed during awards season. The filmmakers later claimed that Portman did most of her own dancing.
Natalie Portman Missed The Phantom Menace Premiere To Study For High School Exams
If you were a star in one of the biggest, most anticipated movie events of all-time, you would think that you'd drop everything and attend the premiere. But, reportedly, that wasn't the case for Natalie Portman. The actress, who played Queen Padme Amidala in the blockbuster, was still in high school at the time, and she allegedly opted not to attend the movie's premiere to instead study for her final exams. As a well-educated woman, Portman has often put her studies first. She attended Harvard University from 1999 to 2003 to study psychology and returned to give the 2015 commencement speech. In an interview, Portman was quoted saying she didn't care if college ruined her acting career. She'd "rather be smart than a movie star."
Natalie Portman Doesn't Know Where Her Oscar Went
Normally, you would think that any actor or actress who finally won a coveted Oscar would guard the gold statue with their life. Indeed, while there might be some actors who follow that principle, that doesn't appear to be the case for Natalie Portman. As she noted in a 2015 interview, she doesn't know exactly where her Oscar went. She admitted that she "hadn't seen it in awhile" and she didn't seem too concerned with its whereabouts.
While it is possible that she might've been joking (or that, you know, she found the Oscar soon enough), Portman's quotes in this article suggest that she tries not to value this statue as though it is some holy artifact. In fact, the A-list star seems to believe it's directly sacrilegious for a person to view an Oscar that way.
Natalie Portman Doesn't Own A TV
Additionally, in this Hollywood Reporter interview, Natalie Portman made another surprise confession: she doesn't own a TV! Or, at least, she's rarely watching the tube. She said "we really don't have a television," even though "everyone" had told her to get one. She admits her guilty pleasure is cooking shows (we discuss that more later) and her favorite shows at the time were Transparent and Broad City, both of which she watched on her computer. Portman also admits she was embarrassed while watching Broad City to discover that the main characters were poking fun at Garden State, her 2004 Sundance darling with writer/director/co-star Zach Braff.
Natalie Portman's Avengers: Endgame Appearance Came From Unused Thor: The Dark World Footage
When Natalie Portman was briefly seen in Avengers: Endgame, it looked like Natalie Portman and Marvel finally settled their differences and found common ground, after Portman's disappearance from the cinematic universe post-Thor: the Dark World. The Academy Award-winning actress was separating herself from it, believing she was done playing Jane Foster. But, Portman's return was ultimately a bit complicated. As EW reported, the footage used in this Endgame scene came from deleted scenes from the aforementioned Thor sequel — though Portman did additional voice-over work for the appearance. So, while it was a brief MCU return, it did pave the way for the next steps.
Natalie Portman Returned To Marvel Thanks To Taika Waititi
While Natalie Portman's relationship with Marvel was seemingly fraught with difficulties, it came as a delightful surprise to many MCU fans to learn that she would return to play Jane Foster in the upcoming Thor: Love and Thunder. The third Thor sequel will not only feature the famous actress, but have her playing a prominent role as Female Thor. It was a huge get for writer/director Taika Waititi, and during a recent interview, he explained how he got Portman back in the MCU. As it turns out, it wasn't really that difficult. As he put it, at least, he came up to Portman and he asked if she'd be interested in returning but "doing something really different." Turns out, she was interested in the fresh possibility of doing something unique, and hopefully fun, as Jane Foster.
Natalie Portman Produced A Documentary On Veganism And Wants Her Own Vegan Cooking Show
Ever since she was eight-years-old, Natalie Portman has remained a strict vegetarian. The decision came when Portman watched a demonstration of laser surgery on a chicken while attending a medical conference with her father. She then took it one step further, becoming vegan in 2009, shortly after reading Jonathan Safran Foer's book, Eating Animals. As a lifelong animal advocate, Portman also avoids wearing fur, feathers, or leather, and she launched her own brand of vegan footwear in 2007. Additionally, in 2017, the actress produced and narrated the documentary Eating Animals (currently streaming on Hulu) (opens in new tab), which was based on the aforementioned book. While Portman appeared on a 2018 episode of Hot Ones, she ate plant-based hot wings on the unconventional talk show web series.
Also, in an effort to promote the vegan lifestyle, Natalie Portman admitted during a Q&A for Eating Animals that she hopes to one day host her own vegan lifestyle cooking show. She wants the show to serve as a "starter kit" for anyone who wants to be vegan. Alas, either due to her busy schedule or because she hasn't picked up any offers yet, this proposed cooking show hasn't come to fruition.
Natalie Portman Is Dual Citizen Of U.S. And Israel, But She Lived In Paris Too
Born in Jerusalem but growing up predominately in various cities in the United States, Natalie Portman is a dual citizen of both Israel and the U.S. These aren't the only places she calls home, though. The actress also lived in Paris, France, when her husband, choreographer Benjamin Millepied, accepted a position as the director of dance at the Paris Opera Ballet. This time in the City of Light was a bit short-lived, as they now reside in L.A.
Natalie Portman Had Trouble Dealing With The Star Wars Prequels Backlash
It can be extremely difficult to be under extreme scrutiny from a large swath of people, especially fans as fervent as Star Wars lovers/haters. While the prequels weren't quite as publicly detested upon release as they were in later years, the backlash that ensued for George Lucas' misbegotten prequel trilogy was probably agonizing for everyone involved, including Natalie Portman. In a recent interview, Portman opened up about the backlash to the Star Wars prequels and how it was "hard" to see so many people disappointed for something they anticipated so eagerly. As she later noted, Portman was young at the time and didn't realize this sort of intense backlash was "the nature of the beast."
Natalie Portman Honored Several Women Directors With Her Oscars Outfit
In an effort to pay tribute to women directors who were overlooked or under-recognized, especially during awards season, Natalie Portman attended this year's Oscars ceremony in a Dior cape with the names of several female filmmakers who weren't recognized by the Academy Awards embroidered into the fabric. It was an effort to bring awareness and notice to several bright, talented filmmakers who are often unjustly overlooked, especially during the Oscars. While it was a noble gesture, it also drew some sharp criticism for Portman's own personal history.
Namely, there were folks, including Rose McGowan, who noted that Natalie Portman has only worked with a woman director two times — one being her directorial debut, A Tale of Love and Darkness — and her production company has only produced one women-directed film, which was hers. Portman responded by saying she has worked with women directors in short form and that it's still often hard — even today — for women directors to get their movies made in the studio system.
What are some of your favorite facts about Natalie Portman? Let us know in the comment section below!
Will is an entertainment writer based in Pittsburgh, PA. His writing can also be found in The Playlist, Cut Print Film, We Got This Covered, The Young Folks, Slate and other outlets. He also co-hosts the weekly film/TV podcast Cinemaholics with Jon