Adam Sandler In Uncut Gems And 7 Other Serious Roles That Comedians Nailed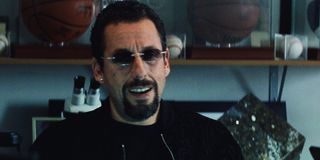 They say comedy is rooted in tragedy. People laugh to avoid crying. While that might not always be the case, that's fitting when it comes to these peculiarly dramatic performances from comedians/comedic actors. It almost seems like a rite of passage for prominent comedians to leap into dramatic/darker material, and several have proved their chops. It might not always be the roles they're most commonly associated with, but for actors like Adam Sandler in Uncut Gems, it showcases new sides to their familiar screen presence. The results are surprising and exciting in equal measures. No joke. Here are comedians who also stood out in dramatic roles.
Adam Sandler (Uncut Gems)
While he's more commonly associated with his juvenile, boyish Happy Madison productions, including Happy Gilmore, Billy Madison, 50 First Dates, The Wedding Singer, and the Grown Ups movies, Adam Sandler has also consistently proven himself as a serious actor. Notably starting with 2003's misunderstood dark dramedy Punch-Drunk Love, which cleverly subverted and dissected the tropes of Sandler's early comedies in an artistic, challenging, yet still bleakly hilarious way, Sandler has dived into dramatic roles — to mixed results. Judd Apatow's Funny People was smartly funny and insightfully self-referential, but Reign Over Me was a middling effort prior. Men, Women & Children was a well-meaning but misbegotten flub, while The Meyerowitz Stories (New and Selected) featured an excellent Sandler performance in this dysfunctional family dramedy.
Tom McCarthy's The Cobbler seemed like an easy winner but it tragically received some of Adam Sandler's worst reviews. But Sandler got some of his best reviews in Uncut Gems, a New York City-based crime drama-thriller following Howard Ratner (Sandler), a down-on-his-luck jewelry salesman with a gambling addiction that involves some very expensive debts and some very bad people.
The grimy, stylistic, relentless, but appropriately addictive, character piece surprised general audiences used to seeing broader, more conventional comedies from the A-lister. Instead, Uncut Gems finds Sandler giving one of his most committed, commendably foul performances, fully embodying this scumbag with vigor and aplomb. The result is one of the actor's most audacious and daring roles, and one that hopefully proved to Sandler's biggest, most merciless critics that he has serious chops.
Kevin James (Becky)
Best known for The King of Queens and Kevin Can Wait, in addition to comedy film franchises like Paul Blart: Mall Cop and Grown Ups, Kevin James' decision to play a vicious, vindictive neo-Nazi in this year's Becky was certainly a surprising, unexpected one. If you can get past the bold, bizarre casting choice, James proves himself to be a formidable dramatic one, one who isn't afraid to play against the grain and relish his darker impulses. Characters like the aforementioned Paul Blart showcased an underlying sadness, which suggested that James had what it took to be an intriguing dramatic performer, but this bald-headed villainous brute is a stark departure from anything we've seen from him. While some dismissed it as stunt casting, James does convey genuine tension and menace through this violent, cold-blooded character.
While Kevin James' performance isn't a complete revelation, notably with a flimsy screenplay and little insight into this character's motivations, it should hopefully prove to be a stepping stone for his second chapter. Certainly, his YouTube account suggests James can't wait to try darker, more challenging material, though it's unclear if more filmmakers will allow him to do something this outlandishly against his familiar image. Notably, using his physicality not for slapstick comedy but rather to impose suspense and terror is an intriguing change-of-pace.
Eddie Murphy (Dolemite Is My Name)
Eddie Murphy needed a comeback. He impressed everyone with his sensational musical performance in 2006's Dreamgirls, nearly winning an Oscar. But then came Norbit. The ill-received studio comedy was not only a critical flop but it also supposedly killed his award chances. Murphy continued to make several ill-fated studio comedies, not of which captured Dreamgirls' radiant spark or the sharp wit of his earlier comedic work. But after an extended absence, Murphy returned with Dolemite Is My Name, a lively, heartfelt biopic dramedy/tribute to Rudy Ray Moore, best known for playing Dolemite on the stage and screen. Murphy's performance was rewardingly electrifying, feeling more alive than anything he'd done in years. It's also a role that heartily played to his strengths, capturing the humor and heartbreak of this larger-than-life personality.
Patton Oswalt (Big Fan)
Better known then for his stage work and Ratatouille, Patton Oswalt proved his acting chops with 2009's overlooked Big Fan. As a diehard football fan caught in a complicated situation when he's assaulted by his football idol, Oswalt's reverence for pop culture and fandom were put to sharp, poignant use, showcasing the complexities that come with being blindingly reverent to something — to the point where you can't look at it from an objective lens. But for many folks, they didn't realize the extent of Oswalt's acting talents until he starred in 2011's Young Adult, appearing opposite Charlize Theron, in which he gave an excellently nuanced, perspective performance.
Awkwafina (The Farewell)
As an actress, comedian, and musician, Awkwafina continues to gain notice and recognition, notably with standout roles in Crazy Rich Asians and Ocean's Eight. But her most prominent part might actually be her most dramatic. Specifically, last year's tender, personal The Farewell found the rising star at the forefront of one of the most acclaimed movies of the year. And her performance was certainly well-recognized. Beautifully conveying the mix of humor and sorrow that's presented in this nuanced situation, Awkwafina was praised for channeling the deft balance of gentle humor and dramatic pathos with grace and vulnerability. It led to Awkwafina being the first Asian woman in Golden Globes history to win Best Actress.
Vince Vaughn (Brawl In Cell Block 99)
Though not a comedian in a traditional sense, Vince Vaughn came into fame through his star-making role in Swingers, loosely based on his own real-life personality. From there, much like Jon Favreau, Vaughn continued climbing up the Hollywood ladder, starring in Wedding Crashers, Dodgeball, Old School, The Break-Up, and more. While he periodically dived into dramatic territory, notably with Gus Van Sant's much-criticized Psycho remake, Vaughn found his dramatic stride with Brawl in Cell Block 99, a neo-noir prison thriller-drama which follows former boxer-turned-drug mule Bradley Thomas (Vaughn) as he descends several brutal layers of prison hell to protect the woman he loves.
While previous Vince Vaughn roles relied on his snarky sarcasm, this one challenges Vaughn's physique. With his bald head and imposing height, Vaughn is surprisingly menacing, but that only makes his unexpected emotional sweet side resonate more.
Marlon Wayans (Requiem For A Dream)
Before White Chicks, Little Man, and the first two Scary Movies, Marlon Wayans was a TV star venturing out into movies. Shortly before his movie career would took off, Wayans gave a surprising dramatic performance in 2000's almost relentlessly bleak Requiem for a Dream. In its bold, unflinching look at drug addiction, Wayans not only holds his own opposite Jared Leto, Jennifer Connelly, and Ellen Burstyn, but he proves his dramatic chops in a performance that doesn't mirror any other throughout his career. It's a shame we haven't seen Wayans take another role in this vein again, though he's set to star in Sofia Coppola's latest, On the Rocks.
Albert Brooks (Drive)
A celebrated actor-director best known for Broadcast News, Out of Sight, Finding Nemo, Modern Romance, Defending Your Life, and Lost in America, the latter three he also helmed, Albert Brooks is a familiar, beloved screen presence, yet he surprised everyone with his dark, menacing villainous role in 2011's Drive. Playing the brooding antagonistic figure to Ryan Gosling's soft-spoken protagonist, Brooks' cold, calculated performance didn't capture any of the warmth or humility seen in his earlier work, conveying a seething contempt and a vigor for violence that was surprising not merely because it came from the voice of Merlin. Intentionally, it was effectively disarming, never allowing us to be two steps ahead of our scowling sociopathic baddie. It showed a new side to Brooks. It should be noted, though, that he also starred in Taxi Driver. What's the deal with him and drivers?
In addition all these strong and/or challenging performances, we'll take this moment to celebrate some comedians who didn't make the list, including Melissa McCarthy in Can You Ever Forgive Me? and The Nines, Molly Shannon in Other People and Year of the Dog, Jenny Slate in Obvious Child, Mary Tyler Moore in Ordinary People, Rodney Dangerfield in Natural Born Killers, Stephen Merchant in Logan, Will Ferrell in Stranger than Fiction and Everything Must Go, Richard Pryor in Blue Collar, George Carlin in Jersey Girl, Seth Rogen in Steve Jobs and Take This Waltz, and Ben Stiller in Permanent Midnight, Greenberg, and The Meyerowitz Stories.
Your Daily Blend of Entertainment News
Will is an entertainment writer based in Pittsburgh, PA. His writing can also be found in The Playlist, Cut Print Film, We Got This Covered, The Young Folks, Slate and other outlets. He also co-hosts the weekly film/TV podcast Cinemaholics with Jon Negroni and he likes to think he's a professional Garfield enthusiast.