10 Great Serious Performances From Super Funny People, Including Adam Sandler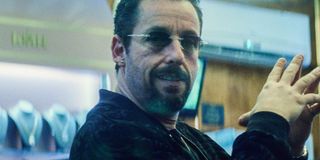 Hollywood can be a cutthroat business, so when a performer learns that they do something well, and can consistently get paid for it, it often makes sense for them to continue doing that thing. It's why a lot of comedic performers generally stick to making comedies for the bulk of their careers. That being said, when a certain level of comfortability is reached, it gives actors the freedom to start testing their range and trying new things, and as we've seen many times in movie history, the results can be phenomenal.
This week we have a perfect example of this kind of move arriving in theaters in the form of the Safdie brothers' crime drama Uncut Gems starring Adam Sandler – so we figure now is as good a time as any to look back at some of the best serious performances from super funny people. Some resulted in attention from the Oscars, and some are very much underrated, but they all share greatness in common.
Adam Sandler, Uncut Gems
Let's start with the performance that inspired this list. Cinephiles have known for a long time that Adam Sandler has some serious dramatic chops, with his most lauded performance being his starring role in Paul Thomas Anderson's Punch Drunk Love, but the comedic actors has spent the large majority of his time in the years since then making silly low-brow features for Netflix. Uncut Gems, however, provides an opportunity for Sandler to get out of his box and do something legitimately special, and he excels. He's a whole new orbit as the wheeling-and-dealing Howard Ratner, and delivers what we will likely look back on as the best work he has ever done.
Jim Carrey, The Truman Show
With an incredible string of hits in the mid-1990s, Jim Carrey reached that aforementioned comfortability stage quite quickly in his big screen career, and it allowed him to do a legendary pivot to drama in 1998. After years of making audiences guffaw at his rubber faced antics, he teamed up with director Peter Weir for The Truman Show and delivered a genuinely deep and impressive performance. Much of the character work takes advantage of Carrey's well-established and unique affability, but the film allowed him to reach a new level in audience perception as it's remarkable to watch Truman Burbank begin to understand the nature of his life and all of the crushing realizations that come along with it.
Whoopi Goldberg, The Color Purple
Whoopi Goldberg presents an interesting case in this particular conversation, as she is primarily known for her career in comedy, but her greatest dramatic turn was in the second film she ever made. While she was simultaneously establishing a career doing stand-up comedy, Steven Spielberg caught a performance of hers on Broadway and enlisted her to do what would wind up being some blistering work as Celie Johnson in The Color Purple – which also earned her an Academy Award nomination. Few performers have ever arrived in the movie world with such a forceful impact, and the EGOT she has earned since makes every kind of sense.
Peter Sellers, Being There
Peter Sellers is unquestionably one of the most gifted comedic minds to ever walk this planet, with his incredible achievements and contributions basically being the same length as his resume. He spent decades making audiences bowl over in hysteria – so it's somberly fitting that one of his final performances before his untimely death was in Hal Ashby's dramatic adaptation of Jerzy Kosinski's Being There. It's not entirely a dark affair, but it is a vicious satire that hinges on a very nuanced lead performances as Sellers' Chance, a total simpleton, gains incredible power and influence through simple passivity.
Albert Brooks, Drive
Albert Brooks is an incredibly funny actor who has proven his dramatic chops numerous times – with titles like James L. Brooks' Broadcast News and Steven Soderbergh's Out Of Sight standing out on his resume – but his performance in Nicholas Winding Refn's Drive has a notable extra spice added into the mix: intensity. It can be challenging for comedic performers to shift into villain roles given all of their work specifically trying to charm audiences, but Brooks is seriously scary as level-headed crime boss Bernie Rose, and it's a true testament to his skills how his appearance on screen can raise your blood pressure.
Bill Murray, Lost In Translation
With a comedic flair that has long been defined by sardonic wit, Bill Murray seemingly always had the skills necessary to pull off real drama, and it was Sofia Coppola who really gave him his first chance at real greatness in the arena with the lead role in Lost In Translation. The role isn't without some wonderful moments of levity, as fading movie star Bob Harris finds himself a fish out of water exploring the streets of Tokyo, but what makes the performance truly brilliant is the emotional depth that Murray is able to explore, and the spectacular bond he is able to create with Scarlett Johansson's Charlotte.
Steve Carell, Foxcatcher
Steve Carell has had a fascinating career from a genre perspective, as he's one of the few great comedic performers who was so successful in making the transition from comedy to drama that he basically just decided to stick with it and totally change his public profile. While we will always remember laughing at his antics on The Office and The Daily Show, he is now regularly doing seriously emotional work in films like Adam McKay's The Big Short and Felix van Groeningen's Beautiful Boy, and it all started with Bennett Miller's Foxcatcher. In addition to being an amazing physically transformative performance, with Carell being practically being unrecognizable as wrestling fanatic/murderer John du Pont, it's also a turn that very much gets under your skin, and the actor very much earned his first Best Actor nomination.
Marlon Wayans, Requiem For A Dream
There are many performances mentioned on this list that are incredibly griping and impressive, but Marlon Wayans work in Darren Aronofsky's Requiem For A Dream is the one that's so amazing that you can pretty much only ever experience it once — as going back for Round 2 would be straight-up emotional torture. Few films in history have done such a remarkable job depicting the horrors of drug addiction, and as helpless heroin user Tyrone C. Love, Wayans gives an absolutely gut-wrenching turn; and one that's made all the more powerful thanks to all of the good will he earned through the years of making people laugh.
Jonah Hill, Moneyball
In 2011, audiences didn't fully know what to make of Jonah Hill being cast as one of the key players alongside Brad Pitt and Philip Seymour Hoffman in Bennett Miller's Moneyball, as everyone was exclusively used to seeing him as Seth from Greg Mottola's Superbad or his other Judd Apatow-related projects. With the based-on-a-true story baseball film, however, he was able to not only instantly change public perception of his acting skills, but pick up his first Best Supporting Actor nomination at the Oscars. Peter Brand is a subtle character, acting as the man behind the man who helped change sports history in his own way, but it's brilliant in its low-key way and a mix of both fun and wonderful.
Jason Segel, The End Of The Tour
Making the transition from comedy to drama is tricky enough, but Jason Segel made it an even trickier move by starring in James Ponsoldt's The End Of The Tour by portraying a true life icon. More than just trying to carve out an authentic dramatic performance, the star had to embody the spirit of genius author David Foster Wallace, and really it's stunning to see him work. The entire movie really rests on his personality, as the film is almost entirely a moving back-and-forth dialogue between him and Jesse Eisenberg's David Lipsky, and it's impressive to watch Segel work —spitting out personal philosophies that you want to immediately jot down and refer back to in regular life. It's one of the more unsung turns on this list, but no less worthy of celebration.
What are your favorite serious performances from actors best known for their comedic work? Hit the comments section below with all of your thoughts, feelings, and opinions!
Your Daily Blend of Entertainment News
Assistant Managing Editor
NJ native who calls LA home and lives in a Dreamatorium. A decade-plus CinemaBlend veteran who is endlessly enthusiastic about the career he's dreamt of since seventh grade.