10 Comedians Who Are Great At Serious Roles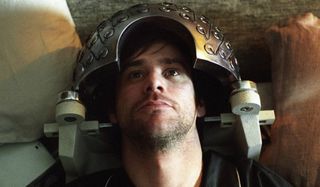 Oh, Kevin James. What are we gonna do with you? Paul Blart: Mall Cop 2. Really? At one point or another, every actor tells him or herself, "Well, a girl's gotta eat, right?" which is usually followed by a stint in a B-, C- or D-list movie. That's how we found Cameron Diaz and Jason Segel in that business with the iPad, and Julianne Moore in Seventh Son shortly after we had seen her Oscar-winning Still Alice. But you, Kevin James. We can't remember the last time you've been in anything of substance. It might be time for a change.
Hollywood is a tough industry, and only those willing and able to adapt can survive. (Unless, of course, you're Leonardo DiCaprio and only work with Oscar-winning filmmakers.) As such, we've seen a number of comedians take a leap over the fence to feel out the pastures of dramatic acting. Not everyone thrives in this unfamiliar terrain, but some have delivered spectacular performances and proven themselves to be chameleons. This might be an option for you, Kevin James. Lord knows what you've been doing in Adam Sandler movies isn't working out.
To inspire better choices for you in the future — because we have hope — here are 10 comedians who've dabbled in drama and have become better actors for it.
Jonah Hill
Jonah Hill used to be that plump 23-year-old guy in Knocked Up and Superbad, and he worked that image for all it was worth. That's how he broke out in the spotlight. Hill followed up those roles with films like Horton Hear's a Who, Forgetting Sarah Marshall and How to Train Your Dragon, but he would soon start making a more dramatic turn with Moneyball, the six-time Oscar-nominated film from Bennett Miller. Now, audiences recognize his acclaimed role in Martin Scorsese's The Wolf of Wall Street, for which he received his second Best Supporting Actor Oscar nomination. Of course, he never forgot his comedy roots, but he's leaving his mark in both genres.
Kristen Wiig
Wiig is without a doubt one of the brightest talents to ever grace the SNL stage. Her improvisation skills remained unmatched by any of the cast members during her run, and she quickly expanded her reach to include big-screen comedy in Bridesmaids. Since leaving the late-night sketch comedy show, however, she's been featured in a number of smaller films, including Girl Most Likely, The Secret Life of Walter Mitty and Her. Wiig's most impressive performance in this category came with The Skeleton Twins, playing the on-screen twin to her fellow SNL cast mate Bill Hader. She showed versatility in balancing the lighter moments with harsher elements of suicide and depression. Though she was recently cast in the female-led Ghostbusters reboot with Paul Feig, she'll soon be featured in Ridley Scott's high-profile sci-fi film, The Martian, which stars the likes of Matt Damon, Kate Mara and Jessica Chastain.
Jason Segel
The man from How I Met Your Mother, The Muppets and the worst Sex Tape of modern memory could be up for an Oscar come next awards season. It sounds crazy, but he received rave reviews from critics at this year's Sundance Film Festival, thanks to his role in The End of the Tour. Segel portrays one of the modern age's most skilled writers, David Foster Wallace, and the transformation shows the kind of dedication the Academy looks to celebrate. According to reviews, this role is like nothing we've ever seen before from the actor and is one of the most impressive performances of the year so far. We're positive this doesn't mean his comedy career is over. He's had a fruitful run so far with The Five-Year Engagement, This Is 40 and Bad Teacher. It'd be a shame to let such a streak end with Sex Tape.
Mo'Nique
Mo'Nique made headlines with her stirring performance in Precious. The film, starring Gabourey Sidibe and directed by Lee Daniels, earned her a Golden Globe and Oscar for Best Supporting Actress. Afterwards, she wasn't able to land any more high-caliber gigs, which she chalks up to being blackballed by Hollywood. But what a performance it was! Every Academy hopeful has at least one standout scene, and Mo'Nique's came when she poured all her emotion into Mary's confessional. It was a tearjerker to say the least. Prior to Precious, Mo'Nique was known for playing Nikki on The Parkers TV series, as well as the movie Phat Girlz and The Mo'Nique Show. However, she's making a return to drama, after a comedic stint in Steppin: The Movie, with the low-budget indie film Black Bird.
Steve Carell
Much like Mo'Nique's unexpected, Oscar-winning performance, Steve Carell shocked the world when he donned prosthetics to become the haggard and mentally unstable billionaire who committed murder. Carell had built himself up as a comedian with his famous roles of branch manager Michael Scott on NBC's The Office, supervillain-turned-stay-at-home-dad Gru in Despicable Me, the desperate and inexperienced Andy in The 40-Year-Old Virgin, and, of course, the simple-minded Brick in the Anchorman movies. Some of his smaller efforts proved to be stepping stones in his transition into drama, like Little Miss Sunshine, The Way Way Back and Crazy Stupid Love, but Foxcatcher was such a stark departure from his trajectory that it paid off big time. He may have lost the Oscar to Eddie Redmayne, but he's a part of the game now.
Whoopi Goldberg
Whoopi Goldberg is one of those rare talents who's able to thrive in any situation, whether it's drama, comedy, the stage and even improv. In her early career as a film actress, she went big in the drama field with The Color Purple. That was back in 1985, and she has since been oscillating between opposite spectrums, going from Jumpin' Jack Flash and Fatal Beauty to Clara's Heart, from Ghost to A Long Walk Home. Of all of them, she was nominated for two Oscars, for Ghost and The Color Purple, and it was the former that earned her the statuette.
Robin Williams
In light of the devastating death of Robin Williams, we've had the opportunity to reflect on all of his career highs. While there have been many, comedy was his first love. From picking up spare change as a mime in New York City to featuring on Happy Days as his beloved character Mork, Williams' comedy career was defined by his quick-witted and flamboyant improv skills. Over the years, he delivered a slew of impressive dramatic performances, such as in Dead Poets Society and The Fisher King. His most notable dramatic turn, however, came in Good Will Hunting. Williams won Best Supporting Actor at the Oscars for his role as psychiatrist Sean Maguire. It was a well-deserved win for a performance that still brings us to tears. ("You don't know about real loss, 'cause it only occurs when you've loved something more than you love yourself.")
Steve Martin
The Father of the Bride got his start as a rock star of stand-up comedy. His unique stylings would come to influence future comedians looking to break into the industry, and his big-screen roles are beloved by many. He would soon broaden his horizons and take a break from his over-the-top on-screen personas with a number of dramatic performances. Shopgirl, adapted from Martin's own story, Leap of Faith and Grand Canyon are some of his more noteworthy, but The Spanish Prisoner is arguably his most well-known venture. Playing a con man whose secret agenda is slowly revealed over the course of the film, Martin hadn't shown such a convincing performance so far out of his comfort zone. We hope he returns there, soon.
Jim Carrey
Ace Ventura. The Mask. Lloyd Christmas. The Riddler. Carrey is defined by these outrageously exaggerated characters. It was nearly impossible to imagine him in any kind of serious role before he appeared in The Cable Guy, which even then was another extreme, though a more psychotic extreme. Then The Truman Show rolled around. This was a more physically subdued character, but the performance wasn't any less stirring. The Truman Show is a strong contender for Carrey's finest dramatic performance, but perhaps that also should go to Eternal Sunshine of the Spotless Mind. Regardless of which one is your personal favorite, there's no denying Carrey has some serious acting chops.
Bill Murray
We're already so used to seeing Bill Murray riding into Jimmy Kimmel Live on a horse, coated in clothes from the Marshall's juniors collection, and accompanied by a mariachi band — or at the very least photo bombing wedding photos and starring in delightfully clever Wes Anderson movies. But the dramatic roles sprinkled throughout his career as a comedy giant are just as famous as his off-camera shenanigans. Lost in Translation is perhaps his most famous departure from the comedy category. The Sofia Coppola movie featured Murray as a faded movie star who forms a bond with a woman he meets in Tokyo. It's career-redefining moments like this that actors look for, and Murray used it to solidify his credibility as a dramatic actor.
Your Daily Blend of Entertainment News
Your Daily Blend of Entertainment News
Thank you for signing up to CinemaBlend. You will receive a verification email shortly.
There was a problem. Please refresh the page and try again.