Why Vince Vaughn Was The Perfect Villain For Clark Duke's New Film Arkansas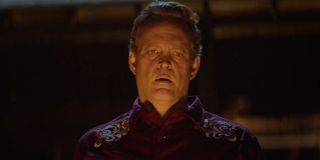 The current market of VOD debuts, both from huge studios and independent distributors, is one of untold riches if you know where to look. One title folks should be keeping their eyes open for is actor Clark Duke's screenwriting/directing debut Arkansas, a southern fried neo-noir about two young men trying to navigate the criminal underground of the titular state. It's an underground that was the perfect place for Vince Vaughn to show off his acting chops and bring an added depth to the film at hand.
Among the stories of how co-star Liam Hemsworth really is as dreamy as you'd hope in real life, or how the memory of his own grandfather helped inspire him to pick John Brandon's debut novel as his own cinematic opener, my interview with Clark Duke touched upon just why casting the normally comedic Vaughn as the kingpin known to most as "Frog" was such a perfect choice in the grand scheme of things.
Clark Duke himself laid out his reasons for casting Vince Vaughn as Arkansas' ultimate heavy as follows:
When you think of Vince Vaughn's filmography, you most likely jump straight to films like Swingers and Wedding Crashers, with a side of Dodgeball and Old School following straight ahead. It's just a by-product of the sort of comedy career the actor steadily cultivated in the late '90s and early '00s; and it's exactly where Clark Duke wants you to be when Arkansas starts weaving its tangled web.
The truth is, we don't even know that Vince Vaughn is the man known as "Frog" in Arkansas until we're fairly deep into the film's plot. By that point, we've been introduced to Vaughn's presence as a kindly proprietor of a pawn shop, thanks to his dealings with the film's two protagonists: Clark Duke's Swin and Liam Hemsworth's Kyle.
Much like those young men, we the audience are assuming that this infamous "Frog" could be anyone else we've been introduced to in the movie. Both Vivica A. Fox and John Malkovich's characters feel like prime suspects as we wind through Arkansas' past and present-jumping narrative.
You can blame that "good cinematic baggage" of Vince Vaughn's long and storied career for throwing off the scent of who the true criminal mastermind in Arkansas is. It's the same sort of subversion that's helped Vaughn reinvent himself as a serious dramatic lead in the last couple of years, in films like Hacksaw Ridge, Brawl In Cell Block 99, and the WWE dramedy biopic Fighting With My Family.
Defying the expectations of just being a likable lead all the time, Clark Duke knew that Vince Vaughn could pull off both the lighter and darker sides of Frog's character needed to pin together Arkansas' overall story of control and legacy in a very dangerous business. In the grand scheme of the story, which Duke adapted virtually beat for beat in his screenplay, the writer/director was also telling a very personal story.
An Arkansas native himself, Clark Duke had always wanted to tell a story surrounding the Dixie Mafia from the region. His big reason was, as hinted towards earlier, his own grandfather was, as he puts it, a "tertiary figure" in the criminal environment working out of his home state. So with the novel of Arkansas giving him the perfect character in Frog, all that was needed was the perfect actor to flesh this figure out in living, breathing color.
Trusting someone like Vince Vaughn to bring to life a literary character is enough praise for the man's efforts in Arkansas. But to add on the additional dramatic weight of embodying this character that Clark Duke saw as a perfect fictional surrogate for his own grandfather speaks even higher volumes of just how much Vaughn's performance sold Duke.
The end result is something audiences should be able to enjoy themselves, as Vince Vaughn, and the rest of the Arkansas cast, deliver a neo-noir film that has already drawn comparisons to the works of Quentin Tarantino and Cormac McCarthy. You can see for yourself just how well Arkansas plays out, as it's currently available on Digital HD, as well as Blu-ray and DVD.
Your Daily Blend of Entertainment News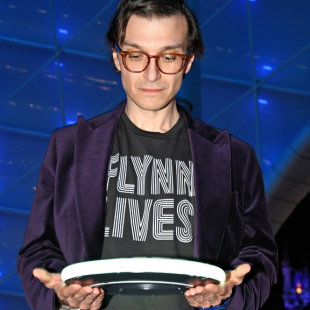 Senior Movies Contributor
CinemaBlend's James Bond (expert). Also versed in Large Scale Aggressors, time travel, and Guillermo del Toro. He fights for The User.