Why Disney Struggles To Adapt Popular Books Like Artemis Fowl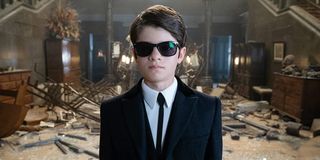 Over at Disney's live-action film division in the last five years, a couple of key patterns have emerged: a huge push for remakes of classics such as Cinderella, Aladdin, The Lion King, and a series of children's book adaptations that have not resonated with audiences. Artemis Fowl is the latest entry to this trend. Fans of the book will tell you, no, it's not a good adaptation of the classic Eoin Colfer fantasy series. It doesn't stay true to the spirit of the source material. Artemis Fowl does what many Disney flops have done with beloved titles recently, but this is the worst offender yet.
If you look closely at the development of movies like Artemis Fowl, The Nutcracker and the Four Realms, A Wrinkle in Time and Alice Through the Looking Glass, it's no surprise these kind of adaptations keep missing the mark. Hopefully Disney can take a hard look at the properties it's taking on and start making more genuine films that understand the value of these materials. Though I do get it – it's not easy to adapt a classic into a movie to begin with. Let's talk through it:
Disney Has The Rights, But What About Vision?
One problem Artemis Fowl has suffered is its vision for the big screen stretching close to twenty years with the studio. The rights to Eoin Colfer's series was obtained just after the book was published, and has remained in Disney's grasp since, with a number of previous versions of the project having come and gone. The final version saw director Kenneth Branagh finally signing on to the film in 2015 not long after reading the first book. He took hold of the property's plan for the adaptation with a tired Eoin Colfer, who had been anticipating his popular title hitting the big screen years earlier.
It's interesting because a similar circumstance happened for A Wrinkle In Time. When the rights to the book were obtained in 2010, a completely different team was behind the development of the film. It was set to be made on a much smaller budget of $30 million, instead of Ava DuVerney's $100 million epic. If Disney obtains a popular property, watch its initial plans fall through the cracks and push through until it does. Well, that doesn't leave a ton of room for inspired ideas. I think back to Greta Gerwig's version of Little Women. The Louisa May Alcott book was the writer/director's bible. She can quote it front and back and it turned out to be one of the most talked-about movies of 2019. We need more Disney adaptations from filmmakers who deeply love and adore the content like we do.
Disney Has A Formulaic Approach To Its Live-Action Adaptations
Artemis Fowl turned into a watered down and generic version of Eoin Colfer's version that was marketed to appeal to a wider audience than fans of the book. Kenneth Branagh said it himself when explaining why the titular character is the archetypal "good kid" instead of the criminal mastermind of the books. In his words:
But don't the best fantasy YA adaptations lean into the specificity and weirdness of its source material? That's what makes a children's book memorable and want to dive into the story. The film versions of the Harry Potter books, for example, went for the gross heads of trolls hanging on the London bus even if fans couldn't particularly understand it. Disney seems to be afraid to allow the voice of the author to be known. This also happened in A Wrinkle In Time. One of the weirdest elements of the book (Aunt Beast) was cut from the film. Details like this turn these films into a formulaic model Disney can repeat and end up running together visually. Each of these stories could have potentially lived in completely different worlds on film and should not feel particularly related.
High-Profile Ensemble Casting Is Often Wasted
Each of these recent film versions of popular children's books from Disney have featured some incredible line-ups of actors. Come on, Judi Dench and Colin Farrell in Artemis Fowl? Oprah Winfrey, Reese Witherspoon Chris Pine and Mindy Kaling for A Wrinkle in Time? Keira Knightley, Helen Mirren and Morgan Freeman for Nutcracker and the Four Realms? Why don't I care about the casting by the end of the film? It's as if they become embellishments to sell the movie, over their parts in the film actually being memorable.
Not enough character development goes into these actors' roles, even though they are heavily marketed to bring in audiences. It's as if Disney has the budget to cast big stars, so it does, but it somehow allows them a pass at making the hires worthwhile. This wasn't always the case in Disney live-action projects. What about the casting of Tilda Swinton in 2005's The Chronicles of Narnia. She was a supporting character in the film in an ensemble cast, but she brought something particularly memorable to the White Witch with her time.
Constraining A Book Into A Short Runtime Doesn't Always Work
The Narnia callback brings me to this point: why is Disney giving its filmmakers an hour and a half to adapt source material that needs much more time to develop? Narnia was two and a half hours. Yes, that's a long time to sit with kids to watch a movie, but these stories inherently need more time to introduce their concepts and explore the vast world they are made up of. Can you imagine watching a Disney-fied hour and a half Hobbit movie? That'd turn out bad too! The studio has a flawed approach to adapting children stories for live-action.
Now back to Artemis Fowl. No wonder a director like Kenneth Branagh decided to change the character from the source material and make it a more generic reading of fairies or trolls than Eoin Colfer imagined. He doesn't have any time to build a new world for audiences to go to and get to the plot points of the story. It's clear we're getting these half-baked versions of beloved stories, and Artemis Fowl's ghastly reception should be a final wake-up call to the studio.
Now, what do you think? Are you noticing this pattern with Disney adaptations? Would you sit down for longer, more inspired versions of these stories on the big screen and Disney+? Vote in our poll below and read our review of Artemis Fowl here.
This poll is no longer available.
YA genre tribute. Horror May Queen. Word webslinger. All her writing should be read in Sarah Connor's Terminator 2 voice over.
Your Daily Blend of Entertainment News
Thank you for signing up to CinemaBlend. You will receive a verification email shortly.
There was a problem. Please refresh the page and try again.