Artemis Fowl And 5 Other Movies That Radically Changed The Books On Which They Were Based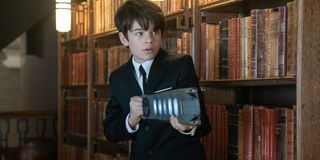 Books and movies have had a symbiotic relationship for quite a while, with Hollywood consistently purchasing the rights to high profile works in hopes of making them into the next box office hit. Sometimes the adaptations are so faithful that audiences have little reason to read the actual book, and other times they're like the recently released Artemis Fowl and feature vast departures from the source material.
Some movies stray from the books and become cinema classics. Others do a lot to change and fail, and audiences wonder why they didn't just stick to the source material that was already tried and true. I'll run down some of the more popular movies of both situations, including Artemis Fowl and the major decision it made that has led to its rough reviews. As a warning, this list will run down spoilers of both the books and the movies, so read at your own risk!
Artemis Fowl
In the Artemis Fowl series, Artemis started off as a villainous mastermind. This kid is rich, cold and crafty, and while he seems like a heartless, greedy devil child reeking havoc on the magic world, readers eventually realize he's just a misguided kid.
Artemis eventually grows throughout the series, but it doesn't seem like those stories will be told on film as Disney decided to drastically change Artemis and make him a hero from the jump. Artemis' change of heart is the major focus of the series, so it's not surprising that removing this character element has led to some poor reviews for the movie.
Forrest Gump
Believe it or not, Forrest Gump is not quite the character in his book that the movie made him out to be. He was a 6'6 and 242 lbs in high school, a football star and perhaps not someone you'd see people chasing down with a car. His sex life was wild and the foul-mouthed Forrest was with more women than Jenny. He even works at NASA with an orangutan, which is certainly a scene I would've liked to see in the movie.
Forrest Gump the movie was insanely popular despite the massive changes, and in what may be a surprise, author Winston Groom wasn't that upset with the changes. He wrote a sequel called Gump And Co., which stated on the first page "Don't never let nobody make a movie of your life's story," which created an interesting nod to how the movie and book differed. Interestingly enough, some have noted Groom's Gump in the second book is more akin to Tom Hanks' version, so maybe Groom wanted to see what he could do with that version.
I Am Legend
The novel I Am Legend has been adapted into a film not once, not twice, but three times since its release in 1954. And yet ,The Last Man On Earth, The Omega Man and I Am Legend are different from each other, as well as different from the source material they're all based on. The most recent adaptation is a vast departure from the book, to the point that one has to wonder if tying it to the original work was really necessary.
The two tales talk about a world overrun by vampires, who seem more similar to zombies, but differ in a few key areas. Beyond the difference of I Am Legend taking place in more modern times, the virus is created through an attempted cure for cancer rather than a bacterial infection. In the book, Neville is eventually captured by an evolved form of the vampire people, and realizes in an ironic twist he has become a legend to them as one of the last remnants of humanity. Basically, the vampires win, as opposed to the movie having Neville sacrifice himself in order to give humanity a good shot at curing the sickness and surviving.
Who Framed Roger Rabbit
As crazy as it may sound, yes, Who Framed Roger Rabbit is based on a novel. In the original Who Censored Roger Rabbit?, Roger is a sidekick comic strip character who hires Eddie Valiant in order to find out why his comic strip partners have reversed their deal to give him his own comic strip. Roger is later murdered, and Valiant's mystery eventually leads him to a genie. This book is a real trip, and that's saying something considering what the movie is.
What's really interesting about this is that after Who Framed Roger Rabbit, author Gary K. Wolf wrote a sequel to the movie called Who P-P-P-Plugged Roger Rabbit? This sequel not only followed the Roger Rabbit continuity of the movie, but wrote off the original book Wolf wrote as a dream Jessica Rabbit had. It's certainly interesting to see Wolf retcon his own work in favor of an adaptation, and not a response I'd expect from any author!
The Shining
This is perhaps the most known movie to diverge from the book it was based on, mainly because of who was involved and the feud that followed. Stephen King and Stanley Kubrick are both legends of their craft, and they apparently had different ideas on how The Shining should be told. There are major differences between the movie and book, but perhaps the best way to summarize the differences is the decision in which the danger is supernaturally or psychologically driven.
Making the danger mainly a domestic event rather than supernatural issue is one of the reasons Stephen King disliked the adaptation of The Shining so much. He also really disliked the film's version of Wendy, as King believed his version of the character was much deeper than the one presented on screen. Viewers can decide for themselves who made the definitive telling of the story, or simply appreciate how phenomenal they each are in their own ways.
The Natural
The Natural is, in my opinion, one of, if not the best baseball movie ever made. The story of Roy Hobbs and his baseball career is a dream come true, right up to the lights-out home run to win the National League pennant. I always assumed the storybook ending meant the novel was not all that different, but I recently learned that the original ending of The Natural is far darker.
In the book, Roy Hobbs takes a bribe to throw the game, but has a change of heart midway through. Regardless, he strikes out and loses the game for the Knights, but only before fouling off a ball that breaks the Wonderbat and strikes his baby mama Iris in the head. What's worse is journalist Max Mercy learns about the bribe and plans a report that will likely end Hobbs career and have his records scrubbed from baseball. It's comically sad in comparison to the movie ending, though I can't say for certain which is the more impactful ending.
There are plenty other examples, so be sure to list your favorite book to movie change in the comments below. As always, stick with CinemaBlend for all the latest news happening in television and movies.
Mick likes good television, but also reality television. He grew up on Star Wars, DC, Marvel, and pro wrestling and loves to discuss and dissect most of it. He's been writing online for over a decade and never dreamed he'd be in the position he is today.
Your Daily Blend of Entertainment News
Thank you for signing up to CinemaBlend. You will receive a verification email shortly.
There was a problem. Please refresh the page and try again.