Christopher Nolan Doubles Down On Why Tenet Is Not 'A Time-Travel Film'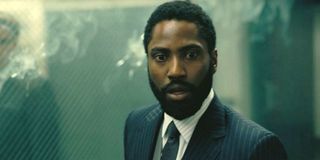 Christopher Nolan's Tenet has been drumming up plenty of buzz since it was first announced, and anticipation for the film has only increased with time. Of course, the film has still left the public with more questions than answers. One thing people really want to know is how the concept of time will factor into the story. In typical Nolan fashion, the filmmaker isn't willing to divulge too much, but he has further confirmed that time travel does not actually factor into the movie.
Christopher Nolan made it very clear that time travel is not what he's aiming to depict in Tenet and that he's actually hoping to shine a light on how time functions and can be used in extraordinary circumstances:
While Christopher Nolan's comments to EW still don't give away many details, they do drive home the point that he is not telling a time-travel story, which is honestly refreshing. While fans love films like Back to the Future, Tenet will allow moviegoers to see time used in a way that's not typically seen.
We still, however, don't know much about how the characters in the film will actually utilize time inversion. Although, one character who has been confirmed to be using is Kenneth Branagh's character, who may or may not be the film's true antagonist. But regardless of his allegiances, it would appear that he has a strong understanding of time and will be making serious trouble for John David Washington's protagonist.
Christopher Nolan's decision to explore time inversion in Tenet reflects his larger body of work in which he seeks to both entertain his audiences and make them consider the world around them. It's no secret that his films are complex and, as a result, people can sometimes get lost in the weeds while watching them. However, he and his collaborators still do what they can to keep audiences in the loop.
And sometimes this also extends to Nolan's cast members as well. John David Washington confirmed that there were times during the shoot when he was confused by Tenet's plot. Even Robert Pattinson admitted to being wrong about a particular aspect of his character. Luckily, Nolan was more than willing to clarify any elements that were unclear.
Toted as the film that could bring people back to movie theaters, Tenet is shaping up to be Christopher Nolan's most unique and personal project to date. It remains to be seen what he has in store for audiences, but it could very well be a 'big screen experience' that audiences won't forget.
Tenet is currently scheduled to be released theatrically on July 31.
Your Daily Blend of Entertainment News
Covering superheroes, sci-fi, comedy, and almost anything else in film and TV. I eat more pizza than the Teenage Mutant Ninja Turtles.