Tenet Star Explains Why He Might Not Be The Villain In Christopher Nolan's New Movie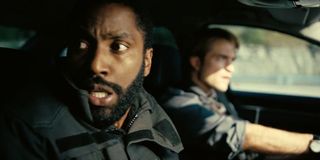 As its tentative release date draws closer, Tenet continues to excite (and confuse) moviegoers, as Christopher Nolan and Warner Bros. are keeping plot details under wraps. The latest trailer did shed a little more light on the story, including Kenneth Branagh's mysterious, time-inverting character. Based on his appearance in the footage, many have come to believe that Branagh is the film's antagonist but, according to the actor, viewers may want to hold off on jumping to conclusions:
It's honestly difficult to gather anything concrete from Kenneth Branagh's comments to Total Film (via Syfy Wire). It's clear that his character is going to be an opposing force to John David Washington's antagonist but, when it comes to Christopher Nolan's movies, what you see isn't always what you're going to get.
Christopher Nolan has been known to give audiences more than a few twists in his films, especially when it comes the villains. This was definitely clear in The Dark Knight Trilogy, beginning with Liam Neeson's Ra's al Ghul in Batman Begins. Nolan would then continue this trend in The Dark Knight Rises by revealing Marion Cotillard's Miranda Tate to be the film's true antagonist, Talia al Ghul.
When it comes to Tenet, if we've learned anything, it's that the film could very well have some complex characters. Aside from Kenneth Branagh, Robert Pattinson has also shared a few details on his character and admitted to being wrong when it came to certain aspects of the role. This is a bigger reflection of how intricate the plot is, with even John David Washington acknowledging that he was confused, at times, while filming.
We do know, however, that the film will center on John David Washington's protagonist, an agent aiming to prevent World War III. During his mission, he'll seemingly come to blows with Kenneth Branagh's character, a Russian man who can interface with the future.
But with these new statements, we're now left wondering if there's more to Branagh's enigmatic role than meets the eye. Is he truly the straightforward villain we're all assuming he is, or will he actually turn out to be a hero in some respect?
Whatever the case may be, there's a very good chance Kenneth Branagh will knock the role out of the park. Aside from his impressive acting repertoire, he and Christopher Nolan did great work together in 2017's Dunkirk, and it'll be fun to see what they have planned for us this time around.
Tenet is still scheduled to open in theaters on July 17.
Covering superheroes, sci-fi, comedy, and almost anything else in film and TV. I eat more pizza than the Teenage Mutant Ninja Turtles.
Your Daily Blend of Entertainment News
Thank you for signing up to CinemaBlend. You will receive a verification email shortly.
There was a problem. Please refresh the page and try again.