Before Alfonso Cuaron, Harry Potter And The Prisoner Of Azkaban Considered Another Major Director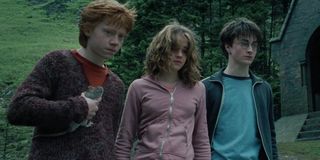 The Harry Potter franchise brought aboard four different filmmakers during the course of the eight films, with one of the most notable being Alfonso Cuarón. The Academy Award-winning director helmed Harry Potter and the Prisoner of Azkaban, which is regarded by many to be the best film in the franchise. While it's hard to argue with how Cuarón's work turned out, it turns out Warner Bros. was initially courting another filmmaker for the job.
Murder on the Orient Express director Kenneth Branagh, who also played Gilderoy Lockhart in Harry Potter and the Chamber of Secrets, confirmed that he was once in talks to direct a Harry Potter film. However, nothing ever became concrete:
While confirming to Collider that Azkaban would have likely been the project, he definitely thinks Warner Bros.' ultimate choice worked out well in the long run:
Kenneth Branagh is right, as Alfonso Cuarón's work on Harry Potter and the Prisoner of Azkaban cannot be understated. The film not only served as a strong entry in the series, but it also served as a stark turning point for the franchise, in terms of both storytelling and aesthetic. Following Prisoner of Azkaban, Harry Potter entered darker territory that was much more mature than the relative lightness of the early films.
Cuarón was definitely a great fit for the job, but one could argue that Kenneth Branagh could have also brought something interesting to Azakaban or any Harry Potter film for that matter.
Over the years, Branagh has definitely proven himself to be a capable director and one who enjoys doing adaptations. Some may not have enjoyed his version of Artemis Fowl, but his big-screen versions of Hamlet and Much Ado About Nothing are proof that he can take material and successfully translate it to other mediums.
In addition, Branagh also has experience working with effects-heavy blockbusters. Most no doubt know that he directed 2011's Thor and successfully brought the God of Thunder into the Marvel Cinematic Universe and the public eye. With this, he likely would have had no trouble managing the technical aspects of the Harry Potter films.
It's interesting to consider what Kenneth Branagh may have done with a Harry Potter film, especially when you consider his body of work. The chances of him directing something connected to the Wizarding World may seem slim at this point, but at least he did manage to carve out a place for himself in the fan-favorite franchise.
Harry Potter and the Prisoner of Azkaban is currently available to stream on HBO Max.
Covering superheroes, sci-fi, comedy, and almost anything else in film and TV. I eat more pizza than the Teenage Mutant Ninja Turtles.
Your Daily Blend of Entertainment News
Thank you for signing up to CinemaBlend. You will receive a verification email shortly.
There was a problem. Please refresh the page and try again.