Harry Potter Screenwriter Responds To J.K. Rowling's Comments On Transgender Women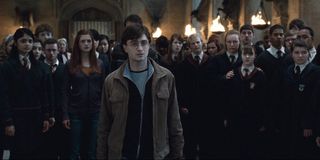 In the days since J.K. Rowling made a series of controversial statements about transgender women, she's earned a ton of backlash. The LGBTQIA+ community, allies, and other public figures have spoken out against her views -- and so have several members of the Harry Potter franchise family. That list now includes one of the series' most prolific screenwriters -- and he didn't mince words when he shared his feelings.
Steve Kloves wrote seven of the eight scripts for the original Harry Potter film series. He's also a producer for Fantastic Beasts and the co-writer for the third film in that series. So it's safe to say he knows J.K. Rowling pretty well, as they've been working together for two decades. While he didn't specifically call J.K. Rowling out, he couldn't have been clearer as to what he was referring to when he released this statement:
The screenwriter's comments to Variety are very much in line with other statements that have come out in recent days. Daniel Radcliffe, a long-time LGBTQ advocate, reaffirmed his support for the transgender community in no uncertain terms via a statement released by the Trevor Project. After some fans began to complain that J.K. Rowling had revealed prejudice in other ways throughout Harry Potter - for instance, naming the only Asian character Cho Chang - Katie Leung, who played Harry's love interest, tweeted a list of resources and fundraisers for the transgender community.
Emma Watson, too, released a clear statement that she stands with transgender fans. Evanna Lynch, who played Luna Lovegood in four Harry Potter films, announced that she disagrees with J.K. Rowling but that she does not believe she has "completely lost her humanity" in a now deleted tweet. Eddie Redmayne, current star of the Fantastic Beasts franchise, also released a statement in support of transgender people.
Thus far, J.K. Rowling has not formally apologized for her tweets but did pen an essay in which she doubled down on her statements.. This isn't the first time she's made statements that are widely considered to be transphobic, but her recent assertion that cis-gender women could be in danger in the presence of transgender women has made advocates around the world especially frustrated. It's unclear whether any of the Harry Potter crew, past or present, has reached out to the author personally or what any of this will mean for the future of the franchise or for the book series' legacy.
Fantastic Beasts 3 is set to begin production at some point soon, after having been paused in the wake of the COVID-19 pandemic.
Your Daily Blend of Entertainment News