Tenet Was Expected To Be The Big, Splashy Return To Theaters, But What About Mulan?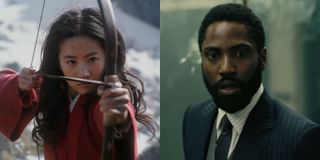 UPDATE: After this article was written yesterday, Tenet ultimately chose to flip flop its release date again. Now the Christopher Nolan tentpole will be opening on August 12, 2020. Disney still has not made a decision regarding the fate of Mulan**. **
Over the last few months, the theatrical movie schedule has felt sort of like a horse race, as each of the major studios have jockeyed their films into positions, often changing and alternating dates. For a long time, Christopher Nolan's Tenet was expected to be the big, splashy return to the movies, but a lot of us have really been forgetting about Disney's Mulan.
Originally expected to release in March, Mulan had been shifted into the July 24 position when a lot of movie release dates initially changed. At first, Tenet was expected to be released in mid-July, on the 17th, followed by Mulan on the 24th of July and Wonder Woman 1984 afterward in August. Well, with the latest update, we're looking further away from the stretch turn. Tenet will now be released on July 31. Wonder Woman 1984 shifted to October and now it seems Disney is still mulling what to do with Mulan.
The thing is, Mulan isn't a shoe-in for that July 24 position. The first problem is that movie theaters have been slow to open in some states and with Covid cases on the rise in some areas (and even in major states like Texas and California), it's hard to tell how many theaters will be ready and rearing to go at the end of July, at least at the time of this writing. Secondly, Mulan has been touted and absolutely is an important release in China and theaters have not opened in that country yet.
With this in mind, the Wall Street Journal published an insider report alleging that the powers that be at Disney are weighing the Mulan matter and deciding whether or not to move forward with the current release date. I can't imagine there's not at least some feeling at Disney that it would be cool for Mulan to be the big release pushing people into theaters. Unlike Tenet, it's family-friendly to boot! However, there's also risk inherent with being first, there's the fact that Mulan, unlike Tenet, has not been pushing to be first, plus the need for Mulan to do well globally can't be understated either. Then there's the fact that Tenet is starting to promote again while Mulan has not been avidly promoting. All of this may point to a release date change.
The one other thing I've really felt has sort of been underdiscussed is seating availability. Obviously, there will be fewer movies out at once, so even with the seating restrictions at most movie theaters moving forward, I'd assume more of the actual theater auditoriums will be able to be dedicated to one or two movies. Regardless, maybe it would make sense, for once, for the studios to give each other a little space. Maybe Mulan gets 2-3 weeks of theatrical real estate, then Tenet gets a go and so on and so forth.
The schedule is already sort of staggered that way until the end of the year, but then there's the problem of Mulan and Tenet currently releasing one week apart if the schedule stays how it is now. By November and December movies are expected to be released fast and furious. Around Christmas on December 18, Coming 2 America, Dune and West Side Story are all poised to release, though there's already been speculation Dune could shift.
I guess what I'm saying is, if we're still at limited capacity, who really knows what can or will happen? You'll probably get a headline from us over the next few days about Mulan shifting again, but where does the Disney movie go from there? Assumedly not to Disney+.
If we're back to horse racing analogies, perhaps Tenet will get to be the "Win" here, a move that would obviously be good press for Warner Bros. if it works and would also seemingly make Christopher Nolan very, very happy. Perhaps in that scenario Mulan could place. That would live The Empty Man or Bill and Ted Face the Music to show. At the end of the day, if July doesn't really pan out, though, there is a theoretical future where Bill and Ted save the movies universe. Just sayin.'
Amazing Race & Top Chef superfan with a pinch of Disney fairy dust thrown in. Theme park junkie. If you've created a rom-com I've probably watched it.
Your Daily Blend of Entertainment News
Thank you for signing up to CinemaBlend. You will receive a verification email shortly.
There was a problem. Please refresh the page and try again.