The Line Will Ferrell Fans Shout At Him More Than Any Other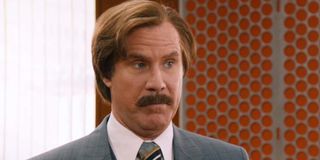 Will Ferrell has been entertaining audiences for years now and has amassed a collection of memorable roles in the process. From Buddy the Elf and Ron Burgundy to Ricky Bobby and Jacobim Mugatu, Ferrell has helped bring to life some of the best comedic characters to ever grace the silver screen. Of course, with that, also comes a number of notable quotes. As you can imagine, fans tend to quote Ferrell's dialogue when they see him, but the line that gets shouted at him the most might surprise you.
CinemaBlend recently caught up with Will Ferrell to discuss his latest film, Eurovision Song Contest: The Story of Fire Saga. And while speaking with our own Jeff McCobb, he revealed that there's one famous line that he hears all the time:
Wedding Crashers' Chazz Reinhold may not be the first character to come to mind when you think of Will Ferrell, but he certainly stands alongside some of the actor's most iconic roles. And the very thought of his "meatloaf" line can still make anyone laugh out loud.
As Will Ferrell points out, what's most surprising about the popularity of the role and line is that Chazz has a relatively small presence in Wedding Crashers. Reinhold, a former mentor of Vince Vaughn's Jeremy Grey, is introduced near the end of the film when Owen Wilson's John Beckwith seeks him out after his falling out with Jeremy. It's during John's visit to Chazz's (mother's) house that he utters the famous line, yelling to his mother to prepare meatloaf for his guest.
While the line is quoted frequently, it's also made an impact pop culture in other ways, as many love to share memes and gifs of Chazz across social media.
But as previously stated, this is just one of the many Will Ferrell lines that has stayed on the lips of moviegoers over the years. Ron Burgundy's "Stay Classy, San Diego!" is practically legend at this point as is Ricky Bobby's "If you're not first, you're last." And who could forget the moment Brennan realizes he and stepbrother Dale have plenty in common and excitedly asks, "Do you want to go do karate in the garage?"
Eurovision, so far, hasn't managed to capture the acclaim that many of Ferrell's other cinematic outings have attained but his actual performance has been generally well received. Only time will tell how the performance ages, but there's still a solid chance there's a memorable quote or two to be mined from it.
In the meantime, fans can still kick back and enjoy the rest of Will Ferrell's body of work. He's been one of the most recognizable names in comedy for years now, and his role in Wedding Crashers is one of the many reasons for that.
Eurovision Song Contest: The Story of Fire Saga is now streaming on Netflix.
Covering superheroes, sci-fi, comedy, and almost anything else in film and TV. I eat more pizza than the Teenage Mutant Ninja Turtles.
Your Daily Blend of Entertainment News
Thank you for signing up to CinemaBlend. You will receive a verification email shortly.
There was a problem. Please refresh the page and try again.