What American Netflix Viewers Just Don't Get About Eurovision, According To Dan Stevens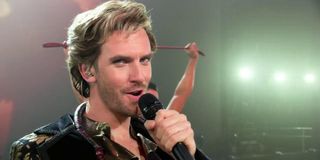 American Netflix viewers are likely familiar with musical competitions like American Idol, but when it comes to Eurovision, they're mostly clueless. That is until Will Ferrell's Eurovision Song Contest: The Story of the Fire Saga graced Netflix's presence. Actor Dan Stevens has a role in the movie as an antagonistic character, and recently explained what American audiences just don't get about Eurovision.
In Eurovision Song Contest: The Story of the Fire Saga, Dan Stevens, known for his roles in Downton Abbey and the Beauty and the Beast remake, plays villain Alexander Lemtov in the aforementioned comedy. He's also long been a fan of the annual event known as Eurovision. Stevens recently spoke with AV Club about the movie, and said American Netflix viewers might not really get it. Here's what he said:
I'll admit when I first saw the trailer for this movie, I thought Will Ferrell made it all up-- only to learn later that it's very real. And this news personally didn't blow my mind, but it did make the Netflix comedy so much more appealing. Eurovision Song Contest: The Story of the Fire Saga is about Lars and Sigrit, played by Will Ferrell and Rachel McAdams respectively, whose band Fire Saga is the laughing stock of their local music scene. Somehow, though, they're the only band that can represent Iceland at Eurovision.
If this movie sounds similar to Will Ferrell's previous comedic entries about silly hijinks during a competition, like Blades of Glory, then you're not wrong. But it might still have something to offer fans of Will Ferrell's brand of comedy. Additionally, there are some strong actors like Dan Stevens helping to make the new movie into a reality.
Overall though, according to Cinema Blend's own Eric Eisenberg review, Eurovision Song Contest: The Story of the Fire Saga acts more like a commercial for the song contest rather than a just being a funny comedy. It reportedly has a few solid gags, but plays things way too safe. And those thoughts were echoed by other critics.
American Netflix viewers curious about Eurovision and perhaps wanting to laugh at Will Ferrell's humor can catch Eurovision Song Contest: The Story of the Fire Saga on Netflix right now. And after you watch it, you definitely should watch Cinema Blend's own Jeff McComb play a game with Will Ferrell, Rachel McAdams, and Dan Stevens, asking them a series of names that could either be a band or a fantasy novel.
Your Daily Blend of Entertainment News
Thank you for signing up to CinemaBlend. You will receive a verification email shortly.
There was a problem. Please refresh the page and try again.