Black Snake Moan's Christina Ricci Files For Divorce After Reported Domestic Altercation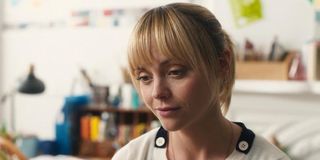 Christina Ricci, the actress known for her work on Casper, Speed Racer and Black Snake Moan, has filed for divorce from her husband to the L.A. County Superior Court on Thursday. She cited irreconcilable differences, and also reported a domestic altercation.
According to TMZ, Christina Ricci was married to dolly grip and film producer James Heerdegen for seven years, and they share a five-year-old son, of whom Ricci requested sole legal and physical custody. Reportedly, Christina Ricci received an emergency protective order a week ago after she claimed James Heerdegen spit on her. Heerdegen has not been arrested, but he has been ordered to stay away from Ricci.
Christina Ricci and James Heerdegen both met on the set of short-lived 2011 TV show Pan Am, a story about pilots and flight attendants in the 1960s which, at the time, came under fire for sexism; an accusation Christina Ricci denied. Shortly after the one-season show ended, Ricci and Heerdegen got married on October 26, 2013 in New York City.
Christina Ricci started her career as a childhood actor in the early '90s. It wasn't until her roles in The Addams Family as Wednesday Addams and Kat in Casper that she started becoming a household name. During that time, she hopped back and forth between family-friendly movies, like That Darn Cat, to not so family-friendly movies, like Fear and Loathing in Las Vegas and The Ice Storm.
Like most childhood stars that grow up fast, Christina Ricci took on more edgy, dramatic roles, like in Black Snake Moan. The movie, which received fair reviews at the time of its release and wasn't a commercial success by any means, is a 2006 southern gothic starring Samuel L. Jackson and Christina Ricci about a God-fearing bluesman named Lazarus (Jackson) that finds a half-naked, drunk, party girl in his driveway. He nurses Christina Ricci's character back to health but then chains her to a radiator to help cure her mental health as well.
Fast forward to nowadays, and you'll find Christina Ricci has performed primarily in dramas and thrillers, with the occasional family-friendly project like Smurfs 2. She more recently spoke about her performance in Distorted about a woman with bipolar disorder who thinks the state-of-the-art apartment complex she lives in isn't what it seems.
Christina Ricci isn't the only big star filing for divorce this year, particularly during these turbulent times. It was reported in early June that The Voice's Kelly Clarkson filed for divorce from her husband Brandon Blackstock after seven years of marriage. Like Christina Ricci, Kelly Clarkson also cited irreconcilable differences and requested to not have to pay spousal support.
Keep checking back with CinemaBlend for the latest in movie news and updates on the actors who appear in them.
Your Daily Blend of Entertainment News