Why It Was Really Awkward To Make Out With Christina Ricci, According To Elijah Wood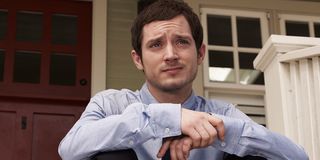 Nobody should be forced to make out with someone while their mother is watching. But that's exactly what Elijah Wood had to go through when he shot The Ice Storm, and he only found scant consolation in the fact that the person he was smooching was Christina Ricci. Things got even worse for both Elijah Wood and Christina Ricci on the set of that film, as the Lord Of The Rings actor admitted that their kissing in the scene was far from conventional. Elijah Wood explained,
Yep, that sounds like one of the most awkward circumstances known to mankind. If Debbie Wood, Elijah's mother, had any sense about her she had her fingers in her ears and her eyes firmly closed while her son partook in his bout of tonsil hockey with Christina Ricci during filming. But while Elijah Wood, who was 16 at the time of The Ice Storm's release, had to endure this particularly excruciating experience, which he recalled on Talking with Chris Hardwick over at AMC, things were even more awkward for Christian Ricci during production.
That's because Christina Ricci, who was 17-years-old when the Ang Lee drama was released, had to film a lot more than just kissing Elijah Wood in the film. In The Ice Storm Christina Ricci's rather promiscuous character Wendy explores her burgeoning sexuality with her two neighbors Mikey (Elijah Wood) and Sandy (Adam Hann-Byrd) throughout, and even finds herself getting drunk and sharing a bed with the latter in the film, too.
Released back in 1997, The Ice Storm is set in 1973 and revolves around two dysfunctional upper-class families from Connecticut. Ben (Kevin Kline) and Elena (Joan Allen) Hood have a 16-year old son Paul (Tobey Maguire) and a 14-year-old daughter (Christina Ricci), while their neighbors Jim (Jamey Sheridan) and Janey (Sigourney Weaver) Carver have their sons Mikey and Sandy. However, Ben is having an affair with Janey, and The Ice Storm explores the social changes of the decade, as well as sexual experimentation, adultery, and alcoholism. As well as its pretty impressive ensemble cast, it was also directed by future two-time Academy Award winner Ang Lee (Brokeback Mountain and Life Of Pi).
However, despite impressive reviews and a score of 84% on Rotten Tomatoes, The Ice Storm ultimately failed to find an audience, grossing just $8 million from its $18 million. Those of you who decide to watch the film after this article will probably struggle to get the thought of Elijah Wood's mother watching her son and Christina Ricci kissing out of their minds, which I'm guessing could be enough to immediately ruin it.
Your Daily Blend of Entertainment News
Your Daily Blend of Entertainment News
Thank you for signing up to CinemaBlend. You will receive a verification email shortly.
There was a problem. Please refresh the page and try again.