Parasite: 9 Things To Look For The Next Time You Watch It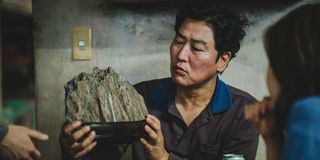 SPOILERS ahead for Parasite. We're about to get into some major specifics about the movie.
If its history-making Best Picture Oscar-win was not enough evidence, Parasite is one widely beloved movie, not just for its breathtaking twist ending, but its powerful social commentary. Yet, the potency of either of those crucial elements to Bong Joon-ho's masterpiece goes deeper than what most audiences might have caught upon their first viewing.
While the huge, tonally shifting curveball the Korean-language film throws at you by its halfway point may seem to come out of nowhere, there are signs of the contrary throughout. Not to mention, Parasite's strong representation of the culture clash between differing ranks on the socio-economic ladder has a more symbolic nature beyond the main plot, involving an impoverished family's systematic infiltration into the lives of another with great wealth.
So, what sort of visual metaphors, subtle foreshadowings, and other fun Easter Eggs should you keep an eye out for the next time you watch Parasite? Nine examples come to mind.
Stink Bugs Ironically Parallel Ki-Taek's Evolving Disdain For The Parks
Kim Ki-Taek (Song Kang-Ho) hates stink bugs enough to endure hazardous gases in his home to achieve free pest treatment, yet he relates to the pesky insect more than he knows. The Parks, at one point, mention a certain foul scent Ki-Taek carries, unaware of his sensitivity to it as a reminder of his poverty, eventually driving him to murder Park Dong-Ik (Lee Sun-Kyun) and realize that he is this family's "pest." The stink bug's brief appearance in Parasite's opening scene seems like a throwaway expository detail but is actually some brilliant foreshadowing and lends to the film's unique use of smell as a symbolic tool for class distinction.
Ki-Woo Fakes A Diploma From Bong Joon-ho's Alma Mater
Not all of the blink-and-you-miss-it details in Parasite offer a deeper insight into the film's thematic depth, but some do serve as a peek into Bong Joon-ho's past. The first of those particular examples on this list occurs when Kim Ki-Jung (Park So-Dam) is creating a fake diploma for her brother Ki-Woo (Choi Woo-Sik) made to look like it came from South Korea's Yonsei University, which is where the writer and director earned his degree in Sociology in the late 1980s.
The Park Family Owns A Collection Of Alfred Hitchcock Films
One of Bong Joon-ho's biggest creative inspirations is Alfred Hitchcock, the master of suspense behind such classic thrillers as The Birds or Vertigo. His influence is made clear in Parasite, from the design of the many staircases used in pivotal moments from the film taking inspiration from the Bates house in Psycho to a glimpse of movies from the legendary filmmaker's catalog appearing in the Park family's personal collection.
An Early Parasite Shot Is Framed To Distinguish Characters' Social Classes
Just about every single detail of Parasite is worth noting for its thematic value, right down to the framing of some of its key moments, such as when Ki-Woo looks out from a window in the Park household to see Moon Gwang (Lee Jeong-Eun) notifying Park Yeon Kyo (Jo Yeo-Jeong) of his presence. Look more carefully and you notice the corner of the window creates a distinct line separating the well-to-do housewife from her housekeeper and the impoverished young man, providing a visual representation of what separates the characters on a socio-economic scale.
Da-Song's "Self-portrait" Foreshadows Parasite's Twist
Our initial tour of the Park Family's house also provides us with our first clue as to what secrets are lurking underneath in Parasite. Park Yeon Kyo cannot help but show off her "prodigal" son, Da-Song's (Jung Hyeon Jun), artwork, including what she assumes is a self-portrait despite looking nothing like him. This may be because it is actually the young boy's rendering of the ghost he saw emerge from the basement, who is really Moon Gwang's husband, Geun Se (Park Myeong Hoon).
Dong-Ik Notes That Moon Gwang "Ate Enough For Two"
That creepy painting is not the only clue to Moon Gwang's hidden agenda that shows up early on. After the Park Family housekeeper is fired, Park Dong-Ik remarks to Kim Ki-Taek that the only shortcoming of hers he noticed was how she would eat double the amount she should have. Of course, as we learn by the halfway point of Parasite, that extra helping of food was meant for Geun Se which she, apparently, did not do a good enough job sneaking down to him.
A Continuity Error Before Parasite's Big Twist Was Left In
Despite all our praises of the contrary, not every one of the visual Easter Eggs found in Parasite is intentional. As the film's editor Jinmo Yang revealed in an interview with Variety, the dog jerky that Ki-Jung has been snacking on as she and her family enjoy having the Park house to themselves changes from her left hand to her right hand as we cut from a close up of the Kims to a wide shot when the doorbell is heard. He and Bong Joon-ho opted to leave it in for viewers to spot, although it seems to often go unnoticed.
Song Kang-Ho's Snowpiercer Character Shares A Name With The Park House Architect
Another detail in Parasite that only those who know Bong Joon-ho's career best would take note of is one very subtle connection to his 2014 post-apocalyptic social satire Snowpiercer. Song Kang-Ho also stars in that English language, modern sci-fi classic as one of the titular bullet train's designers, Namgoong Minsoo. Namgoong is also the name of illustrious architect credited for designing the Park's house, which incites question as to how these technically minded characters may be related.
The Kims' Descent Home Represents Their Dip In Social Class
We have focused on many of the most clever examples of symbolic class commentary in Parasite, but the most noteworthy, devastating, and strikingly beautiful visual representation of this theme is Ki-Taek, Ki-Woo, and Ki-Jung's journey home in the middle of a storm. The entire escape from the Park House is a literal descent down several flights of stairs to reach their caved-in, slum-like neighborhood, showing for the first time in the entire film just how truly "low" the Kims stoop from where the Parks stand on the economic totem pole. It is one of the finer examples of how a scene can be equally exciting and rich in theme.
What do you think? Did these details sneak right past you the first time you saw Parasite or would any devoted fan of Bong Joon-ho's style be able to catch these immediately? Let us know in the comments and be sure to check back for additional information and updates on this Academy Award-winning hit film here on CinemaBlend.
Your Daily Blend of Entertainment News
Jason has been writing since he was able to pick up a washable marker, with which he wrote his debut illustrated children's story, later transitioning to a short-lived comic book series and (very) amateur filmmaking before finally settling on pursuing a career in writing about movies in lieu of making them. Look for his name in just about any article related to Batman.
Your Daily Blend of Entertainment News
Thank you for signing up to CinemaBlend. You will receive a verification email shortly.
There was a problem. Please refresh the page and try again.