Why A Gladiator Sequel Has Always Been A Challenge, According To The Producer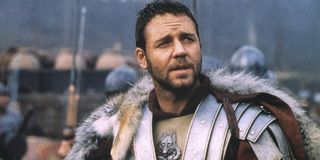 Let's travel back to the halcyon year of 2000, shall we? Ridley Scott's Gladiator was a huge hit at the summer box office, and would eventually become an awards juggernaut in the awards season to come. So naturally, when you're an upstart studio like Dreamworks, and Russell Crowe has just helped you land an eventual pop culture hit, you're going to want a sequel in the works ASAP. But as history has shown us, it's been a bit of a challenge to get another Gladiator movie off the ground, and no one knows that better than one of the film's producers, Douglas Wick.
I was able to talk with Mr. Wick a little while back, in honor of the 20th anniversary re-release of Gladiator on 4K Steelbook, and the conversation contained a lot of insightful knowledge into how the film was made and how the reaction carried the film into cinematic history. With new developments involving a sequel popping up in the news recently, folks might be wondering why a sequel hasn't already happened in the decades since Maximus Decimus Meridius first strode onto movie screens all over. Armed with inside knowledge of what made Gladiator such a hit in the first place, Douglas Wick provided this explanation as to why this particular sequel hasn't happened yet.
With the fondness that fans and critics alike have visited upon Gladiator still resonating in the 20 years that have passed since its initial release, it's not hard to see that if a second installment is going to happen, it's something that really needs to be worth the wait. Though, just because a second chapter in the story of Maximus hasn't been written, that doesn't mean there hasn't been an attempt.
In fact, another piece of my conversation with Douglas Wick focused on debunking a long-standing story surrounding the mythos of potential Gladiator projects that were alleged to have been in the works. One big example of such a story comes from as far back as June 2001, when IGN ran a story that said that not only had Wick confirmed a prequel was in the works, but that a sequel was also an option that was being discussed.
The very notion of a Gladiator prequel isn't that out of line, as undoubtedly one of the keys to the first film's success was Russell Crowe's Academy Award winning performance as Maximus. However, seeing as his character died at the end of the movie, a sequel was going to be hard pressed to bring him back from the dead. Alas, for as much sense as that concept made, it didn't actually go anywhere, as Douglas Wick confirmed as much in this humorous anecdote:
It's a bit of a paradox to want to create a franchise out of a movie like Gladiator, as without a plausible reason to bring back Maximus, you need to think a bit outside of the box to progress the story. Which is something else that has been known to happen in the storied history of these in-between years, as the two concepts for a follow-up have involved very different, but very exciting tactics. The more outrageous version of a Gladiator sequel came from writer/musician Nick Cave, who dreamed up a long and winding road through reincarnation that would see Russell Crowe's Roman general fight through the many wars of humanity up to the present day. While the idea was worked out between Cave, Crowe, and Ridley Scott, this far-out draft never made it into further phases of development.
Which leaves us with the more plausible, and potentially still in play version of Gladiator 2 that was previously rumored. As other recent comments from producer Walter F. Parkes have indicated, the current sequel plan is to take place 25 – 30 years after the events of Gladiator. That lines up with another plan that was hatched, in which Spencer Treat Clark's Lucius, son of Connie Nielsen's Lucilla and nephew to Joaquin Phoenix's Commodus, was to be the new protagonist of note. If other comments of the recent past are accurate, this is exactly the way forward that's being taken.
Even with all of the activity that's promised to bring the world another Gladiator film, there's always a chance that the entire enterprise will fall apart; because as Douglas Wick pointed out, the movie is so beloved that it takes a properly balanced idea that respects the past while forging the future. For the time being, we'll just have to keep our eyes open for any further developments, while also enjoying those memories of Gladiator that we hold onto dearly. You can relive those moments in beautiful 4K UHD, as the 20th anniversary Steelbook for Gladiator is currently available through most major retailers.
CinemaBlend's James Bond (expert). Also versed in Large Scale Aggressors, time travel, and Guillermo del Toro. He fights for The User.
Your Daily Blend of Entertainment News
Thank you for signing up to CinemaBlend. You will receive a verification email shortly.
There was a problem. Please refresh the page and try again.