Connie Nielsen Shares Her Favorite Memory From Ridley Scott's Gladiator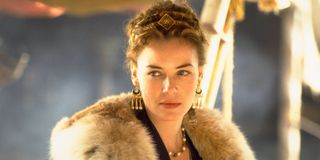 Memories are a powerful force in life, as they can tell us where we've been and why those events were so important. In the case of director Ridley Scott's Academy Award-winning film Gladiator, actor Connie Nielsen has some pretty fantastic memories that she's carried with her in the 20 years since the film's earth-shattering release. Above all of the moments she looks back on during her time on the film, her favorite memory is of an iconic meeting with Scott himself, true to his personal form.
As we were discussing Connie Nielsen's latest film, the sci-fi thriller Sea Fever, it was hard not to think back on Gladiator, as this June marks the film's 20th anniversary in theaters. With Ridley Scott's classic tale of Russell Crowe's Maximus Decimus Meridius firmly planted in pop culture history, I asked Nielsen about her experiences shooting the film, which prompted her to share this particularly impressive memory:
Playing the role of Lucilla in Gladiator, the film is noted by some as the project that really helped Connie Nielsen's rising star soar. As the sister to Joaquin Phoenix's villainous Commodus, and the old flame/kind presence to Crowe's Maximus, she anchored the two worlds of the film with her commanding presence.
Looking at Ridley Scott's career as a director, especially when it comes to the work he'd done on Gladiator, it only serves as a potent reminder of just how larger than life some of his movies become in their final form. In terms of his 2000 blockbuster, the Malta location shoot that Connie Nielsen showed up to work at was a big part of what made Gladiator the well-regarded classic its still known to be.
Scott build 1/3 of what would [eventually be digitally augmented](https://en.wikipedia.org/wiki/Gladiator(2000film) to look like the Roman Colosseum, in a process that would make up $1 million of the over $100 million budget Gladiator had during its filming at the turn of the century. With effects leaning more towards the practical side, and a lot of moving pieces in the works, one could only imagine just how much of a chaotic environment the set could be at times.
And yet, as Connie Nielsen remembers her Gladiator experience, it wasn't something that shook Ridley Scott in the slightest. All he needed was a cigar, his crew and a good day on set was to be had. Which isn't surprising in the slightest, as you don't make films such as Blade Runner or The Martian if you don't know how to get a handle on things.
But another factor that Connie Nielsen highlighted in her account of the Gladiator experience was that, much like any good director, Ridley Scott knows how to pick the right people for the job. Of course, as she continued speaking about her work with Scott, Nielsen still had that memory of the director firmly in mind:
Making a motion picture such as Gladiator, or even a more intense, smaller scale film like Sea Fever, is not as easy as some would expect. This is especially true when considering the role of a director extends well before and beyond the moments the cameras are rolling on set. With all of the work that went into building that Colosseum, as well as other sequences such as the opening battle scene that introduces Russell Crowe's Maximus, Ridley Scott's work was cut out for him on Gladiator.
Reading Connie Nielsen's memories on working with Ridley Scott has me thinking that while some might shrink from the chaos of a film such as Gladiator, Ridley Scott probably enjoys the madness. It's the sort of energy that explains a lot of his filmography, as well as the fact that this is the same man who put together All The Money In The World on a breakneck schedule to make that year's awards season. And that was before the added challenge of reshooting sequences with Christopher Plummer presented itself.
To her own credit, you could imagine Connie Nielsen herself thriving on that sort of energy, especially when remembering her recent remarks about having fun filming the eventually trimmed action sequences that she had taken part in for Zack Snyder's original cut of Justice League.
No stranger to cut sequences even in her time on Gladiator, Connie Nielsen still values her time as Lucilla as one of the most memorable roles in her career. Though, in true Ridley Scott form, those scenes eventually found their way to the world in the extended cut of the film that's widely available on home video still to this day.
Whatever road led to the final product that is Gladiator, it was undoubtedly because of the collaboration between director Ridley Scott, actor Connie Nielsen and everyone else who was a part of the total package. It's a process that doesn't always yield such vivid and happy memories, but in Nielsen's case, the experience was truly something to remember.
Sea Fever is available on VOD tomorrow, but will premiere tonight through a livestreamed premiere on Thursday, April 9; with Connie Nielsen among those participating in a Q&A. Nielsen can also be seen in Wonder Woman 1984, which is scheduled to open on August 14.
Your Daily Blend of Entertainment News
Senior Movies Contributor
CinemaBlend's James Bond (expert). Also versed in Large Scale Aggressors, time travel, and Guillermo del Toro. He fights for The User.