Marvel's Clark Gregg Explains Why He Wants Phil Coulson To Reunite With The Avengers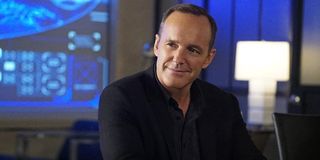 For Marvel fans that stick only to the MCU, Clark Gregg's character Agent Phil Coulson played an early and pivotal role in starting the Avengers Initiative but tragically died during the first The Avengers movie, and that's it. Of course, his character never really died, but continued on in the TV show Agents of S.H.I.E.L.D. So Naturally, Clark Gregg wants his character to reunite with the Avengers.
Agents of S.H.I.E.L.D. is currently on its final season and, to discuss all things Marvel, Clark Gregg sat down with Comic Book. With the devastating events of Avengers: Endgame now behind us, one sad fact is that Agent Coulson never got to reunite with Tony Stark. When asked who of the Avengers Clark Gregg would like to reunite with, this is what he said:
For many Marvel fans who watch Agents of S.H.I.E.L.D, it's no secret that Agent Coulson returns from the dead after the events of The Avengers. However, others may have totally missed the boat and not given a second thought that Agent Coulson is indeed still alive and probably should have gotten the chance to show up for Avengers: Endgame.
There could have been a number of ways for Marvel and the Russo Brothers to pull off giving Agent Coulson a brief cameo in Avengers: Endgame. He could have fought in the climactic battle (After all, they even gave Howard the Duck an Easter egg shot), been at Tony Stark's funeral, or as Clark Gregg later explained it, they could have run into each other briefly:
At the end of the day, perhaps they didn't include Agent Coulson because a large portion of the MCU audience doesn't watch Agents of S.H.I.E.L.D., and may have been very confused why he would have just shown up out of nowhere. Especially considering he hasn't been even hinted at since his death. There are a variety of factors in play.
Of course, Agent Coulson did reappear in Captain Marvel, but we all know that was set before his death. Still, since he's still alive and has that connection, it's not out of the question that he might end up returning in some capacity in the MCU. Stay tuned to Cinema Blend for more MCU news as it arrives.
Your Daily Blend of Entertainment News